Effective 11/15/2021, Humanscale will require a signature upon delivery for all FedEx shipments.
While the world may seem to be getting more complicated, some ergonomic chairs are becoming simpler, such as the Humanscale Freedom Drafting Chair.
Designed for taller seating situations like a height-adjustable desk, the smart counterbalance reclining system omits the need for adjusting levers and knobs, making your workday just a little simpler. Enjoy freedom of movement while you sit your way to better health with one chair. The Humanscale Freedom Drafting Chair comes packed with the same features as the much-loved Freedom Task Chair, including self-adjusting design technology that moves with your weight, a dual pivot backrest that adjusts to your spine, optional armrests, and contoured cushions, with the inclusion of a tall cylinder and foot ring, making this an exceptional drafting chair.
The Freedom Drafting Chair can be easily customized, allowing you to pick the components that make this chair uniquely yours.
Features
Counterbalance reclining mechanism provides the ideal amount of support throughout a full range of motion
Dual pivot backrest provides extra motion during recline to automatically adjust to the needs of your spine
Armrests move in tandem to eradicate the dangers of uneven arm positioning
Cushions are modular so swapping them out is easy
8" tall chair cylinder with 18" or 21" foot ring
Made in USA
Specifications
| | |
| --- | --- |
| Chair height | 43" - 53" H |
| Seat height | 20.5" - 28.5" H |
| Back height | 18" - 21" H |
| Seat width | 20" W |
| Headrest adjustment range | 5" |
| Warranty | 15 years |
| Weight capacity | 300 lbs |
Promotional Item
FREE UPLIFT Single Monitor Arm
Mount a monitor weighing between 4.5 lbs - 17.5 lbs, and adjust the height, depth or lateral position with easy fingertip adjustment.
Headrest
The Freedom Drafting Chair's optional headrest moves dynamically into place when the user reclines and out of the way when the user sits up. This lets it move with the natural arc of the head and neck for perfect support through the full range of recline. It has a 5'' range of vertical adjustment. The headrest is contoured to cradle the head and neck comfortably.
Humanscale Freedom Drafting Chair Arms
The Freedom arms are available in two different styles: standard and advanced. The standard arms quickly move up and down; the advanced arms are width as well as height adjustable.
Standard Armrests
Revolutionary armrests move in tandem to eliminate the dangers of uneven arm positioning
Natural lift-and-release action allows for immediate repositioning without the need for buttons or locks
The armrests provide a 6" range of vertical motion to accommodate all users and tasks, and they can be positioned below thigh-level for close table or desk work
The armrests are attached to the backrest, not the seat like most chairs, so they stay in the same relation to your body when you recline
Advanced Armrests
Please Note: Many users prefer the added adjustability of the advanced armrests.
Offer all the same features of the standard armrests
Arms slide left and right for width adjustment
Come 1 1/4'' longer than standard armrests for additional support
Armrest Padding
Once you pick the type of arms to best suit your needs, choose your arm padding, Duron or Technogel. Add a surface material to complement your Freedom color options.
Duron arms have a foam core and a durable, synthetic leather cover
Technogel arms contain a softer and extremely comfortable gel layer below the synthetic leather cover
Either padding choice can be upholstered in fabric or leather to match your chair
Frame Color
The Freedom Drafting Chair is available with two frame colors: graphite frames are the standard color, and the polished aluminum frame is an upgrade available with graphite shells on the cushions and arms.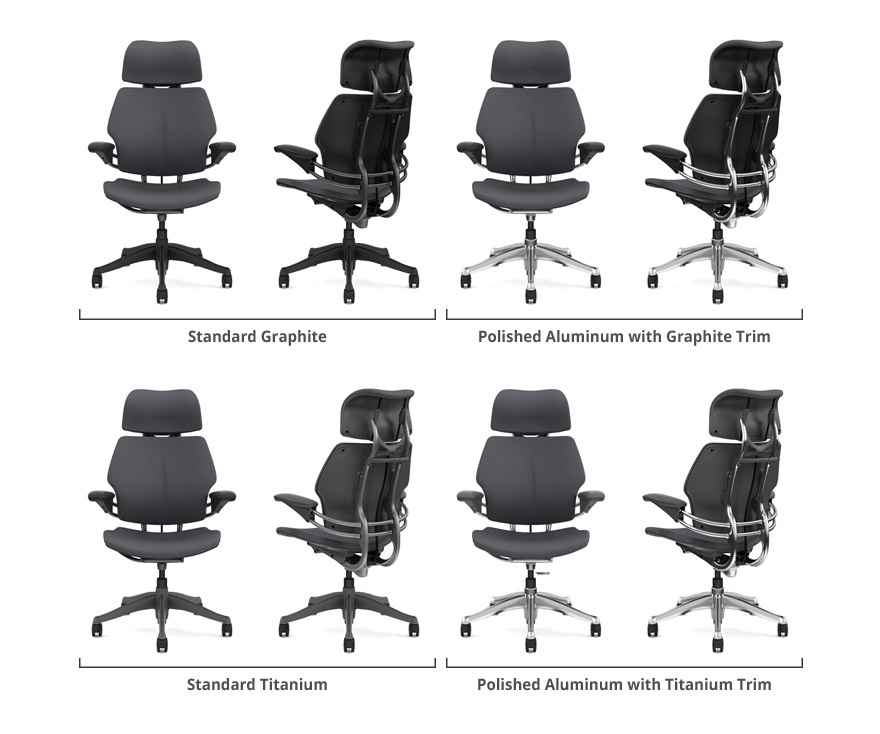 Base Color
The Freedom Drafting Chair comes standard with a highly durable composite base with graphite finish, or upgrade to a powder-coated or polished aluminum finish.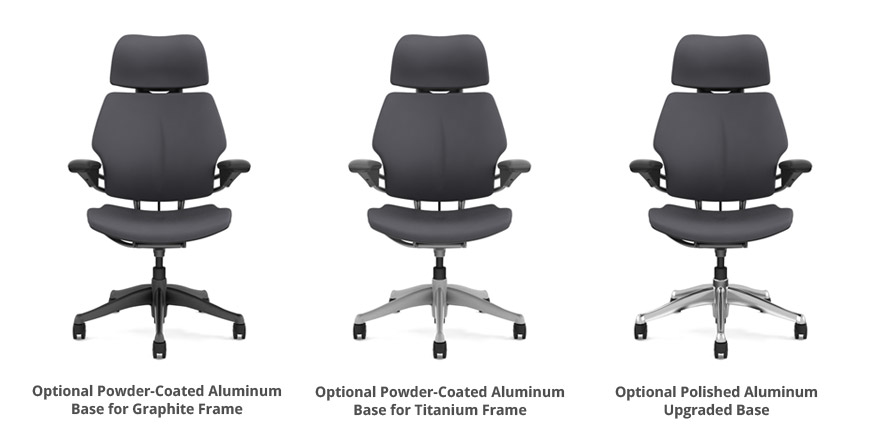 Seat Fabric
Fourtis - Grade 1
Inspired by the Latin word fortis, meaning strong, this fabric is the ultimate ratio of durability and flexibility thanks to a unique weave of two-blended colors, and offering a four-way stretch.
Corde 4 - Grade 1
Constructed from cotton, Corde 4 includes a four-way stretch and a small, modular weave. The result is a dimensionally ribbed surface on the face of the fabric that remains soft to the touch.
Lotus - Grade 1
This four-way stretch textile is water repellant and easy to clean, making it an ideal textile for healthcare and hospitality environments. Its polyurethane finish with nylon backing boasts a soft texture while offering exceptional durability. It exceeds all standards for contract upholstery and healthcare tests.
Sensuede - Grade 3
Sensuede was developed to be the best and most luxurious engineered suede available. The faux suede's soft touch comes from the use of breathable and wrinkle resistant recycled microfibers that are finer than a human hair but are extra-strong, resulting in a very resilient fabric. This material also was selected because of its environmentally sensitive content and manufacturing process.
Ticino Leather - Grade 1
Ticino is a semi-aniline dyed leather available in a variety of rich colors inspired by nature. It is a top, corrected grain leather to create a more natural aesthetic and ensure the leather remains as unique as the hide itself.
Corvara Leather - Grade 3
Corvara is a semi-aniline dyed leather that offers a smooth, silky feel and ultimate durability. It is a top, full grain leather that is embossed lightly for a consistent, uniform grain structure.
Box Stitching Color
Choose from a variety of different color box stitchings for your chair. This option is only available for leather upholstery.
Seat Cushion
Humanscale offers a standard padded foam or gel seat cushion on the Freedom Drafting Chair. Both seats are very comfortable, but the gel seat upgrade offers better long-term support and relief of pressure points for users that sit in their chair 8 to 10 hours a day.
Standard foam seat is contoured to fit your body and reduce pressure points, and is both comfortable and supportive
Technogel seat cushion is a non-degradable, non-compressible Technogel layer on top of a foam core that provides maximum pressure distribution and offers unmatched, long-term comfort
Technogel seat is available only with the Lotus and Vellum fabrics and is not available with leather or Sensuede
Please Note: Technogel has a firmer "sit" than the standard foam that softens up somewhat after a few minutes and will offer better back support if you are seated for long periods of time. Users who are up and down more may prefer the foam.
Seat Height
The Freedom Drafting Chair's cylinder has an 8" travel range from 20.5" - 28.5" seat cushion height. Its foot ring may be selected in one of two sizes.
| | |
| --- | --- |
| High F Chair | 18'' diameter foot ring |
| High R Chair | 21'' diameter foot ring |
Casters
Four caster/glide options are available. Most of our customers select the standard casters for carpet floors or soft casters for hard floors. Glides are perfect for a stationary chair, and the locking casters let the chair move around when no one is sitting down.
| | |
| --- | --- |
| Standard Hard Casters | 2 1/2'' double-wheeled for carpeted floors |
| Soft Casters | 2 1/2'' soft double-wheeled for hard floors |
| Glides | Non-rolling glides for fixed location use |
| Locking Casters | Lock into position when you sit on the chair |
Ergonomic Training Video
This chair purchase includes a free half-hour Ergonomic Training Video with an ergonomic pro. This video will help you learn how best to use ergonomic tools and make the right choices for your workstation. Anyone interested in building an ideal workspace for their own unique needs should take advantage of this offer. The video will cover valuable ergonomic essentials such as:
Understanding the biomechanics of sitting
Setting up a workstation to maximize efficiency
Adjusting a chair to promote neutral posture
Learning exercises to reduce stress and fatigue
Fireproofing
The Humandscale Chairs can be ordered with either standard plastic components or CAL 133 compliant components.
Humanscale Terms and Conditions
Due to manufacturer policy, this item cannot be returned.
Cancellations must be made prior to the item shipping and cannot occur after it has shipped.
If you have any questions about the Humanscale terms and conditions please contact us.
Warranty Policy
Visit our Warranty page for the warranty policy for this particular product.
Return Policy
Visit our Returns page for the return policy for this particular product.