The Lift Standing Desk Converter by UPLIFT Desk has been discontinued. For a similar product, please visit our sister site UPLIFTDesk.com and view the Standing Desk Converters page.
Look around your day-to-day workspace and see the chances for you to work healthier. Finding that ideal supportive space is easier than you think with the Lift Standing Desk Converter by UPLIFT Desk.
Now more than ever, people are standing up sedentary work conditions, but not everyone can completely convert their space with a fully height adjustable standing desk. Yet where there's a will, there's a way, and there's a converter for everyone and every space thanks to the easy-adjusting Lift Standing Desk Converter. The Lift is the medium sized converter that's up to the task of transforming less-than-comfortable work areas into healthier ones.
Spacious up top, enough for most single and dual monitor setups, you'll have room to spare for taking notes and tasking thanks to the converter's more expansive work surface. A detachable keyboard tray assists the arms into comfortable typing postures so you don't have to worry about the physics behind setting up an ideal ergonomic workspace, the Lift just does it all for you.
Enjoy a desk tool that is already configured for total comfort with the Lift Standing Desk Converter by UPLIFT Desk.
Features
Roomy standing converter for use on existing desk spaces
Comes with a tiered keyboard tray and mousing platform
Enjoy the health benefits of a sit-stand desk
Raises and lowers in seconds via easy-to-use handles
Comes almost fully assembled, just attach the keyboard tray
Desk converter raises to 19.7" tall when fully elevated
Specifications
| | |
| --- | --- |
| Weight capacity | 33 lbs |
| Total weight | 52 lbs |
| Height range | 12.5" H |
| Keyboard tray dimensions | 26.5" W x 12.2" D |
| Upper work surface dimensions | 26.8" W x 23.1" D |
| Overall dimensions | 26.8" W x 19.7" H x 23.1" D |
| Adjustment type | Pneumatic |
| Warranty | 2 years |
| Shipping dimensions | 26'' W x 9'' H x 30'' D, 49 lbs |
F.A.Q.
Does this come with a monitor mount?

No, the Lift Standing Desk Converter doesn't come with a monitor mount. But the upper work surface is spacious enough to support a single or dual monitor arm.

Does this product ship fully assembled?

Yes, the Lift ships almost completely assembled. Users just need to attach the keyboard tray to the desktop converter to complete assembly for use.

Will this fit on my desk?

If your desk is at least 36" wide by 24" deep, the Lift Standing Desk Converter would be a great candidate for your desk.

Is the keyboard tray dynamic?

No, the keyboard tray is fixed on this model of converter and moves up and down with it.

How much does this unit weigh?

The Lift Standing Desk Converter weighs 52 pounds. This is due to the unit's solid construction which allows you to attach a monitor arm without losing stability.

If it possible to remove the keyboard tray from this converter?

Yes you can, the keyboard tray comes detached from the Lift Standing Desk Converter Desktop Converter and can be removed if you'd rather not use it.

Can I use my three monitors on this desktop converter?

At this time, we only recommend adding two monitors to your desktop converter.

What happens to my wires as I adjust from sitting to standing?

To ensure there are no snags or accidents, you'll need to make sure that all of your power cords are long enough and have enough slack to not pull when the Lift Standing Desk Converter is fully extended.

How easy is it to lift this converter?

The pneumatic lift mechanism makes operating the Lift converter a breeze, even with a heavier work setups on the upper work surface!
Size
The Lift Standing Desk Converter by UPLIFT Desk is available in two sizes - small or medium. The smaller size provides enough work space for a monitor mount or laptop, while not taking over your entire stationary desk. The medium size provides a larger desktop and wider keyboard tray. If you have the room, you might enjoy the extra work space that the medium desktop converter offers.
| | |
| --- | --- |
| Small Dimensions | 26.8" W x 19.7" H x 23.1" D |
| Medium Dimensions | 35.1" W x 19.7" H x 22.2" D |
Color
The small Lift Standing Desk Converter by UPLIFT Desk is only available in black. While the medium Lift Standing Desk Converter by UPLIFT Desk is available in both white and black. Black or white are both great color choices to complement any office decor.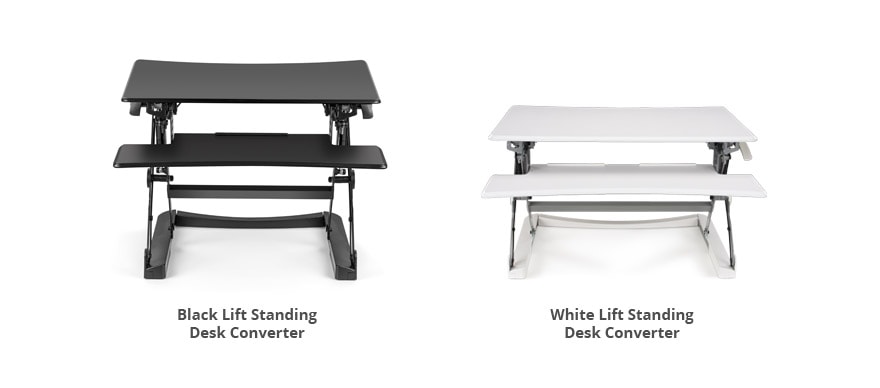 Monitor Arm
UPLIFT View Monitor Arm
Accessorize your Lift Standing Desk Converter by UPLIFT Desk with an UPLIFT View Monitor Arm. Add a single or dual UPLIFT View monitor arm to maximize the available worksurface space on the Lift, or to gain a bit more adjustment.
UPLIFT View arms support monitors 4.4 - 19.8 lbs and up to 30". They include a clamp mount and a bolt-through mount option, and have two USB 3.0 ports in the base that can be used to connect peripherals to your computer, or to charge devices like phones and tablets. Integrated cable control keeps your workstation looking neat and organized, and easy fingertip adjustment lets you easily change the height, depth and tilt of your monitor to create the perfect fit.
Laptop Mount
Looking to elevate your laptop display? The UPLIFT View Laptop Mount can be added to any UPLIFT View single or dual monitor arm and fits notebooks 10.1" - 17.3". It mounts directly to the VESA plate, converting the monitor arm to an adjustable laptop mount and allowing you to raise your laptop screen to a more ergonomic height. We recommend using an external keyboard and mouse when the laptop screen is elevated, to maintain proper ergonomic positioning of your arms while working.
Need a full sit-stand laptop solution? Check out our UPLIFT Adapt Mobile Laptop Standing Converter.
Desk Mat
Standing Desk Mat
Add an UPLIFT Standing Desk Mat to provide more comfort while standing at your desk converter. Our 18" x 30" anti-fatigue mat has a gel foam core, providing comfort and support while you're standing at your UPLIFT Desk, and it's lightweight and easy to move aside when it's time to sit down.
| | |
| --- | --- |
| Standing Desk Mat Dimensions | 30" W x 18" D x 0.75" thick |
E7 Active Anti-Fatigue Mat
You are already choosing a healthier lifestyle by adding a standing desk to your workspace. Why not go the extra mile and incorporate the E7 Active Anti-Fatigue Mat by UPLIFT Desk, as well.
This active standing mat lives up to its name by providing many ways to stretch and exercise at your desk. Massage your feet on multiple textured surfaces. Stand on the power wedge to stretch your calf muscles. Use the mounds to engage your leg muscles and exercise while you work.
Stand up and move more with the support of the E7 Active Anti-Fatigue Mat by UPLIFT Desk.
| | |
| --- | --- |
| Active Mat Dimensions | 28.24" W x 27.78" D x 2.95" thick (at thickest point) |
For more active anti-fatigue mat photos & details, download PDF
Expedited Production
Get your accessories shipped to you quicker by adding our expedited production option.
Order your desk by 3 pm Central on a business day and we guarantee your order will ship the same day. If placed after this time, your desk is guaranteed to ship the following business day.
If your selected item is not in stock, it will ship per the above guidelines as soon as it arrives.