Deliver ample storage to small spaces everywhere with the Narrow 2-Drawer File Cabinet with Seat by UPLIFT Desk.
Get ready to work with the perfect amount of storage space with this portable, locking, and comfortable file cabinet. You read that right. This file cabinet doubles as a side seat when you install the included anti-fatigue pad, giving you more storage and seating in one. This is perfect if your boss is fond of impromptu meetings around your desk or if you like to put your feet up while you brainstorm (hint: it's also a footrest).
Two locking drawers allow you to store your most-used office items inside, from sensitive documents to your secret snack stash, keeping them safe and within reach. The smaller top drawer boasts a soft-close feature, so you're never jarring your coworkers with drawer slams. A larger bottom drawer secures your papers, folders, most purses, and even hidden birthday gifts for your colleagues.
Easy on the eyes, its rounded corners are also safer for you, reducing the risk of bumps if you ever collide with anything as you're moving the cabinet around the office. Four locking casters make this mobile and a fifth support caster on the front offers additional support for sitters.
Work with the right amount of storage for your compact space with the Narrow 2-Drawer File Cabinet.
Features
Cleans up clutter, adds storage, and lets you organize personal belongings within its two roomy drawers
Narrow design fits underneath UPLIFT Desks and in compact spaces to provide extra storage
Doubles as a comfortable side seating option for impromptu meetings and brainstorming sessions
Dual locking drawers hold a variety of items, from folders to purses
Locks via a single key and comes with a backup key for extra assurance
Smaller top drawer features a soft-close function and comes with removable pencil tray
Spacious bottom drawer can be adapted with hanging bar to hold letter and legal sized folders
Rounded design is both attractive and safer than sharp corners
Portable thanks to casters that also lock, so your cabinet stays put when you want it to
Specifications
| | |
| --- | --- |
| Overall dimensions | 11.8" W x 19.7" D x 19.75" H (with casters) |
| Weight capacity | 225 lb |
| Warranty | 15 year |
| Shipping dimensions | 15.6" L x 22.6" W x 23.2" H, 48 lb |
| ANSI/BIFMA X5.9-2012 Certification | Compliant with sections 4, 7.1, 7.2, 7.3, 9.5, 9.7, 11, 12, 13, 14.2, 14.4, 15.2, 20 |
F.A.Q.
Why a narrow file cabinet? Do I need this?

If you're lacking adequate storage in your small space, a narrow file cabinet can solve this issue. The Narrow 2-Drawer File Cabinet was designed to fit under all of our UPLIFT Desk models and even tighter spaces than the full sized cabinets we offer, so it's able to fit in more spatially-challenged work areas. This multifunctional file cabinet also comes with a seat on top to use as a complementary seating option for guests and also for a backup footrest.

What color options do I have?

You'll get your choice of black, white, or gray to match your desk frame and office style.

How does this lock and how secure is it?

The Narrow 2-Drawer File Cabinet was designed to provide you more organization and security for your personal items. Both drawers lock via a single lock and key, so you can be sure your things are safe and where you want them.

What does this hold? Will it hold my purse?

We tested this ourselves. Some things that fit inside the compact file cabinet include: a backpack purse, secret stashes of chips, personnel files, the communal office blanket, and yes, a medium sized purse. Most purses will fit in the cabinet's spacious bottom drawer. The top drawer holds smaller items like pens and notepads, while the bottom drawer features a removable hanging bar to adapt the drawer to letter and legal sized papers and file folders.

Does this require assembly?

Getting your cabinet assembled and set up is pretty easy, all you have to do is attach the 5 casters to the cabinet. Look inside your cabinet's box and you will find a collection of screws and a small wrench for the job, which allow you to secure your wheels onto the unit. Most users find they can complete this step in just a few minutes. Then install the cushion to the top via the adhesive strip and you're done!
Color
Add more storage space in your perfect shade of black, white, gray or industrial style to match your style tastes and your UPLIFT Desk.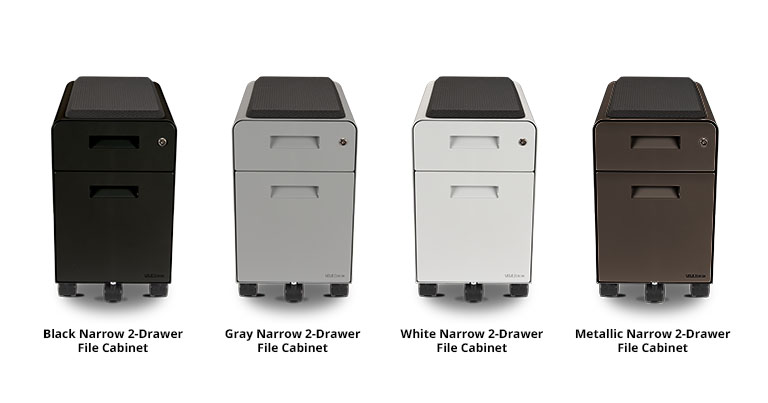 Expedited Production
Receive your accessories even sooner! Just add our expedited production option to your order.
Place your order by 3 pm Central on a business day and we guarantee to start production and ship your order the same day. If placed after 3 pm, your order is guaranteed to ship the following business day.
Note: Expedited production is different from expedited shipping. If you're interested in adding expedited shipping to your order, please contact us directly.
Resetting Your Desk
Most desk issues can be solved quickly by following the UPLIFT Desk reset and troubleshooting instructions page. These steps can be completed in just a few minutes. If you still need assistance, please visit the UPLIFT Desk Contact page.
UPLIFT Desk Warranty Policy
We stand firmly behind the quality of our products. All UPLIFT Desk products come with a 15 Year Warranty, visit the UPLIFT Desk Warranty page for the full policy.
Return Policy
Free Returns with Free Return Shipping within 30 days, visit the UPLIFT Desk Returns page for the full policy.