Penguin Vertical Mouse - Wired Medium
Penguin Vertical Mouse - Wired Medium
Choose Your Video
The Penguin Vertical Ambidextrous Mouse

02:44

Penguin Ambidextrous Vertical Mouse - Ergonomic Products

02:33
The vertical mouse is a crucial work accessory that can help you in huge ways. With the introduction of the Wired Vertical Mouse by Penguin you can stave off stress injuries caused by unnatural twisting and clicking all day.
Try a more ergo-friendly mouse for better work less strain. Intuitive right and left click features allow for ambidextrous use while mousing in the neutral arm position with the help of the Penguin Vertical Mouse - Wired Medium.
Features
Ambidextrous design with central "bow-tie" switch
Symmetrical base enables user to rest hands alongside vertical structure
Easy and precise scroll wheel for fast and accurate document scrolling
Four DPI settings of 400, 600, 800, 1600
Plug and Play USB 2.0 compatibility for Windows XP, Windows 2000, Windows Vista, Windows 7, Mac OS X, and Linux
2 year manufacturer warranty
Specifications
| | |
| --- | --- |
| Compatibility | Windows XP, Windows Vista, Windows 7, Windows 8, Mac OS X |
| Connectivity | Plug & Play USB 2.0 |
| Size | Choose between Small, Medium, or Large |
Penguin Vertical Mice
Choose your model
A limited number of certified refurbished Penguin mice are available for purchase at a reduced price, for a limited time. Each is backed by a 30-day return policy.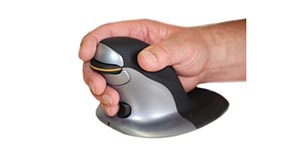 Product Reviews
Write Review
Penquin use

Posted by rori alexander on Dec 19th 2014

I had wished I had more information on the instruction manual to show how your arm moves and the actual movement required that is completely different to the movement when using the mouse. I used the mouse pad for about 3 weeks until I called to ask Human Solution if it was necessary, I noticed the laser skipping. Of course, the operator said: Oh we never use the mouse pad. The Penquin sits directly on desk top.

Great buy!

Posted by SteveS on May 18th 2014

I've been using the Penguin mouse now for just over a month and it's great! It makes a big difference in my wrist. I can tell the difference when I use a regular mouse and switching to this one. I'm a computer gamer and this mouse has helped a lot! I would recommend this mouse to anyone with wrist issues.

Solved my wrist pain

Posted by Maria P on Apr 11th 2014

I was told during an ergonomic evaluation that i should use a vertical mouse because i was making small wrist movements left and right, which was causing pain in my wrists at the end of the workday - sometimes even a couple of hours into the work day. I purchased the wireless version of this mouse first, which would randomly lose its connection to my laptop. I didn't like that very much. So I replaced it with the wired version, and it has worked like a charm. All pain in my wrist has vanished since using this mouse. It's quite easy to use and very comfortable.

PENGUIN MOUSE

Posted by MARY on Sep 24th 2013

I received my mouse a week ago. I love my "Penguin"...I would not want to use anything else. It's so easy to use and ohh..everything you need to do is at your finger tips. I don't ever want to go back to using a regular mouse.

Penguin vertical mouse

Posted by Morgan on Jun 25th 2012

Wow. Cannot find the words to describe how great the penguin is. Helped a lot with the pains I had in my wrist. If you Have pain in your wrist, get the penguin. IT WORKS and is easy to use .
Warranty Information
This product comes standard with a 2-year warranty.
Return Information
Return windows close 30 days after you receive your item.
You are responsible for obtaining a Return Merchandise Authorization, the cost of shipping, and potential restocking fees, if the item has been opened.
To start a return, or to view the full returns policy, click here.
Your Cost
$79.00
List Price:
Ships Free (US48)
Ships the next business day
Are you sure you're finished customizing this product?
Bulk Deals
In many cases, we can offer bulk quantity discounts for purchases or smaller orders made over an extended period of time. Bulk deals are based on anticipated volume and the products you've selected. We can also provide you with brochures and swatches to assist in your purchasing decisions.
If you would like to request a quote, we can be reached via phone (800-531-3746), email (info@humansolution.com), or live chat from 8am - 7pm Monday - Friday and from 10am - 6pm Saturday.
Swatch Request Form
Sending....
Thank You!
Please allow 1-3 weeks for delivery.