Penguin Vertical Mouse - Wireless Medium
Penguin Vertical Mouse - Wireless Medium
Choose Your Video
The Penguin Vertical Ambidextrous Mouse

02:44

Penguin Ambidextrous Vertical Mouse - Ergonomic Products

02:33
Vertical, ambidextrous, and ready to put an end to painful stress injuries caused by suboptimal mousing, the wireless Penguin Vertical Mouse is here to alter the way you mouse forever.
Don't overreach or strain when you mouse, upgrade to a higher standard of ergonomic living with this handy and handsome workstation accessory. It's contoured for a sleek look that fits comfortably in the hand, and intuitive right and left click functions ensure a shorter learning curve for new users.
The Penguin Vertical Mouse is available in small, medium, and large sizes to fit your hand ideally.
Features
Ambidextrous design with central "bow-tie" switch
Symmetrical base enables user to rest hands alongside vertical structure
Easy and precise scroll wheel for fast and accurate document scrolling
Four DPI settings of 400, 600, 800, 1600
Plug and Play USB 2.0 compatibility for Windows XP, Windows 2000, Windows Vista, Windows 7, Mac OS X, and Linux
2 year manufacturer warranty
Specifications
| | |
| --- | --- |
| Compatibility | Windows XP, Windows Vista, Windows 7, Windows 8, Mac OS X |
| Connectivity | Plug & Play USB 2.0 |
| Size | Choose between Small, Medium, or Large |
Penguin Vertical Mice
Choose your model
A limited number of certified refurbished Penguin mice are available for purchase at a reduced price, for a limited time. Each is backed by a 30-day return policy.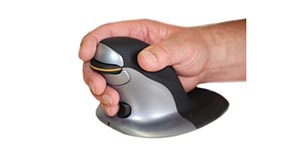 Product Reviews
Write Review
Good and Bad

Posted by JOE on Dec 20th 2013

The design is great! relieved the discomfort from severe arthritis in thumb and wrist.
However, the wireless continually drops connection. First unit was replaced and the second unit arrived, but would not take charge.
THE MANUFACTURER HAS EXCELLENT CUSTOMER SERVICE AND MADE EVERY EFFORT TO BE HELPFUL. CANNOT COMMEND www.posturite.co.uk HIGHLY ENOUGH.
Waiting for wired unit to arrive to replace the wireless. I do not want to return to the traditional mouse.
GREAT DESIGN...EXCELLENT CUSTOMER SERVICE FROM POSTURITE...WIRELESS NOT SO GOOD.

penguin vertical mouse

Posted by alice fairchild on Oct 17th 2013

I love this mouse. I have tendonitis in my elbows and wrists and a normal mouse hurts. I can play WOW again without pain and will be taking this to work with me when I return to my seasonal job in January to alleviate mousing issues there as well. I could buy a 2nd one. It took a little getting used to after years of conventional mousing, but I will fight to keep this one and I have tried many.

Penguin Vertical

Posted by Carmen on Jun 3rd 2013

Well ortho was talking about cutting my palm open and replacing ligaments because of the pressure on my hand touching the surface of my table. So I went hunting and found this mouse. I don't go anywhere with out it . It gets used for my office and my home. The pain in my palm is gone so avoided a surgery. I love this mouse. It rocks. Now if I could just find the keyboard to fit my needs. That's next. Love you Human Solution.. YOU ROCK!!!!!!!

Penguin Vertical Mouse

Posted by Debbie on Feb 26th 2013

Super easy to install. i had trouble finding the dongle, called the company (after hours) and someone called me right back and told me where to find it. It's housed in a compartment inside the mouse. Very efficient customer service.

The vertical mouse took some getting used to. But I'm loving it. My tendonites is improving too. Highly recommend this product!

Debbie

Great mouse

Posted by DC Gal on Feb 21st 2013

I had been having trouble with my right arm when using my mouse. Like most people, I'm on the computer for many hours each day. I contacted the nice folks here, got a few recommendations and went with this mouse. While expensive, I love it. I'm using it now mostly with my left hand, but love the fact that it is easily changeable between leftie and rightie. Highly recommend!
Warranty Information
This product comes standard with a 2-year warranty.
Return Information
Return windows close 30 days after you receive your item.
You are responsible for obtaining a Return Merchandise Authorization, the cost of shipping, and potential restocking fees, if the item has been opened.
To start a return, or to view the full returns policy, click here.
Your Cost
$89.00
List Price: $99.00
Ships Free (US48)
Ships the next business day
Are you sure you're finished customizing this product?
Bulk Deals
In many cases, we can offer bulk quantity discounts for purchases or smaller orders made over an extended period of time. Bulk deals are based on anticipated volume and the products you've selected. We can also provide you with brochures and swatches to assist in your purchasing decisions.
If you would like to request a quote, we can be reached via phone (800-531-3746), email (info@humansolution.com), or live chat from 8am - 7pm Monday - Friday and from 10am - 6pm Saturday.
Swatch Request Form
Sending....
Thank You!
Please allow 1-3 weeks for delivery.