Features
Connected flexors in the seat and back create a dynamic support that adjusts your body
Cored foam pockets in the seat use adaptive bolstering technology, giving users a "comfort pocket"
Synchro-tilt mechanism features an advanced weight-activated mechanism with adjustable tension controls
Flexible front seat edge minimizes pressure on thighs, leading to better circulation
Adjustable dual-energy lumbar support can be adjusted up and down for added support
Dynamic armrests allow for movement vertically, laterally, forward, and back and allows for inward pivoting for forearm support
The Think Chair with 3D Knit Back
Intuitive. Flexible. Mobile. The future of ergonomic seating is here and it's made by Steelcase.
Featuring breathable mesh back, a smart design, and all the support you could ask for in an ergonomic seat, the Steelcase Think Chair with 3D Knit Back is here to transform your working experience for the better.
Never worry about lower back strain or overextension again - this seat has you covered for all of those long days spent at your desk. The Think Chair offers an adaptable seat with a breathable mesh back featuring Steelcase's revolutionary LiveBack technology. Constructed around a dual-energy lumbar support with a collection of linked flexors that move with your body, users will enjoy excellent support along the entire chair back, perfect for all of those long days spent sitting.
Designed to move with you throughout the day, its supple 3D knit mesh back, pose-able arms, and exceptional seat cushion with cored foam pockets all come together to deliver advanced ergonomics for you in a single (well-designed) package.

Free Ship, Free Return!
We're excited to announce the return of our Steelcase Free Ship, Free Return promotion.
Try your Steelcase products for thirty days -- if you're not completely satisfied, return them for free. There's no restocking fee, and we'll send you a pre-paid FedEx shipping label. This is a great way to try Steelcase products risk-free for thirty days! Some restrictions apply. See below for full details.
We're a Steelcase Authorized Retailer
In your search for the ideal ergonomic gear to add to your office, you might come across Steelcase products that seem cheaper than they should be. Most of these chairs and accessories are refurbished, giving you a not-so-new seating solution that can be open to mechanical flaws and defects sooner than a new chair might be.
Human Solution is an authorized Steelcase retailer, delivering to you the newest and most up-to-date ergo-friendly products from Steelcase, featuring full manufacturer warranties, protecting them from wear and tear, and giving you recourse if something ever does go wrong with your office chair, ergonomic desk, task lighting, or monitor arm in the future. We stand by our products and will work tirelessly to help you find the perfect ergonomic product to assist you in working better.
Specifications
| | |
| --- | --- |
| Chair Dimensions | 37.25" - 42" H x 28.5" W x 22" - 24.25" D |
| Seat height | 16.5" - 21.5" H |
| Seat depth | 15.5" - 18" D |
| Seat width | 20.25" W |
| Lumbar height from seat | 6" - 10.25" H |
| Arm height from seat | 7" - 11" W |
| Arm width | 14" - 21.25" |
| Weight capacity | 400 lbs. |
| Warranty | Limited lifetime |
Promotional Item
FREE UPLIFT Single Monitor Arm
Mount a monitor weighing between 4.5 lbs - 17.5 lbs, and adjust the height, depth or lateral position with easy fingertip adjustment.
Frame Color
The Steelcase Think chair is available in your choice of Black, Platinum, or Seagull frame, with or without a polished aluminum base.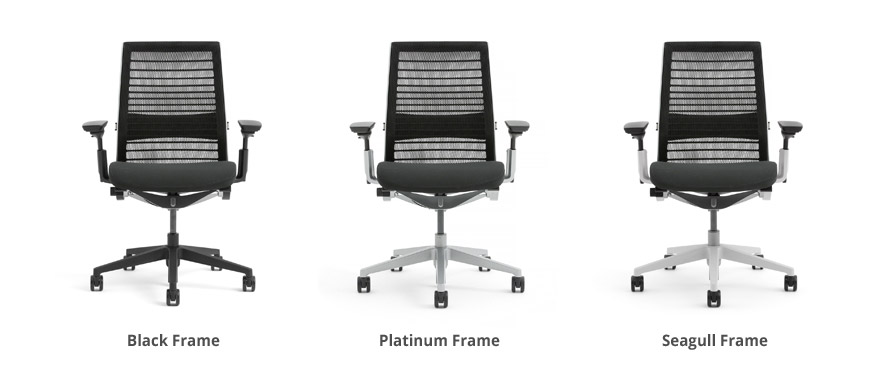 3D Knit Back Color
Unlike some mesh chairs, 3D Knit mesh is soft to the touch and will not abrade your clothing. Choose from a wide variety of 3D Knit mesh colors for your Steelcase Think Chair.
Seat Fabric
Buzz2 - Grade 1
Buzz2 is Steelcase's standard fabric, and is composed of antimony free polyester. This material features an abrasion rating of 100,000 double rubs.
Connect - Grade 2
Cogent: Connect is a bold knit fabric available in many colors. This fabric choice is environmentally friendly as it is composed of antimony free polyester. This durable fabric offers an abrasion rating of 100,000 double rubs.
Chainmail - Grade 2
Chainmail is composed of 100% Post-Consumer Recycled Polyester and features a dobby weave. This textured fabric offers an abrasion rating of 100,000 double rubs.
Leather
Steelcase leather is a classic choice for your executive chair. This 100% leather hides are piece dyed in mute color choices. Though the leather is not as soft as Elmosoft leather, it is still a great choice.
Elmosoft Leather
Elmosoft leather is 100% leather, and the softest of the leather options. The piece dyed hides are available in a wide array of colors. Elmosoft leather offers a soft, buttery feel and is a great addition to your executive chair.
Arms
Select from 4-way adjustable arms, height-adjustable arms, fixed arms, or no arms for your Think chair.
Note: We highly recommend the 4-way adjustable arms above all other options available for the Think. They adjust up and down, as well as slide left, right, forwards and backwards, with a 30° pivot in each direction.
Base Color
Black and Platinum frame chairs come standard with a matching base. Choose to upgrade your Think Chair to a Polished Aluminum frame for a brilliant, luxurious finish.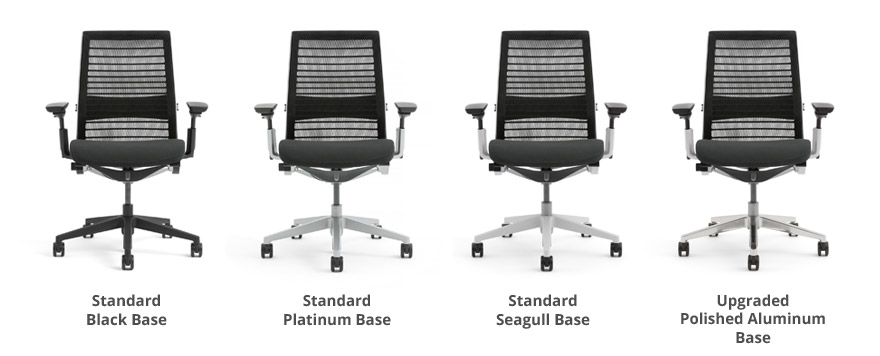 Seat Height
The Steelcase Think Chair is available with three cylinder heights to choose from.
| | |
| --- | --- |
| Standard | 16.5" - 21.5" H |
| Tall | 18" - 25" H |
| Low | 15" - 18" H |
Headrest
A headrest option is available for any Steelcase Think chair with a black frame and base. The headrest is available in black vinyl and provides additional head and neck support to the user.
Lumbar Support
The Steelcase Think Chair can be ordered with a fixed lumbar support or an adjustable lumbar support. The adjustable lumbar support pad slides up and down so you can find the perfect spot for your lumbar support.
Casters
Choose between standard hard carpet casters or soft casters. Soft casters are designed to prevent damage to hardwood floors and to roll more slowly so that your chair doesn't slip out from under you when you stand up.
Ergonomic Training Video
This chair purchase includes a free half-hour Ergonomic Training Video with an ergonomic pro. This video will help you learn how best to use ergonomic tools and make the right choices for your workstation. Anyone interested in building an ideal workspace for their own unique needs should take advantage of this offer. The video will cover valuable ergonomic essentials such as:
Understanding the biomechanics of sitting
Setting up a workstation to maximize efficiency
Adjusting a chair to promote neutral posture
Learning exercises to reduce stress and fatigue
I like this chair a lot, but I have two issues with it.

First, the lumbar support doesn't stay in place. It's basically just a cheap piece of plastic that slides up and down and I find it slips down after a few hours of sitting.

Second, the seat is suspended on a set of wires. You sit on a pad that's on top of those wires. Maybe it's the way I sit or the shape of me, but I find that after a long period of sitting I can feel the pressure of one or two of those wires quite distinctly.

Finally, the tension on the seat back isn't adjustable in the way I'd like. It's very light, and although you can set locking positions to prevent it from going back to far, I would find a bit more tension with a full range of motion to be better.

there has been what looks to be bleach stains or colour fading on the backs of a few of the chairs we have does anyone know how this might have happened or how to fix it without replacement???????

I really like this chair because the back is so flexible and the arms are adjustable in height, width apart, and angle.

I personally like it better than the Aeron.

Could not be happier with this purchase

I am 5' tall and have never before had a chair that adjusted to my dimensions. I am thrilled with the chair and with the advice I received "i chatting" with your customer service rep.

Now that I've had this chair for a while I think I can say I'm very impressed with it. When I'm at home I'm almost ALWAYS sitting at my desk, and unlike cheap chairs from big office stores, this chair has never made my butt, back or arms hurt. I'm glad I got the lumbar support because without it I don't know if there would be enough support to keep me from slouching. The first 2 tension settings always provide enough support, but I'm pretty thin. One thing I was worried about when ordering was whether the arm rests would be soft enough since other chairs tend to hurt my bony elbows, but the rubber is plenty soft. The only complaint I have is that after a few months of heavy sitting the seat lost some of it's spring and cushion, but it's still very comfortable. This chair is about as cheap as you'll find for real ergonomic chairs, but the build quality has been great so far and it meets all my requirements for comfort without paying for even more expensive chairs. I'm 6'3" and about 150lbs, and always had problems with cheap office store chairs, so if you're like me this chair is definitely worth the investment.

Best Office Chair I've Ever Used

This is the most comfortable chair I have ever used. I have been able to adjust it to fit perfectly. I sit for long hours at two computer terminals that I roll between during the day. I usually start my day with an hour and a half workout at the gym so I may come into the office with a little post workout soreness. The last thing I need is a chair that is another source of soreness. I love how I can shift positions and still be comfortable. We have a conference room full of Areons which are in my opinion OK but I wouldn't dream of trading my Think chair for one.

I'm purchasing yet another round of Think chairs for my office. My entire office sits in these chairs- they look great and everyone is extremely comfortable working in them for 8-10 hours a day. I saw the other review complaining about the lack of lumbar- we all have the added lumbar support option. I guess I would recommend it, especially if someone found it uncomfortable without it. We just included those from the beginning because the first people we got these for ranged from 5'2" to 6'3". The Think fits everyone great, and the oldest ones we have look as good as the newest chairs we recently received. I wouldn't hesitate to recommend this chair to anyone because it fits everyone so well here and is so comfortable. Best, B

Not enough lumbar support for me

I am 5' 6" and cannot get comfortable in this chair. There is no lumbar support for me!
This product comes standard with a limited lifetime warranty.
Return Information
Return windows close 30 days after you receive your item.
To start a return, or to view the full returns policy, click here.