This item has been discontinued. For similar items, shop our selection of Ergonomic Chairs.
Strengthen your back, core, and tone your abdominals, all while you sit and work. The revolutionary Swopper Chair is one ergonomic beauty that delivers a unique and flexible seating experience for comfier work when you need it.
Design the perfect seat for you and feel the difference in your body's comfort levels and productivity at work. The Swopper Chair promotes movement and builds strength while you sit. This revolutionary, engaging, and supremely flexible ergonomic chair provides back pain relief and comfortably works your core muscles with its elastic, springy movement that keeps your body engaged.
Sitting and bouncing on the Swopper Chair strengthens your back and works your abdominal muscles while also helping to improve respiration. Design your own for the major seat switch to keep you comfortable throughout all of your jobs, delivering health benefits at the same time.
Features
Designed and produced by aeris GmbH
Active movement helps burn calories and tone core, abdominal, and back muscles
Vertical height adjustments to fit a wide range of users
Soft, continuous bouncing supplies the spine with vital nutrients while strengthening your core and back
Dynamic optional back support made of black polypropylene mesh
Specifications
| | |
| --- | --- |
| Seat size | 16" diameter |
| Seat height | 22" - 27.5 " |
| Base diameter | 21.5" |
| Weight limit | 250 lbs |
| Chair weight | 23 lbs |
| Warranty | Limited lifetime |
Base Color
Pick a base color for your custom-made Swopper. Both powder-coated base colors look great in a variety of office spaces. Anthracite is a flat black color, while Titanium is a brushed metal color.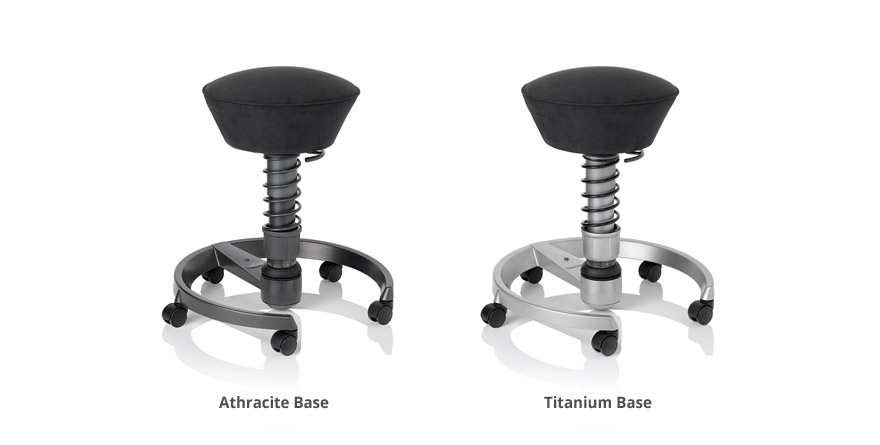 Fabric
Hue - Grade 1
Hue is crafted of 100% recycled polyester and features a latex backing and a teflon surface finish. Hue is extremely durable, an excellent choice for 24/7, multi-user applications as its abrasion rating is one million rubs. It can be cleaned with water based agents, foam or pure water-free solvents.
Natural Top Grain Leather - Grade 6
Grade 6 top grain leather is extremely high quality and colored with pure aniline dyes. They feature rich colors and a durable, protective finish with a very soft and supple hand. Treat as you would any fine leather.
Casters
The Swopper is available with or without casters, which lock when you put your weight on the seat. Please note, the casters are not removable.
Back Support
Swopping all day is great for your back and core muscles, but eventually you will want to sit back and relax. The dynamic back support crafted of black polyurethane mesh lets you do just that. It matches the anthracite frame color and can be retrofitted to any Swopper. If you wish to order the back support separately for an existing Swopper, give us a call at (800) 531-3746.
Takes time to ease into it, but worth it

I got this chair in November, and as the info that came with it says, it's best to start with a small amount of time a day, increasing over time until you can use it all day. For a while I noticed I felt warm in the pelvic/hip area, and thought it was the seat material. No, it was normal temperature. Perhaps my body adjusting to a different, healthier posture?

At first I could only sit in it 1-2 hours, swapping out for the other regular chair. But I always noticed that, ultimately, sitting in the Swopper felt more natural, healthy, supportive.

Then about a week ago, I thought to try sitting further back on the chair, and loosening the lateral tension. Worked. Now I've sat in it all day, no problem, for 2 days.

Definitely recommended.

I was skeptical of the swopper, inspite of the great reviews of the chair. I decided to try it out on a trial basis and am now very impressed by this chair/stool. My back issue totally disappeared by using the chair. The key thing is to get used to sitting on it by increasing the amount of time each day, till you finally use it all the time. This chair will strengthen your core muscles that have been weakened through years of sitting on static chairs. This chair could dramatically change your core physical conditioning to the point your back will become strong enough to be self-supporting. This translates into affecting other areas of your life that require you to have a strong back. I'm so impressed with the results of using the chair that I'm planning to get another one for use at work.

I love this stool! It makes work so much more fun, and all of my co-workers love to come and try it out! It is very comfortable and appears very sturdy.

Love it!
This product comes standard with a five year warranty.
Return Information
Return windows close 30 days after you receive your item.
You are responsible for obtaining a Return Merchandise Authorization, the cost of shipping, and potential restocking fees, if the item has been opened.
To start a return, or to view the full returns policy, click here.