This item has been discontinued. For similar items, shop our selection of Ergonomic Chairs.
Strengthen your back, core, and tone your abdominals, all while you sit and work. The revolutionary Swopper Chair is one ergonomic beauty that delivers a unique and flexible seating experience for comfier work when you need it.
Design the perfect seat for you and feel the difference in your body's comfort levels and productivity at work. The Swopper Chair promotes movement and builds strength while you sit. This revolutionary, engaging, and supremely flexible ergonomic chair provides back pain relief and comfortably works your core muscles with its elastic, springy movement that keeps your body engaged.
Sitting and bouncing on the Swopper Chair strengthens your back and works your abdominal muscles while also helping to improve respiration. Design your own for the major seat switch to keep you comfortable throughout all of your jobs, delivering health benefits at the same time.
Features
Designed and produced by aeris GmbH
Active movement helps burn calories and tone core, abdominal, and back muscles
Vertical height adjustments to fit a wide range of users
Soft, continuous bouncing supplies the spine with vital nutrients while strengthening your core and back
Dynamic optional back support made of black polypropylene mesh
Specifications
| | |
| --- | --- |
| Seat size | 16" diameter |
| Seat height | 22" - 27.5 " |
| Base diameter | 21.5" |
| Weight limit | 250 lbs |
| Chair weight | 23 lbs |
| Warranty | Limited lifetime |
Base Color
Pick a base color for your custom-made Swopper. Both powder-coated base colors look great in a variety of office spaces. Anthracite is a flat black color, while Titanium is a brushed metal color.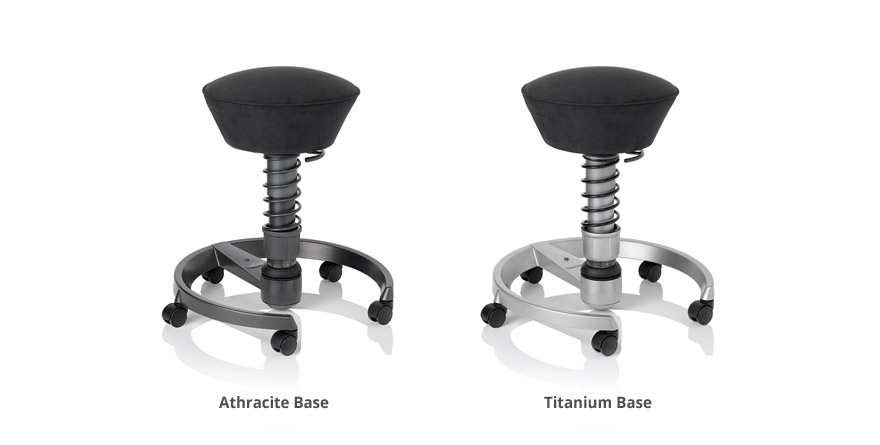 Fabric
Hue - Grade 1
Hue is crafted of 100% recycled polyester and features a latex backing and a teflon surface finish. Hue is extremely durable, an excellent choice for 24/7, multi-user applications as its abrasion rating is one million rubs. It can be cleaned with water based agents, foam or pure water-free solvents.
Natural Top Grain Leather - Grade 6
Grade 6 top grain leather is extremely high quality and colored with pure aniline dyes. They feature rich colors and a durable, protective finish with a very soft and supple hand. Treat as you would any fine leather.
Casters
The Swopper is available with or without casters, which lock when you put your weight on the seat. Please note, the casters are not removable.
Back Support
Swopping all day is great for your back and core muscles, but eventually you will want to sit back and relax. The dynamic back support crafted of black polyurethane mesh lets you do just that. It matches the anthracite frame color and can be retrofitted to any Swopper. If you wish to order the back support separately for an existing Swopper, give us a call at (800) 531-3746.
Bought 3 Swoppers recently and I could not be happier with them. Comfortable, stimulating and built like a tank!

After seeing the Swopper on Youtube, it was wonderful to try it out in person in your Austin store when we were up that way visiting. What a cool chair! The staff at The Human Solution was so honest with me about the possible issue with the chair - the hardness that makes it hard to sit on for a long time, and the tip to switch between chairs just as I would switch between sitting and standing during my day - that I was not troubled at all by that feature. I also appreciated the heads up that the leather cover might be more slippery than I personally would prefer. It was also really interesting to try out other chairs - kneeling chairs, saddle chairs and so forth. There is nothing like trying things out in person, and your store and your staff are awesome.

I later ended up ordering a cute green cloth-covered Swopper on a platinum color base from you guys for my big Christmas present. The customer service was excellent both in store and online, delivery was as promised and I've been enjoying my Swopper ever since. When it is in the main gathering area at home (as an alternative to sitting on the couch to watch tv), guests invariable enjoy sitting on it. It roams around my home depending on where I'm in the mood to use it.

An unexpected discovery: A number of chiropractors have their clients use inflatable wobble cushions daily and right before adjustments. I love that the Swopper is like a really elegant wobble cushion - it feels great to use the Swopper to stretch my spine in different ways and to activate muscles in my trunk.


I bought two of the Swopper stools and they are much better than I expected. I sit on one at work all day and I've never once regretted it. It is energizing to sit on, completely unlike a regular chair, where getting out of the chair makes me regret sitting in it. With the Swopper I get up easily and feel as if I wasn't even sitting at all. I'm very glad to have the Swopper.

it really helps

Before purchasing the Swopper, I was using a Pilates Ball chair. I liked using a chair without a back and felt that it strengthened and put less pressure on my back but found the Pilates Ball chair uncomfortable after a while. This chair is better for many reasons but mainly because it's adjustable and keeps your legs at a good angle.

Everything good you read about the product is true. It's well constructed, very attractive design, and makes so much sense to sit on relative to other chairs.

The only negative, which I did see in previous reviews, is that it feels a bit hard, so you do get sore about a while of sitting on it. It is padded, so I'm not sure if this is because it needs more padding or the fact that your weight is more concentrated than on a regular chair. I previous review said that he didn't mind it because it just forced him to get up and walk around more, and I completely agree. This seat makes you more active while sitting on it as well.

I've been wanting a Swopper for many, many years, and I finally received one as a gift from a dear friend for my birthday. It is wonderful to be active and moving while seated.

I can't wait to get another one for my other working area in my apartment.

Thank you!

Jessica

I have had the Swopper for about one month, now and I absolutely love it. I don't have to worry about my lower back, anymore. It was an investment worthwhile.

Very cool... and a little bit hard

I love this chair. Aside from the instant notoriety I earned when I unpacked it at the office, it does its job well. It's fun to sit on -- and listening to music while I work is a blast (lots of bouncing).

My only complaint is the cushioning -- it can't be more than 3/4" thick, and it's not particularly firm, so my buttocks often get sore after a few hours. It gives me a reason to get up and walk around a bit, but I am seriously considering adding some cushioning of my own. Fortunately, the seat covering is removable and if I do this it shouldn't be too difficult.
This product comes standard with a five year warranty.
Return Information
Return windows close 30 days after you receive your item.
You are responsible for obtaining a Return Merchandise Authorization, the cost of shipping, and potential restocking fees, if the item has been opened.
To start a return, or to view the full returns policy, click here.