This item has been discontinued. For similar items, shop our selection of Ergonomic Chairs.
The Swopper Chair in Leather is ready to elevate your office style while improving workplace ergonomics simultaneously.
The Swopper Chair is a unique alternative to standard office chairs everywhere. The revolutionary design keeps you moving and active as you sit, burning calories and increasing your productivity simultaneously. The stool ideally promotes healthy postures, keeping you active while you work, and strengthens your core muscles while seated.
Swopper Chairs are available in your choice of three grades of leather and your choice of either a Titanium or Graphite colored base.
Features
Designed and produced by aeris GmbH
Active movement helps burn calories and tone core, abdominal, and back muscles
Vertical height adjustments to fit a wide range of users
Soft, continuous bouncing supplies the spine with vital nutrients while strengthening your core and back
Dynamic optional back support made of black polypropylene mesh
Specifications
| | |
| --- | --- |
| Seat dimensions | 16" diameter |
| Seat height | 22" - 27.5 " |
| Base diameter | 21.5" |
| Weight limit | 250 lbs |
| Chair weight | 23 lbs |
| Warranty | 5 years |
Base Color
Pick a base color for your custom-made Swopper. Both powder-coated base colors look great in a variety of office spaces. Anthracite is a flat black color, while Titanium is a brushed metal color.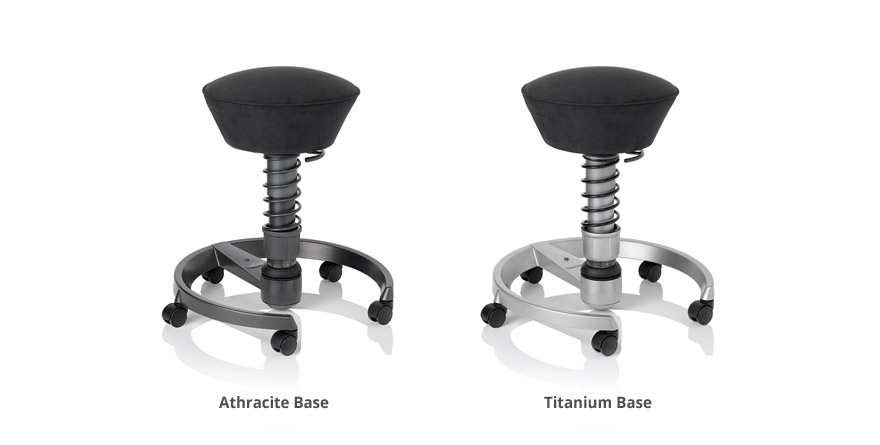 Fabric
Natural Top Grain Leather - Grade 6
Grade 6 top grain leather is extremely high quality and colored with pure aniline dyes. They feature rich colors and a durable, protective finish with a very soft and supple hand. Treat as you would any fine leather.
Casters
The Swopper is available with or without casters, which lock when you put your weight on the seat. Please note, the casters are not removable.
Back Support
Swopping all day is great for your back and core muscles, but eventually you will want to sit back and relax. The dynamic back support crafted of black polyurethane mesh lets you do just that. It matches the anthracite frame color and can be retrofitted to any Swopper. If you wish to order the back support separately for an existing Swopper, give us a call at (800) 531-3746.
The stool is great. I have only one complaint. I received the shipment, and I cut the tape with a box cutter. The product was packaged such that I scratched the leather of the seat. I was so disappointed! Once I looked carefully at the box, I saw that there was an icon saying don't use a box cutter. But I believe that when one is paying $600 for a seat, it should be packaged in a more user friendly way.

I love this thing! Despite Prof. Ergo's recommendation above, I now use it all day as my only office chair (although I did build up to it). It keeps me moving throughout the day, and keeps my lower back muscles from tightening up. My back feels much better since I got it. Should have bought it long ago.

I have black disk in my lower back, meaning that they have been compressed. This chair is and will continue to rebuilt those cushions properly and give relief.

my hip pain is gone!
This product comes standard with a five year warranty.
Return Information
Return windows close 30 days after you receive your item.
You are responsible for obtaining a Return Merchandise Authorization, the cost of shipping, and potential restocking fees, if the item has been opened.
To start a return, or to view the full returns policy, click here.