The Swopper Air Chair has been discontinued. For a similar product, please visit our sister site UPLIFTDesk.com and view the Ergonomic Chairs and Stools page.

The Swopper Chair Special Edition in Ultra Suede is ready to deliver to offices everywhere a more engaging way to sit and work.
The Swopper Chair is now available in ultra suede, letting you amp up your ergonomics and office style simultaneously with the addition of a single chair. This model of the Swopper adds a dash of extra color to its design with a dyed spring to match the seat's ultra suede fabric color.
Sitting on the Swopper Chair instantly improves your posture and provides relief from back pain while strengthening your core muscles in the back and abdomen with its gentle bouncing motion. This movement also helps improve circulation and provide nourishment to the inter-vertebral discs, assisting lymphatic flow.
The Swopper keeps your body engaged and comfortable; this is a major change from your standard office chair or exercise ball. Burn calories, promote better posture, and help improve circulation while toning your abdominals with the Swopper Special Edition Chair.

Features
Designed and produced by aeris GmbH
Active movement helps burn calories and tone core, abdominal, and back muscles
Vertical height adjustments to suit a wide range of users
Soft, continuous bouncing supplies the spine with vital nutrients
Spring coil detail color matches your choice of fabric color
Dynamic optional back support made of black polypropylene mesh
Specifications
| | |
| --- | --- |
| Seat dimensions | 16" diameter |
| Seat height | 22" - 27.5 " |
| Base diameter | 21.5" |
| Weight limit | 250 lbs |
| Chair weight | 23 lbs |
| Warranty | Limited lifetime |
Fabric
The Swopper Special Edition Chair features an ultra-suede fabric with a colored spring to match on an anthracite base.
Back Support
Swopping all day is great for your back and core muscles, but eventually you will want to sit back and relax. The dynamic back support crafted of black polyurethane mesh lets you do just that. It's available only in the anthracite frame color and can be retrofitted to any Swopper. If you wish to order the back support separately for an existing Swopper, give us a call at (800) 531-3746.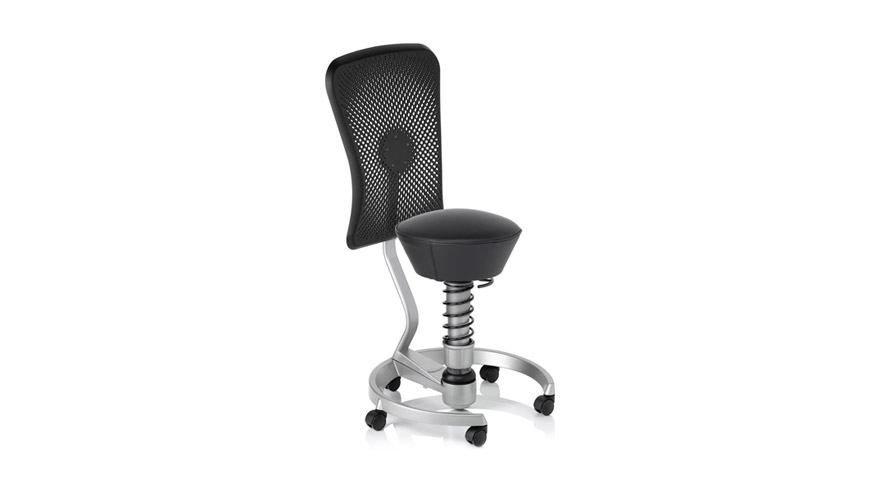 FREE UPLIFT Notebook and Tablet Stand
View your tablet or laptop in a more comfortable ergonomic position with this lightweight, adjustable stand, which can also be used as a document holder.
Excellent! Helps with posture core strength and energy!

I bought this chair to help with lower back pain. I spend my days writing software followed by playing video games. I tend to slouch or crouch when ever I'm sitting. I bought this chair to correct this problem, strengthen my back, and get rid of the constant back pain I felt. It has worked amazingly well. It takes a little getting used to between that it is actively working your core and back muscles and that it has a hard seat, but I'm now using it as my primary chair at home and expect to buy one for work soon too. My back pain is nearly gone after only a week of use, and my posture is improving too. If you want to actively make your back better without hurting yourself in the process, this is a great way to do it. I think this is a much better choice over ergonomic chairs that try to avoid hurting your back since this chair actively helps you fix your back and is still comfortable despite not appearing so in photos.
This product comes standard with a five year warranty.
Return Information
Return windows close 30 days after you receive your item.
You are responsible for obtaining a Return Merchandise Authorization, the cost of shipping, and potential restocking fees, if the item has been opened.
To start a return, or to view the full returns policy, click here.