The Varier Variable Balans Kneeling Chair has been discontinued. For a similar product, please visit our sister site UPLIFTDesk.com and view the Ergonomic Chairs and Stools page.
The Varier Variable Balans Kneeling Chair is the original ergo-friendly chair designed to encourage "active sitting", giving you health benefits like better circulation and increased focus for better work overall. This ergonomic kneeling chair assists the body to move and then reacts to its movements, generating a cycle of continuous motion. It's a completely new way of sitting that can change up your work style instantly.
The Variable kneeling chair grants an open angle between your thighs and your upper body, retaining the natural curvature of the lumbar region of your back, increasing your comfort levels almost immediately. Change the way you sit, change the way you work, forever.
Features
Designed with the Balans concept to encourage "active seating"
Sturdy yet light construction
Uniquely shaped wooden frame promotes proper posture
Padded seat and knee cushions for added comfort
Seat is tilted to create a natural and open angle between thigh and torso
Specifications
| | |
| --- | --- |
| Cushions | Polyurethane foam |
| Dimensions | 20.08" H x 20.47" W x 28.35" D |
| Weight | 13 lbs |
| Warranty | 7 years on wooden parts; 5 years on mechanical parts |
| Weight limit | 250 lbs |
Fabric
Varier's "Step" fabrics come in bold colors, and have a high-wear resistance.
Padded Backrest
Add a backrest for extra support. Choose from the same bold colors offered on the seat.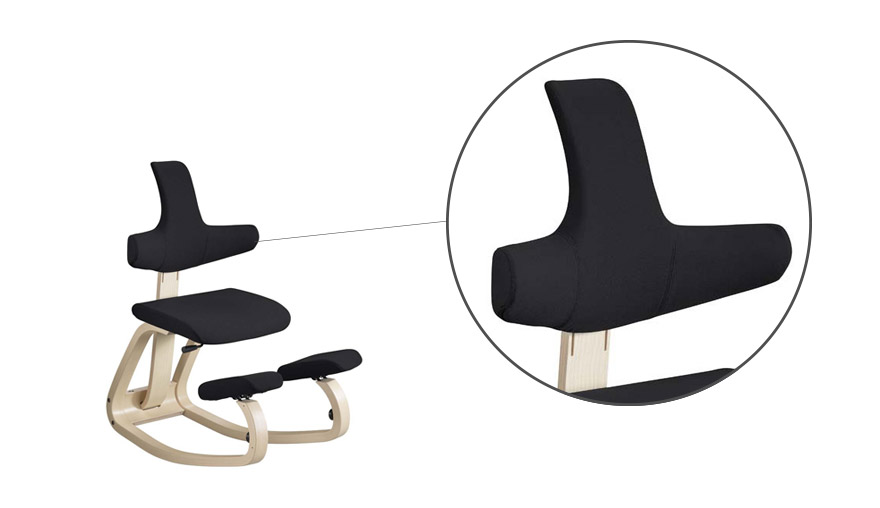 Soft Tape
Soft tape is adhesive tape that affixes to the bottom of the chair's runners, protecting wood floors and other hard flooring. It matches the frame finish.
FREE UPLIFT Notebook and Tablet Stand
View your tablet or laptop in a more comfortable ergonomic position with this lightweight, adjustable stand, which can also be used as a document holder.
Should have gotten one years ago!

LOVE this chair! Easy assembly. Sleek modern design (I also got the back rest w/pad). Best of all - NO MORE neck and back pain. Highly recommend!

My new favorite office chair

This chair is fantastic. I no longer have a pain from typing all day in the top of my shoulder. The fact that it has a 7 year warranty and is made in Norway made this an easy choice. The fact that it is the most comfortable office chair I have now makes this a great purchase! Much better than all the other "kneeling chairs" out there.

Quality and design are excellent. Definitely provides the means to minimize back pain with variable posture choices. The optional back is a must and also useful for accessing and moving the chair. I miss having wheels when I pivot to file but can manage by tipping on one rocker. Changeover was easy, and I'm very happy with the purchase.
This product comes standard with a 15-year warranty against fabrication faults on wooden parts, a 5-year warranty against fabrication faults on the mechanism, and a 3-year warranty on upholstery and foam.
Return Information
Return windows close 30 days after you receive your item.
You are responsible for obtaining a Return Merchandise Authorization, the cost of shipping, and potential restocking fees, if the item has been opened.
To start a return, or to view the full returns policy, click here.