Features
Fixed-height table lets users create a side table that matches their UPLIFT Desks
Supports tabletops of different sizes and a variety of office items from printers to décor
Sturdy frame features a single, continuous column and sits at 29" fixed height with leveling studs
Compatible with all UPLIFT Desk tops
Frame available in black, white, gray, metallic color options
Pick the tabletop style and size, matching it with your desk if you like a coordinated office look. We have all of the tried-and-true frame colors UPLIFT Desk offers - black, white, gray, and metallic so you can match all of the details down to the frame's finish.
We also have grommet options to add on, so your wires have a built-in slot that clears up cable clutter. Power grommets give you reliable in-table power that you can use to charge devices and saves wall outlets when you need to plug in your printer. Finally, you'll have a sleek and matching side table that holds all of your mementos and lets you work more efficiently, without the mess on your main desk.
Work with a side table that goes with everything with a 2-Leg Fixed Height Side Table by UPLIFT Desk.
Note: Due to the natural variations in rubberwood and the finishing process, the color of your desktop may vary.
Side Table Specifications
Height
29" with leveling studs
Width range
47" - 72"
Weight capacity
355 lb
Warranty
15 year
Shipping dimensions
Frame - 10.5'' W x 9.25'' H x 41.5'' D, 37.25 lb
Desktop dimensions will vary depending on selection
Side Table F.A.Q.
What's the difference between a fixed-height and a height-adjustable frame?

Although you may have come here on a mission to find a adjustable height desk for your workspace, fixed-height side tables are necessary office additions when you need more surface area to spread out with your printer and personal items, one that matches your desk perfectly. 2-Leg Side Tables by UPLIFT Desk legs are one continuous column and do not come with a motor inside, so you can build the stationary accent table that complements your UPLIFT Desk in all the right ways.

How do I build my side table?

The same way you build an UPLIFT Desk! Just go through our fun and easy-to-use desk builder and choose the top and frame color that matches your space and desk perfectly. Add options like wire and power grommets to complete your accent table!

Do I need a fixed-height frame?

If you've ever wanted to build a fixed-height or DIY side table, a fixed-height frame from UPLIFT Desk is a cost- and time-saving solution for you. Instead of shopping for a table that kind of matches your desk, you can now have one that matches it perfectly, all from one place!

Why isn't my whiteboard side table erasing completely?

We have found that black dry erase markers tend to perform the best on these tables. If any residue or ghosting is left behind after erasing the desktop, use Expo White Board Cleaner. If that doesn't remove all of the residue, try 70% isopropyl alcohol. You can also write over the unerased portion with another dry erase marker, let it dry, and then erase it.

Does this come in any color options?

Yes, you'll have four color options - black, white, gray, and our new metallic.
Top Style
The 2-Leg Side Table by UPLIFT Desk is available with all our tops to perfectly match your standing desk. Choose from Eco, Laminate, Bamboo, Rubberwood Solid Wood, Reclaimed Wood, or a Solid Wood tabletop for your side table. Choose from Cherry, Maple, Mahogany, Ash Gray, or Walnut Greenguard-Gold Laminate finishes.
Each tabletop finish caters to a certain aesthetic so that no office design is left out. Carbonized Bamboo boasts an eye-catching caramel color, and is one of our customer favorites. Eco or Laminate surfaces conform to the clean, classic office look and work well with a variety of styles. Character and sustainability meet in a Reclaimed Wood or Rubberwood Solid Wood Top. Custom, high-end design is apparent in any one of our Solid Wood Tops.
For a complete office overhaul, look no further than the 2-Leg Side Table by UPLIFT Desk..
Top Size
The 2-Leg Side Table by UPLIFT Desk is available in many different sizes to fit your space. Tabletops range from 48" to 80" wide, with a depth 30". The 2-Leg Side Table can be combined with a 2-Leg UPLIFT Desk to form an L-shaped desk with one stationary side. Or set up a stationary side table across your office for a cohesive look when paired with an UPLIFT Desk.
Eco Rectangular
Width: 48", 60", 72", & 80"
Depth: 30"
1" thick
Laminate
Width: 48", 60", 72", & 80"
Depth: 30"
1" thick
Bamboo Rectangular
Width: 48", 60", 72", & 80"
Depth: 30"
1" thick
Rubberwood Solid Wood
Width: 48", 60", 72", & 80"
Depth: 30"
13/16" thick
Reclaimed Wood
Width: 48", 60", & 72"
Depth: 30"
Douglas Fir - 1.5" thick
Teak - 1.25" thick
Solid Wood
Width: 48", 60", 72", & 80"
Depth: 30"
1.75" thick
Frame Color
The frame of the 2-Leg Side Table by UPLIFT Desk is available in four powder-coated finishes: white, black, and gray. Metallic (industrial style) is a new finish we added that gives your desk frame a raw, industrial look. This is a fixed-height frame, which cannot be adjusted. The frame features a single, continuous column, instead of the three-stage frame found on our sit-stand desks. The frame measures in at 29" tall, accounting for a 1" tabletop and leveling pads.

Grommets
Choose to add wire grommets or in-table power to your tabletop. Wire grommets allow for clean and organized through-table cable routing, or upgrade to the UPLIFT Power Grommet to add two in-table power outlets to each grommet hole so you can power all of your devices while keeping them close at hand.
Grommets are located fifteen inches from the center of the tabletop, to the left and right. We've found that this allows for the best combination of cable management and accessory use. The wire tray included in the UPLIFT wire management kit was designed to fit between the grommet holes, while still allowing you to mount a full keyboard tray track and modesty panel. Upgrade one or both to UPLIFT power grommets and have a convenient place to plug in your task light, phone, or anything else you need to keep nearby.
For more grommet photos & details, download PDF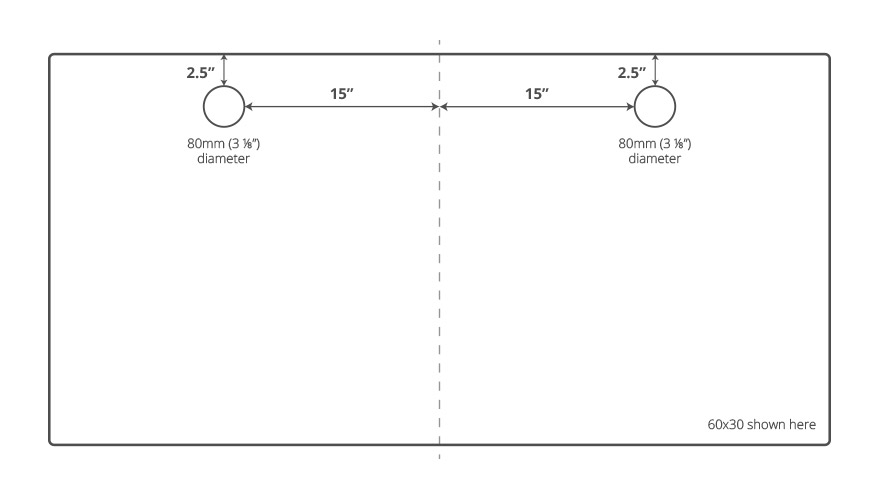 Locking Casters
The 2-Leg Side Table by UPLIFT Desk can be ordered with optional casters in black or white. Desk Casters come in a set of four - two for each leg. They can be locked to keep the side table stationary, but are easily unlocked when you need to roll to a new location.
Casters are a great option for those who don't want to be tied down by a table that is too big to move. These sturdy casters will roll across hard surfaces or low pile carpet. They also add a little extra height to your accent table.
Please note: the casters will add approximately 1.5" of height to your side table.
Extended Warranty
We are so confident in our product that we back each UPLIFT desk frame we ship with a 15 year warranty, which covers the frame, motor, controller, keypad, electronics and mechanisms. You also have the option of upgrading to our 20 year, all-inclusive extended warranty. If you have any issues with your desk frame within the warranty period, just give us a call, and we will ship you the necessary replacement parts via free ground shipping. The warranty does not cover normal wear and tear of the tabletop surface. Free ground shipping only available for United States addresses.
Scratch and Dent Desktop
Our Solid Wood Desktops are made to order by our local expert woodworkers, so no detail is spared when building your Solid Wood Desk. This means that some of our Solid Wood Standing Desks may take some time to make and ship to you.

When you need your desk sooner than the estimated ship date on our listing, we have a selection of temporary "scratch and dent" desktops that are ready to ship now in our warehouse in Austin. These tops are fully functional, just maybe with a ding, scratch, or dent here or there, and are affordable solutions to get you working quicker.

Tell us you want a temporary desktop and we'll send you the best one we have in stock in the closest size to your chosen Solid Wood Desktop. If your desktop's size is not standard, we'll ship the next smallest size. For example, if you order a 55" desktop, we'll ship you a 48" scratch and dent top.

Start standing sooner and enjoy your temporary setup with a Walnut, Ash Gray, Maple, Cherry, or Mahogany laminate desktop.
Please note that this option is not available with Room of Choice delivery or Room of Choice delivery with Installation without incurring a separate fee for two visits. Please contact a member of our sales team via live chat or phone at 800-531-3746 if you'd like to get a custom quote for this service.
A printer here, a few photos there - before you know it, your desk space is out of control with a collection of clutter that would be happier with its own home. This is made easy with the 2-Leg Fixed Height Side Table by UPLIFT Desk, the fixed-height accent table that helps you build the perfect stationary complement to your UPLIFT Desk.
This product is available for purchase on upliftdesk.com.
Resetting Your Desk
Most desk issues can be solved quickly by following the UPLIFT Desk reset and troubleshooting instructions page. These steps can be completed in just a few minutes. If you still need assistance, please visit the UPLIFT Desk Contact page.
UPLIFT Desk Warranty Policy
We stand firmly behind the quality of our products. All UPLIFT Desk products come with a 15 Year Warranty, visit the UPLIFT Desk Warranty page for the full policy.
Return Policy
Free Returns with Free Return Shipping within 30 days, visit the UPLIFT Desk Returns page for the full policy.