Posted by Human Solution on Apr 5th 2012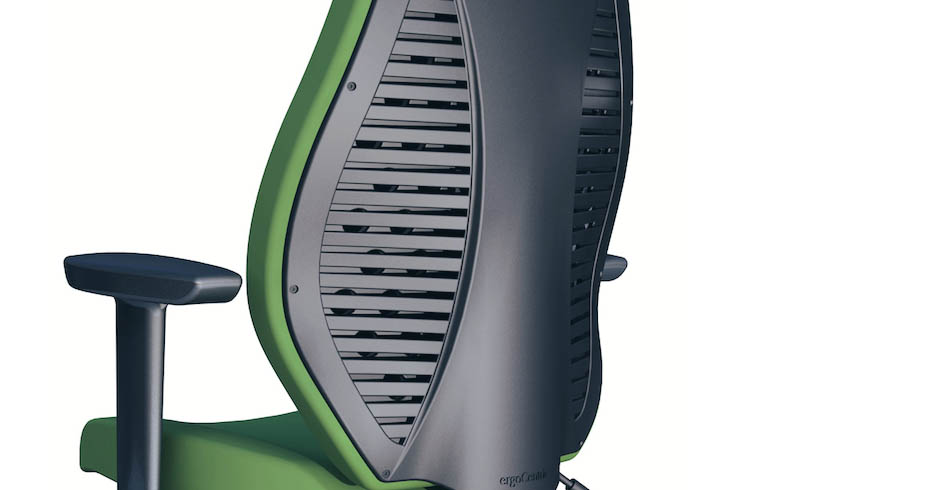 Mesh chairs have become very popular over the past several years. Ergonomic mesh chairs offer cooling airflow and breathability as well as slim footprints and modern style. But there is one possible drawback associated with many mesh chairs -- the mesh material can sometimes become uncomfortable over long periods of time; this is especially true with mesh seats. This is due to a lack of padding on the seats or backs of mesh chairs.
For users looking for the breathability and cooling airflow of a mesh chair but who don't want to sacrifice the support of a foam upholstered seat or back, we like to recommend the ErgoCentric airCentric Chair.
The ErgoCentric airCentric is the first upholstered office chair that enables air to flow to the body. Much like a mesh chair, the airCentric chair keeps the user cool, and it does so in a very unique way.
The chair's seat and back offer comfortable foam padding with ventilation holes designed to promote airflow. Most mesh chairs offer no padding on the seat or back, which can lead to discomfort after long-term use, but the airCentric's padding is soft and durable. The foam padding works in tandem with the chair's back structure, which features specially-designed cells, vents and air tubes to keep air moving through the chair. The airCentric's seat also offers ventilation holes to promote air flow, keeping you cool and comfortable as you sit and work.
The airCentric chair also features a height adjustable, contoured honeycomb back design for excellent lumbar and upper back support.
ErgoCentric, known as an innovator in the office chair market, has outfitted the airCentric chair in durable Air Knit fabric. This three-dimensional fabric provides breathability and comfort with its soft and smooth surface. The Air Knit fabric is also available in six different color options, which makes it easy to personalize the chair to match your décor.
You can further customize the airCentric by adding an Air Lumbar support system, which allows you to adjust the chair's lumbar support to a desirable level by squeezing a pump paddle. You can also add fully-adjustable armrests and a headrest. The Ergocentric headrest is one of the best designed headrests on the market. The headrest features three pivot points and a large range of vertical and horizontal adjustments. You can angle it forward or back and tilt it up or down with ease, or you can easily fold it back and get it out of the way. This is easily one of the most adjustable and comfortable headrests of any ergonomic chair.
See more customization options on our Ergocentric airCentric page, and get in touch with us via email, chat or phone (800-531-3746) if you have any questions about this or any other ergo chair we offer.