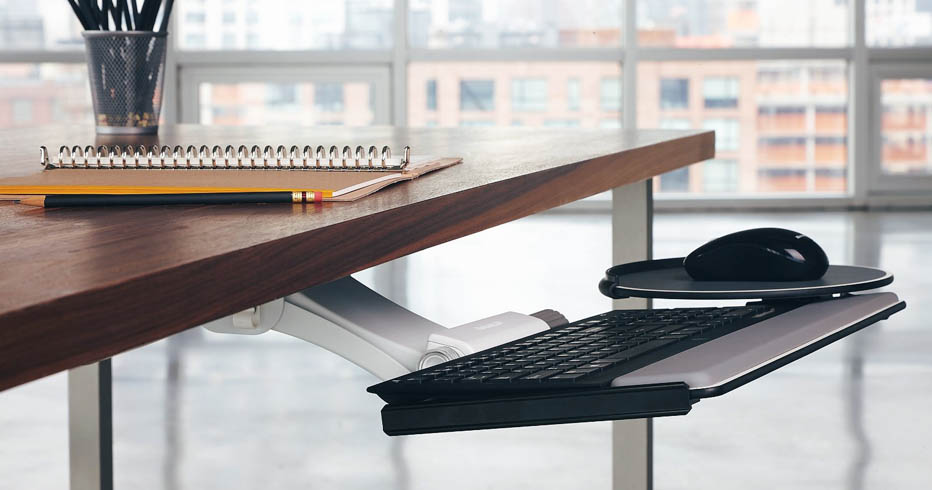 Since I have been using computers (I have no idea how this holds up for products made before the mid-1990's. Sorry, gramps.) keyboards have always had those little swing-out feet in the back that let you tilt the keyboard upward. Presumably this was designed as an early ergonomic enhancement. It is called positive tilt (tilting the keyboard upward at its back edge), and as we will see, it is not exactly a benefit.
Time for the interactive segment of this blog post:
Do a couple of imaginary air-push ups while you're sitting here reading this. If anybody looks over, pretend you're listening to music and practicing your chair dancing. Feel how your wrists feel in that position. There is strain along the underside (medial side, for you anatomical types), because wrists are simply designed to bend more comfortably in the other direction.
With that in mind, positive keyboard tilt forces your wrists into a less extreme version of this "push up" position. It is not uncomfortable for short periods, but the cumulative effects of even minor strain over weeks and years can have negative and lasting consequences.
To fix this, neutral tilt is a good start (flip those kick-out feet back inside the keyboard), and negative tilt is better. A good adjustable keyboard tray, such as the Workrite Advantage, will let you tilt your keyboard negatively (the back edge lower than the front), which puts your wrists in their ideal position for comfort. Some keyboard trays (and other computer terminals) let you tilt your keyboard positively to a pretty extreme extent. Avoid doing so at all cost as this can rapidly accelerate the problem of repetitive stress.
In the crazy, mixed up world of keyboard tilt, negative is positive and positive is negative. Fortunately, HS will be here to help you make sense of it all.
Keyboard trays may not be the first thing you think about when it comes to ergonomic accessories to help you work safely, but let me tell you, they are the dark horse of workplace wellness. A keyboard tray allows you to make specific adjustments to your typing position, preventing and relieving pain and repetitive stress [...] Read More »
"If a cluttered desk is a sign of a cluttered mind, of what, then, is an empty desk a sign?" – Albert Einstein I'd like to think my desktop clutter has no correlation to my mental clarity, and I hear this Einstein fellow was pretty good at correlations and theories and such. I definitely don't have [...] Read More »
Are you a fan of our UPLIFT Large Keyboard Tray, but in need of something with a bit more customization for your mousing surface? For many users, the extra-wide 27" surface of that model provides more than enough space, but restricts the positioning of the mouse to being directly left or right of the keyboard. [...] Read More »
Selecting the correct Humanscale Keyboard Tray can seem like complicated business. There is an array of options. Mechanism? Track length? These mean nothing to the average person. Give us a call anytime at 800-531-3746 and we can guide you through the process. But just in case you prefer to figure this out on your own, [...] Read More »
For a little over 60 years now, the Red Dot Product Design Award has been helping consumers all over the world distinguish products with quality designs and engineering from products with, well, not those things. So when the Humanscale QuickStand Lite walked away with the award for the "Best of the Best" category, it warmed [...] Read More »
So you're looking into getting an ergonomic keyboard tray setup for a decidedly non-ergonomic desk you already own, and you're running into a problem. A problem you're finding it difficult to find a solution for, or even how to describe. We've heard it numerous times, in different ways. Your desk has a front "lip." It has [...] Read More »
Here at Human Solution, we've told you about how important it is to get up out of your chair and stand for at least a couple of hours during a normal eight hour work day. While upgrading your standard desk to an adjustable height desk is the best way to go from sitting to standing [...] Read More »
With most desks, you have two choices as far as keyboard placement goes. You can either place the keyboard on the desktop and reach up all day long to type, or you can go with the fixed-height pull-out tray that is rarely at the correct height. The obvious solution is to upgrade to a keyboard [...] Read More »
I've been tall my whole life, and while some people may think it's all well and good up here, I can tell you first hand it is not all it's cracked up to be. For one thing, we always have to stand in the back row of group photos. By 4th grade, I stopped dressing [...] Read More »
Interested in ergonomics?
Subscribe to our blog mailing list