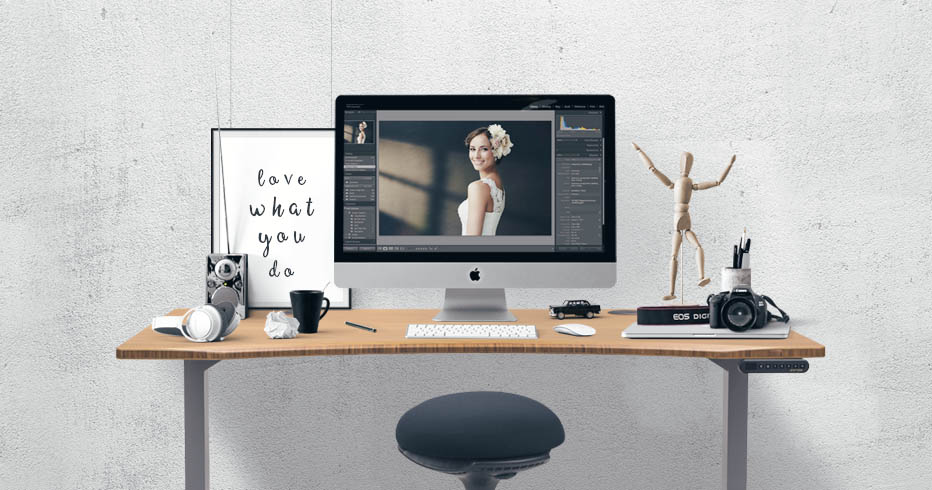 We've been telling you for years that sitting at work all day isn't good for you, so it's exciting to see a major newspaper like the L.A. Times spreading the word. In fact, we seem to be so much in sync with the West Coast's paper of record that they even recommended our favorite and most popular height-adjustable desk: The UPLIFT Height-Adjustable Standing Desk.
In her excellent write-up, Rene Lynch praised the UPLIFT's rapid, reliable motor for giving you the ability to easily move between a seated and standing position. She also seemed impressed with the wide range of desk options available, allowing users to pick the perfect desk for them. If you want a standard size desk with brilliant height adjustability, the UPLIFT is perfect for you.
Are you more interested in a large, luxurious space in which to work?
Maybe the UPLIFT 3-leg standing desk is a better fit. If you care about aesthetics, you can pair an UPLIFT Desk with a gorgeous solid wood top; each one is made to order out of real wood by our expert woodworker here in Austin, TX. On the other hand, if you want to save a little money, you can order just a standing desk base only and find the top that works best for you. Many of our customers take the DIY approach and procure their own desktop.
The LA Times article also pointed out how impressive the price point was for these desks. Starting at $599 for a complete UPLIFT, it kind of blows my mind that the best height-adjustable standing desk on the market also happens to be the most affordable. Tested for tens of thousands of cycles, covered by an industry-best warranty, and built to last for years and years, the UPLIFT really is your best value for a truly height-adjustable sit-to-stand workstation.
The article mentions a full DIY option as well, but your workstation is too precious to sully with a milk crate on top of your desktop. It makes it a lot of work too, adding and removing something on top of your desk and moving all of your equipment from your regular desktop to your makeshift standing desktop. The UPLIFT does all this with just the touch of a button in a few seconds.
And if the article has given you the desire not just to stand, but to exercise while working, the UPLIFT Treadmill Desk pairs the UPLIFT Desk with a LifeSpan treadmill, creating the ultimate walking desk. So there you have it, the UPLIFT is recommended by the L.A. Times. Now I think the ball's in your court, Grey Lady!

Learn more about our standing desks and walking desks at TheHumanSolution.com.
Over the last 70 years, as the majority of American jobs have moved out of the factory, off the farm, and into the office, the life of a worker has become more and more sedentary. We spend more time than ever sitting - sitting in the car, sitting on the couch, and, most of all, [...] Read More »
So you've read all of the statistics about how sitting all day is killing you, and you've decided to take the plunge and get a sit-stand desk. There are many options to consider at this stage, all of which can vary wildly and can be a bit overwhelming. A good place to start when you're [...] Read More »
That new desk of yours is like a puppy. It sits, stays, and is oddly adorable in the right setting. It won't fetch or roll over, but you can still cuddle with it. Not too hard, as we don't want cuddle related injuries on our conscience. Another thing that puppies are well known for is [...] Read More »
Everybody wants to upgrade their desks now, it seems, but not everyone is able to do away with their old desk setup. Those stubborn office bureaucracies tend to make everything more difficult. As much as you'd probably like to take an ax to that fixed height abomination, there are solutions that are much less violent. [...] Read More »
You sit on the drive to work. You sit for a million plus hours at work. You get back in your car for the daily drive back home, where you will inevitably spend at least another 1-2 hours sitting, and that's just me being conservative. I'm not the best role model either. After 5:00 PM, [...] Read More »
If you've visited our blog before, you know we're big fans of the standing desk. We recommend using a stand up desk to everyone who calls, emails or chats with us about setting up an ergonomic workstation. If you want to make your workspace healthy, comfortable and ergonomic, a desk for standing is essential. So what [...] Read More »
The UPLIFT Adapt Height Adjustable Standing Desk Converter is here with a fresh new design, and it is glorious. Glorious for those of you looking for a quick and easy sit-to-stand work space solution, and glorious for us because we get to spread joy to the masses by giving you the tools to make your [...] Read More »
After weeks of research and shopping, you've finally located the perfect display. Stunning borderless design, ultra-wide screen, and a hi-def resolution make picking out every detail a breeze next time you're catching up on Game of Thrones. You remind yourself you'll use it for work too, of course - spreadsheets never looked so good. Sure, [...] Read More »
Ever been implored by someone to "have a heart"? It's not a difficult request. The majority of the human population today has a standard-issue one that they got at birth. The question is how healthy that heart is. If you find yourself consistently sitting for a large part of the day, the chances that your [...] Read More »
Interested in ergonomics?
Subscribe to our blog mailing list