Posted by Mandy Spivey on Apr 20th 2018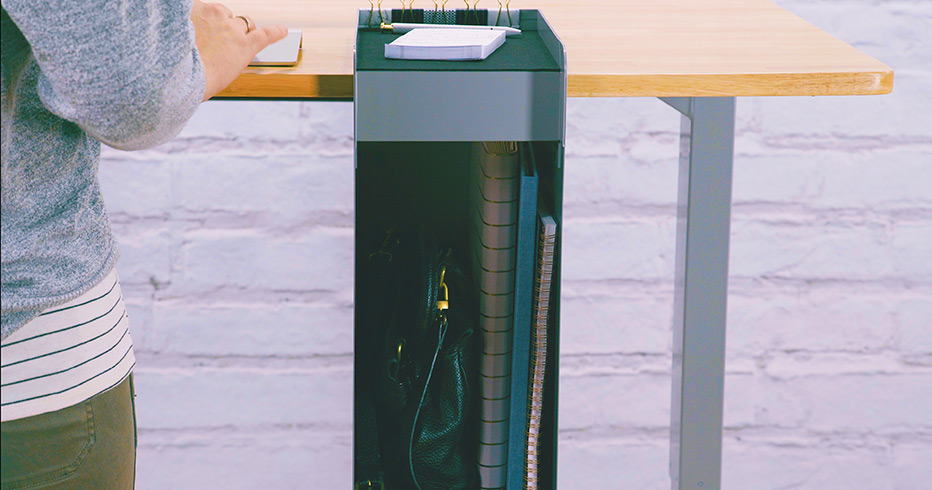 So you've gotten used to your height adjustable desk. You sit, you stand, and you enjoy the freedom to switch up postures when you feel fatigued. All of that is great and all, but what about your desk's storage? If you're working without adequate storage space, the Hanging Storage Cubby by UPLIFT Desk takes a load off (your desk) and allows you to adjust for height, bringing your stuff with you.
Ready to use out of the box, this desk-mounted cubby is designed to hold and store your most-used items at your desk, anything from papers to your purse. The 7.3" wide x 17.5" tall x 14" deep storage area gives you more than enough room for housing things that have been piling up on your desktop. It's even padded, so you can store your laptop without scratching it when you go to add and remove it. The cubby's upper shelf is perfectly sized to hold your smaller personal items, like your wallet and keys, so they always have a safe home that's within view and reach.
This cubby is constructed out of steel and powder coated to perfection, giving you durable desk storage solution that lets you easily organize and clear off your workstation. When you go to adjust your desk, your stuff moves with you, uplifting to your sitting and standing levels so you don't have to bend down to open a cabinet or even leave your work area when you need a thing or two.
Of course, if you're in the market for a different storage option by UPLIFT Desk, we have a storage solution for every space and need, from file cabinets and desk drawers. Tidy up your office with a little help from UPLIFT Desk.