Posted by Mandy Spivey on Apr 3rd 2018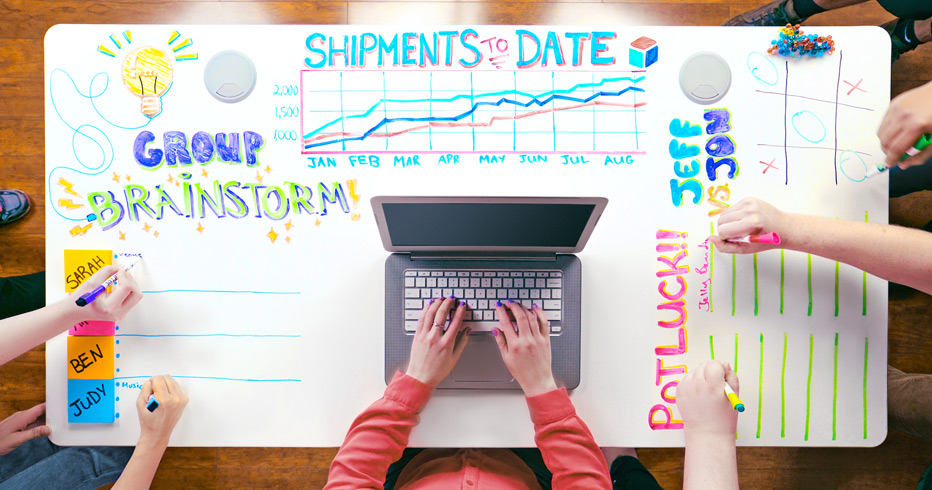 To the desk rebels, the creative warriors, the colorful office decorators - we hear you. A new type of desktop is about to make an entrance; it's the Whiteboard Desktop by UPLIFT Desk, and it's going to change the way you think about your desk forever.
Imagine being able to write down ideas, jot down notes, and draw...right on your desktop. Taking the concept of the whiteboard, we made the wall-mounted board horizontal and assimilated it into a height adjustable desk frame to give the world one of the most creativity-boosting desks to date. Keep track of all of the important details from discussions, without even having to pause to hunt down a notepad.
This laminate desktop is GREENGUARD Gold Certified, so you know you're working at a desk that is made sustainably and out of eco-friendly materials. Keep your indoor air quality clean and task at a desk that isn't made with dangerous chemicals.
Use the whiteboard desktop with dry erase markers and pens, and clean up with a simple dry erase board eraser (sold separately). You'll be surprised how much your artistic spirit will blossom when given the chance at a desk that not only gives you freedom to move but also to express yourself.
Of course, if you're looking for a more traditional desktop, shop our line of height adjustable desks or peruse our desktops from UPLIFT Desk for a full range of all of your options.