Posted by Mandy Spivey on Apr 12th 2018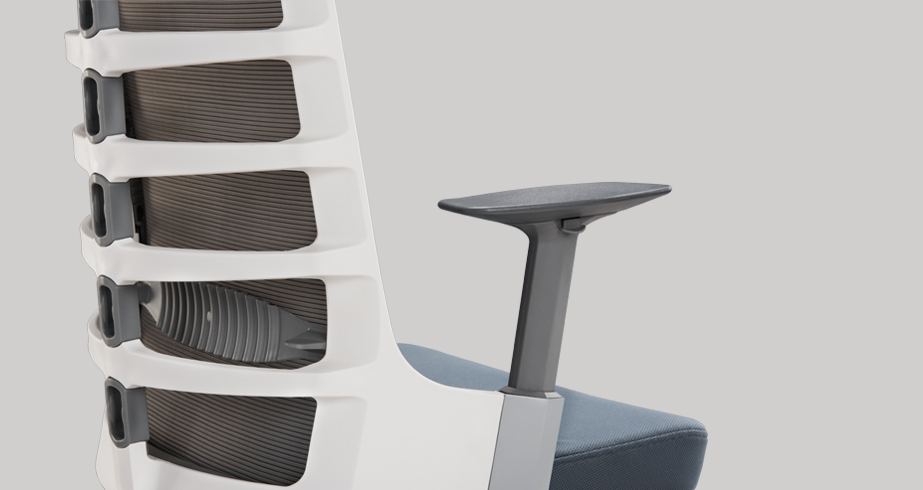 One of the major tenets of ergonomics is to move more, but what about when you feel like taking a seat? A standing desk user cannot subsist on standing alone, so when it's time to sit down, where are you going to rest your behind? If you spend more than an hour sitting in an office chair, investing in one that supports you in all the right ways is a great first step to making sure your body stays comfortable while you work. Lucky you! Now the Vert Ergonomic Office Chair by UPLIFT Desk is here to make it happen, one intuitive adjustment at a time.
When you see the Vert for the first time, you might notice its unusual spine-like design on the back. That's because this chair was designed to mimic human vertebrae, supporting you ideally throughout a wide range of movements, from typing to swiping and everything in between. When you twist in the chair, the Vert twists with you, so you're not stuck conforming yourself to your chair - it conforms to you. This is due to flexible mesh back that works by way of a elastomer spine system on the back, which increases the chairs flexibility. A rib design works together with this system to deliver complete seated support to users who want more comfort and freedom in an office chair. And since the back and headrest are made of mesh, you can be certain you'll get adequate airflow to your back so you're never stuck in a hot seat.
Since it's all about that back, you can also raise and lower the Vert's lumbar support to where you want it, giving you more control over your chair than ever before. Soft-touch armrests give you a comfy spot to rest your elbows, and are height adjustable so you can pose them where you want them. Personalize your chair to your liking; the Vert is one chair that really wants to get to know you.
Constructed out of recyclable and eco-friendly materials, your chair is going to be as healthy for you as it is for he environment. The Vert Ergonomic Office Chair is one chair that's going to change the way you view seating forever.
If you're in the market for another ergonomic chair, shop our complete selection of ergonomic chairs and stools for the most comfortable seating this side of a standing desk.