Posted by Will M on Dec 16th 2014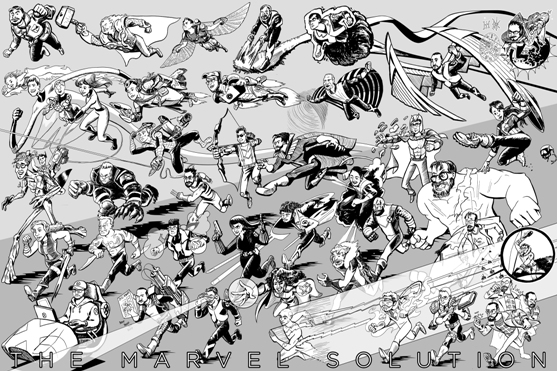 Here at Human Solution, when we're not hard at work promoting ergonomics and standing at work, we also know how to have a good time. It's the time of year when companies have their holiday parties, but when you work for a company whose regular workday can involve accidentally blowing up the internet with pictures of ponies and dinosaurs, and every work week ends with themed music days in which everyone plays a song, one simple evening of coworker mingling just won't do. That's right; here at HS we have two holiday parties.
Crazy, right? Thursday's in-house kickoff extravaganza included some homemade brisket courtesy of our warehouse smoker (and, of course, members of our hard-working warehouse staff). It also included that time-honored office party tradition, the white elephant gift exchange. Fought over gifts included the ever-popular old standbys (spirits and gift cards), the unique (spice rack, sad clown painting), and the can't-believe-they-were-actually-taken-by-more-than-one-person (the complete Twilight book series!).
This weekend, though, it was time to take the party to lovely downtown Austin, Texas. Of course, to complete the one-two punch of standard Austin cuisine, delicious Mexican food was on the menu this time (tacos al pastor, enchiladas y mas). And we all dressed real fancy-like – well, as fancy as the warm Texas holiday season weather would allow (how many of your end-of-the-year holiday parties involve temperatures in the 70s?) We documented the occasion by taking selfies courtesy of our makeshift photo booth with an iPad and an Innovative EVO Pole tablet mount.
Party games included a true/false quiz on our coworkers (True or False: I have traveled to Chicago, Philadelphia and Seattle just to see Pearl Jam. False. I have gone to Chicago, Philly and Dallas. Not nearly as cool). But probably the highlight of the night for everyone was a special gift from our resident graphic artist and Equine & Late Cretaceous Carnivore Imaging Specialist, N8 Bliss – our very own Marvel character renderings! Labeled The Marvel Solution, you can see this incredible artwork of us in our true form above. I'd like to think I'm Thor because of my awesome power and hammering skills, but it's probably the hair.
Another year is almost over and, here at Human Solution, we're grateful for many things. But most of all, thanks to all our customers and blog readers who are helping us spread the word about creating a healthier, happier office year-round!
Your office may not have two holiday parties, but there are other ways to improve it. Learn more at TheHumanSolution.com.