Posted by Will Moore on Feb 23rd 2017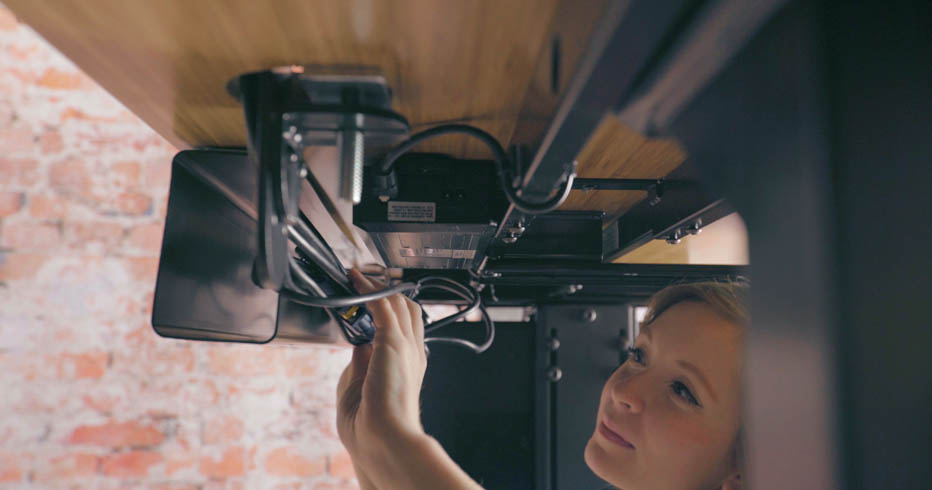 "If a cluttered desk is a sign of a cluttered mind, of what, then, is an empty desk a sign?" – Albert Einstein
I'd like to think my desktop clutter has no correlation to my mental clarity, and I hear this Einstein fellow was pretty good at correlations and theories and such. I definitely don't have an empty desk either, but my antiquated note taking and filing system does sometimes leave something to be desired, often leaving me with an unsightly desktop unworthy of my tranquil brain.
And, if you have a height adjustable desk like me, you may be experiencing another issue too – there isn't a whole lot of storage space (though, with my six-foot wide desk to accommodate my chair and desk treadmill, there is a lot of surface area to clutter up). Luckily, there are some products and accessories that can help clear up your desk, some of which while improving your ergonomics in the process.
1. Monitor Arm – A monitor arm clamped to the back of your desk immediately clears up the space underneath the monitor where your conventional computer stand used to be. And a good monitor arm like an Innovative or Humanscale model will also give you the proper height and depth adjustment to get your monitor in the perfect position, whether you have one monitor or six!
2. Keyboard Tray – If your keyboard and mouse are sitting on the front of your desk, there are probably two problems. First off, it's taking up the most valuable part of your workspace. Second, and more importantly, you're probably extending your shoulders and wrists unless your desk is right over your lap. A keyboard tray can clear up some space (and run the unsightly wires from your keyboard and mouse under your desk instead of across it) and also make sure you are relaxed and comfortable while typing.
3. Mobile Pedestal – If you are lacking storage space and using the top of your desk to remedy this, a simple solution is a mobile pedestal. It's basically a filing cabinet that can be put under one of our height adjustable desks if wide enough, or anywhere in your cube.
4. Document Holder – This is another accessory which has a two-fold benefit. First off, a document holder saves some desk space by getting your documents upright. Also, an in-line document holder can get them at the same level as your monitor, cutting down on neck and eye strain.
5. Wire Management – One way to shift some of the blame of your workstation's unkempt nature is to blame the IT guy that set up your computer for what may be the most common desk mess – cables and wires. We here at Human Solution have put together a wire management kit for use with our standing desks that we've cultivated after years of putting together height adjustable workstations, and it really is everything you'll need to get the cables running between your computer and its peripherals nice and neat, both above and below your desk.
Learn more about keeping your desk both uncluttered and ergonomic at TheHumanSolution.com