Goldtouch Rockstick 2 Wireless Mouse
Goldtouch Rockstick 2 Wireless Mouse
A state-of-the-art mousing accessory, the Rockstick 2 Wireless Mouse from Goldtouch is here to change up your mousing game completely.
An updated "rocker" design allows users to switch between hands for ambidextrous comfort that they'll notice instantly.
The Goldtouch Rockstick 2 Wireless Mouse is cordless and ready to use out of the box, making the mousing experience much more ergonomic with one simple handheld addition.
Features
Adjustable Pointer Precision for 400, 800, 1400, or 2000 DPI
Ambidextrous design
Non-click rocker usage
Comes in Medium or Large sizes
Compatible with Windows, MAC, and Linux
Connects via 2.4HGz wireless receiver
Has a magnetic palmguard for those who don't use a mouse pad
Specifications
| | |
| --- | --- |
| Medium Mouse Dimensions | 3.6" L x 3.15" W x 3.03" H |
| Large Mouse Dimensions | 3.7" L x 3.86" W x 3.54" H |
| Compatibility | Windows, MAC and Linux |
| Warranty | 1 Year |
Goldtouch Mouse Size
Pick your fit
The Goldtouch Rockstick 2 Wireless Mouse is available in two sizes to better fit your ergonomic needs. Measure your hand from the bend of your wrist to the tip of your ring finger.
| | |
| --- | --- |
| Medium | Up to 6.75" hand measurement |
| Large | 6.75" - 7.5" hand measurement |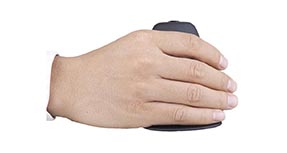 Warranty Information
This product comes standard with a 1-year warranty.
Return Information
Return windows close 30 days after you receive your item.
You are responsible for obtaining a Return Merchandise Authorization, the cost of shipping, and potential restocking fees, if the item has been opened.
To start a return, or to view the full returns policy, click here.
Are you sure you're finished customizing this product?
Bulk Deals
In many cases, we can offer bulk quantity discounts for purchases or smaller orders made over an extended period of time. Bulk deals are based on anticipated volume and the products you've selected. We can also provide you with brochures and swatches to assist in your purchasing decisions.
If you would like to request a quote, we can be reached via phone (800-531-3746), email (info@humansolution.com), or live chat from 8am - 7pm Monday - Friday and from 10am - 6pm Saturday.
Swatch Request Form
Sending....
Thank You!
Please allow 1-3 weeks for delivery.