Effective 11/15/2021, Humanscale will require a signature upon delivery for all FedEx shipments.


Better ergonomics is just around the bend, of the keyboard tray, that is. Enjoy a tray that houses natural or curved keyboards with the Humanscale 100 Combo Keyboard Tray, which allows you to engage in negative tilt keying for more comfort.
Working within your Neutral Reach Zone is crucial to your health; sit too long in the wrong position and you'll see what we mean.
When you need the keyboard brought closer to you, the customizable Humanscale 100 Combo Keyboard Tray is your go-to desk accessory to assist you in better typing.
The tray attaches to most desks and can be customized with accessories that meet your unique workstation needs.
Features
Easily configured to meet specific needs
Platform is made of phenolic - an ultra-strong, remarkably thin 1/4" composite that's nontoxic, durable, and easy to clean
Versatile two-way design can be flipped to accommodate natural-shaped and rectangular keyboards, with or without wrist rest
Design supports natural or wave ergonomic keyboards, works with any of the mouse platform options and will fit most desks
15 year warranty
Specifications
Mechanisms
9 adjustable arms available
Track lengths
11" - 27" for varying desk depths
Mousing surface
13 clip-on and swivel options
Platform dimensions
20.5" W x 10.48" D
13.24" D at deepest point
Warranty
15 years
Promotional Item
FREE UPLIFT CPU Holder
Clear up desktop space and keep your computer tower off the floor by mounting it to the underneath of your desktop. This accessory is great for height-adjustable desk users.
FREE UPLIFT Single Monitor Arm
Mount a monitor weighing between 4.5 lbs - 17.5 lbs, and adjust the height, depth or lateral position with easy fingertip adjustment.
Color
The Humanscale 100 Combo Keyboard Tray is only available in Black.
Humanscale Keyboard Mechanisms
6G mechanism
Humanscale's newest dial-a-tilt mechanism that instantly adjusts the platform's tilt without the need to lock or loosen any knobs or levers and slimmer than the 5G. The 6G mechanism is available in black or white.
| | |
| --- | --- |
| Height adjustment | 7": 1.75" above track to 5.25" below track |
| Track length | Comes standard with 22" track |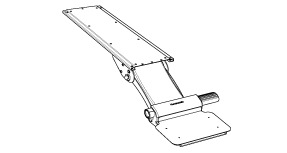 5GSM mechanism for limited-depth desks
This mechanism goes 4" farther underneath a desk surface, getting a keyboard tray stored out of the way on a shorter track, perfect for desks with limited depth or small spaces. This mechanism is available in black or platinum.
| | |
| --- | --- |
| Height adjustment | 4": 0.5" above track to 3.5" below track |
| Track length | Comes standard with 18" track |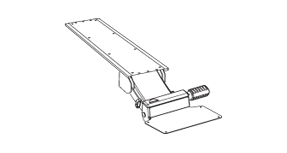 Lateral Slider
All Humanscale mechanisms pivot 360 degrees from the point where it is mounted to the track. Some users have a need for additional side-to-side adjustability. The lateral slider provides for eight extra inches of movement from right to left. This is a useful feature for someone at a large workstation that requires them to type facing different angles or monitors.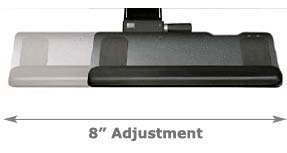 Mouse Platform
Clip Mouse - Mousing Platform
The clip mouse platform is the only mouse platform that allows the user total adjustment control in all three dimensions- height, depth, forward/back and tilt, allowing it to be adjusted precisely the way you need it. It also easily snaps onto either side of the tray for left or right use, and it's available in two sizes and different height ranges.
Note: The high clip has an extra one inch height for additional adjustment and usability and is the most popular accessory we sell.
| | |
| --- | --- |
| 90 | 8.5'' diameter |
| 90H | 8.5'' diameter high |
| 91 | 10'' diameter |
| 91H | 10'' diameter high |
| 90H90H | 8.5'' diameter high - Dual platforms for left and right |
| 91H91H | 10'' diameter high - Dual platforms for left and right |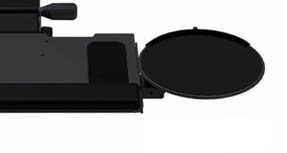 Swivel Mouse - Mousing Platform
The swivel mouse mounts underneath either the left or right front corner of the platform. It swivels out from underneath the keyboard platform easily and tucks out of the way when not in use. This mouse platform is available in right, left and dual configurations. The main difference between the clip mouse and swivel mouse is the adjustability. The swivel platform stays on the same tilt or angle as the keyboard tray; the clip mouse angle can be adjusted independently.
| | |
| --- | --- |
| 11R | 8'' swivel right |
| 11L | 8'' swivel left |
| 11D | 8'' swivel dual - Dual platforms for left and right |
| 12R | 10'' swivel right |
| 12L | 10'' swivel left |
| 12D | 10'' swivel dual - Dual platforms for left and right |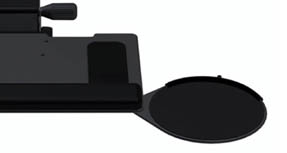 M2 Mouse - Mousing Platform
The M2 offers all the advantages of the swivel mouse, but it is slightly larger and offers a uniquely shaped platform. This lets a user bring the mousing surface closer to their body for a lower risk mousing position.
| | |
| --- | --- |
| 81R | M2 right |
| 81L | M2 left |
| 81D | M2 dual - Dual platforms for left and right |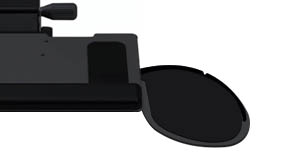 Palm Support
The Humanscale 100 Combo Keyboard Tray can be ordered with palm rests for additional support while typing and mousing. Humanscale palm supports are available in black only.
| | |
| --- | --- |
| 19'' palm rest [F, G, S] | Foam, gel or slim with synthetic leather cover |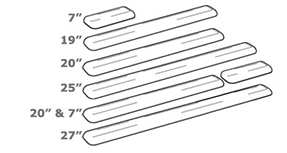 Track Length
The track mounts to the underside of your work surface. It directs and supports the Humanscale mechanism and keyboard tray as it slides forward and back. Standard length on most mechanisms is 21 5/8 inches. That length ensures that the keyboard tray can be completely stowed under your desk when not in use. Some mechanisms come standard with a shorter or longer track. Consult each description for that information, but all systems can be ordered with any track length.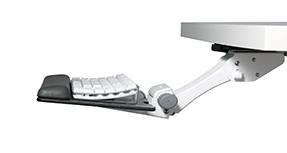 Mouse Pad
The Humanscale 300 Curved Keyboard Tray can be ordered with a mouse pad to fit any of the available mousing platforms.
| | |
| --- | --- |
| 8.5'' swivel platforms | MPGEL8 8.5'' gel mouse pad |
| 10'' swivel platforms | MPGEL10 10'' gel mouse pad |
| 90 or 90H clip platforms | CMPGEL8 8.5'' gel mouse pad |
| 91 or 91H clip platforms | CMPGEL 10'' gel mouse pad |
| 8'' - 8.5'' mouse platforms | HSMP12TIPS 8'' ergo tips mouse pad |
| 10'' mouse platforms | MSMP12TIPS10 9'' ergo tips mouse bad |
Second Mouse Pad
A second mouse pad can be ordered with the Humanscale 100 tray for configurations utilizing two mouse platforms.
I am so happy I bought this tray and I also purchased the screw on, round tray for the mouse, which I so love BECAUSE IT HAS A RIM ON IT and my $100 ergonomic mouse can no longer take unbidden dives to the floor and break. I love that the mouse tray slides under the keyboard for when I tuck my keyboard in at the end of the day. I love how adjustable this is. You can angle it, raise it, make it oh just so comfortable. Between this and the mechanism that goes under the desk I feel I paid a lot of money, but when I received these items and started using them, enjoying the extra space on my desktop because the keyboard goes under the desk, I feel it was money well spent. Only one small plastic stopper bracket broke in the installation process, but doesn't affect the operation of the keyboard at all. What are you waiting for? BUY IT!!!

Fantastic Tray and Mouse Pad

The keyboard tray tucks neatly underneath my work desk, has good forward tilt and the mousing surface is very comfortable and roomy!

This is an excellent keyboard tray, and the buying options letting me pick and choose the components was a great feature.

On the positive side, this was relatively easy to install (although does require laying on your back under the desk with a drill and screwdriver, but that would be the case with any keyboard tray) and definitely gives the impression of a tray that will last for many years. I installed it on a brand new, custom made executive desk, and am not disappointed. It is easy to adjust, and lets me qickly move the keyboard to a comfortable height.

On the negative, there were some shipping delays and it took a couple of weeks to arrive. When it did arrive, the mouse tray was pre-attached to the keyboard tray, but they put it on upside down -- however, that only took a couple of minutes to fix, so not really a big deal. The package included almost double the parts needed, I think because they have enough screws for every add-on you might get. That made it a little harder that it could have been to figure out which screws were the ones I needed, but again not really a big deal.

All told, I'm pleased with the purchase and would buy it again.
Warranty Policy
Visit our Warranty page for the warranty policy for this particular product.
Return Policy
Visit our Returns page for the return policy for this particular product.