Effective 11/15/2021, Humanscale will require a signature upon delivery for all FedEx shipments.


Build the keyboard setup of your dreams. We combined all of the essential features you could want in a keyboard tray and mouse platform with the Humanscale 950 Standard Compact Keyboard Tray to keep you typing and your hands in the correct, ergonomic position.
Swivel and adjust to your ideal height for the best in ergonomic support, all at your fingertips. The Humanscale 950 Keyboard Tray design ensures that users type and mouse within their Neutral Reach Zone, creating a safe, comfortable, and sustainable work environment.
Negative tilt keying assists your wrists, keeping them in a neutral or slightly pronated posture. Not only does this keep your wrists supported, but your hands and upper body get better ergonomic treatment, too, helping you stay well within your NRZ.
Keyboard trays are one of the crucial pieces of an ergonomic workstation, so don't forget it when building our your ideal desk. The Humanscale 950 is now available with a Design Your Own option.
Features
Easily customized to suit your specific needs
Made of phenolic resin - an ultra-strong, remarkably thin 1/4" composite that is nontoxic, durable, and easy to clean
Supports nearly all standard keyboards and will fit most desks
15 year warranty
Made in the USA
Specifications
| | |
| --- | --- |
| Mechanisms | 9 adjustable arms to choose from |
| Track lengths | 11" - 27" for varying desk depths |
| Mousing surface | 13 clip-on and swivel options |
| Palm rests | Available in foam or gel |
| Platform dimensions | 19" W x 8.4" D |
| Warranty | 15 years |
Promotional Item
FREE Goldtouch Adjustable Keyboard GTN-0033
This keyboard's split design promotes a more natural and ergonomic typing position.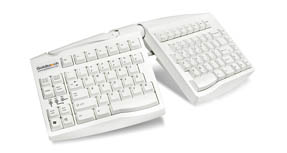 FREE UPLIFT CPU Holder
Clear up desktop space and keep your computer tower off the floor by mounting it to the underneath of your desktop. This accessory is great for height-adjustable desk users.
FREE UPLIFT Single Monitor Arm
Mount a monitor weighing between 4.5 lbs - 17.5 lbs, and adjust the height, depth or lateral position with easy fingertip adjustment.
Color
The Humanscale 950 Standard Compact Keyboard Tray is available in black, white, or platinum. Both the keyboard mechanism, keyboard platform and mouse platform will come in the chosen color.
Humanscale Keyboard Mechanisms
6G mechanism
Humanscale's newest dial-a-tilt mechanism that instantly adjusts the platform's tilt without the need to lock or loosen any knobs or levers and slimmer than the 5G. The 6G mechanism is available in black or white.
| | |
| --- | --- |
| Height adjustment | 7": 1.75" above track to 5.25" below track |
| Track length | Comes standard with 22" track |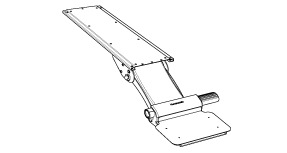 5GSM mechanism for limited-depth desks
This mechanism goes 4" farther underneath a desk surface, getting a keyboard tray stored out of the way on a shorter track, perfect for desks with limited depth or small spaces. This mechanism is available in black or platinum.
| | |
| --- | --- |
| Height adjustment | 4": 0.5" above track to 3.5" below track |
| Track length | Comes standard with 18" track |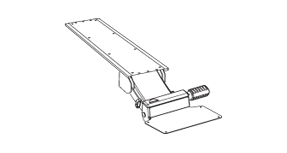 Lateral Slider
All Humanscale mechanisms pivot 360 degrees from the point where it is mounted to the track. Some users have a need for additional side-to-side adjustability. The lateral slider provides for eight extra inches of movement from right to left. This is a useful feature for someone at a large workstation that requires them to type facing different angles or monitors.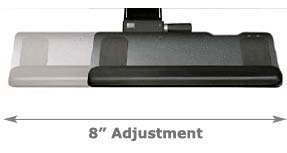 Track Length
The track mounts to the underside of your work surface. It directs and supports the Humanscale mechanism and keyboard tray as it slides forward and back. Standard length on most mechanisms is 21 5/8 inches. That length ensures that the keyboard tray can be completely stowed under your desk when not in use. Some mechanisms come standard with a shorter or longer track. Consult each description for that information, but all systems can be ordered with any track length.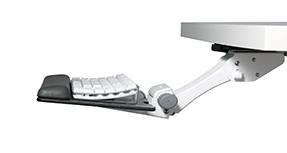 Mouse Platform
Clip Mouse - Mousing Platform
The clip mouse platform is the only mouse platform that allows the user total adjustment control in all three dimensions- height, depth, forward/back and tilt, allowing it to be adjusted precisely the way you need it. It also easily snaps onto either side of the tray for left or right use, and it's available in two sizes and different height ranges.
The Humanscale 900 Standard Keyboard Tray has several popular mousing platform configurations - 8.5" Clip and High Clip Mouse Platforms:
8.5" Clip Mouse sits (90) 1.16" – 1.96" above the keyboard platform
8.5" High Clip Mouse (90H) sits 1.36" – 2.15" above the keyboard platform - our most popular option!
Note: The high clip has an extra one inch height for additional adjustment and usability and is the most popular accessory we sell.
| | |
| --- | --- |
| 90H | 8.5'' diameter high |
| 90 | 8.5'' diameter |
| 91H | 10'' diameter high |
| 91 | 10'' diameter |
| 90H90H | 8.5'' diameter high - Dual platforms for left and right |
| 91H91H | 10'' diameter high - Dual platforms for left and right |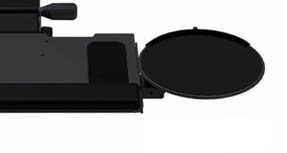 Swivel Mouse - Mousing Platform
The swivel mouse mounts underneath either the left or right front corner of the platform. It swivels out from underneath the keyboard platform easily and tucks out of the way when not in use. This mouse platform is available in right, left and dual configurations. The main difference between the clip mouse and swivel mouse is the adjustability. The swivel platform stays on the same tilt or angle as the keyboard tray; the clip mouse angle can be adjusted independently.
| | |
| --- | --- |
| 11R | 8'' swivel right |
| 11L | 8'' swivel left |
| 11D | 8'' swivel dual - Dual platforms for left and right |
| 12R | 10'' swivel right |
| 12L | 10'' swivel left |
| 12D | 10'' swivel dual - Dual platforms for left and right |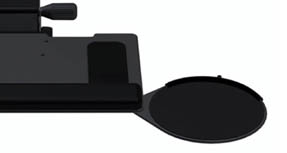 M2 Mouse - Mousing Platform
The M2 offers all the advantages of the swivel mouse, but it is slightly larger and offers a uniquely shaped platform. This lets a user bring the mousing surface closer to their body for a lower risk mousing position.
| | |
| --- | --- |
| 81R | M2 right |
| 81L | M2 left |
| 81D | M2 dual - Dual platforms for left and right |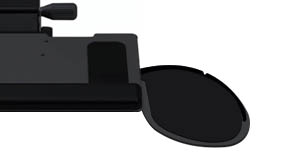 Mouse Pad
The Humanscale 950 Standard Compact Keyboard Tray can be ordered with a mouse pad to match any of the available mousing platforms.
| | |
| --- | --- |
| 8.5'' swivel platforms | MPGEL8 8.5'' gel mouse pad |
| 10'' swivel platforms | MPGEL10 10'' gel mouse pad |
| 90 or 90H clip platforms | CMPGEL8 8.5'' gel mouse pad |
| 91 or 91H clip platforms | CMPGEL 10'' gel mouse pad |
Second Mouse Pad
Add a mouse pad to your optional second mouse platform if desired.
Palm Support
Select from four different palm rest options for your Humanscale 950 Standard Compact Keyboard Tray: All are covered with an easy to clean, black synthetic leather and are 19 inches long. The 19 inch slim gel palm rest with synthetic leather cover is only about a quarter of an inch thick and is available in black or silver. Slim palm rests are not compatible with swivel mouse platforms.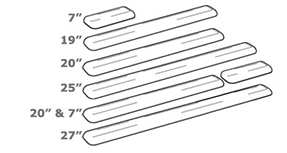 When designing your Humanscale 950 Standard Compact Keyboard Tray, if you choose to not add a palm support, there will be holes located at the installation points on the tray.
This is normal and part of the keyboard tray's design, but if you do not want a palm rest and installation holes in your tray, we suggest ordering another keyboard tray.
If you have any questions or need help choosing a keyboard tray, please don't hesitate to call us!
A Walkthrough of the Options

About two years ago I dislocated a rib due to improper ergonomics at work. I'm shorter, which means most of my life I've been sitting completely wrong in order to reach my keyboard on top of my desk while keeping my feet flat on the floor. I was putting strain on my back muscles, and they became inflamed and basically pushed one of my ribs right out of my spine. This tray allowed me to fully recover, and never have problems again.

I've owned both this tray and the larger 900 tray, and they're both fantastic. This particular tray is much smaller than the standard one, but I use mostly smaller mechanical keyboards and I don't need all of the extra space. I wouldn't recommend getting this tray over the 900 if you use a standard keyboard. Otherwise, it's fantastic and a little more compact than the 900.

My biggest gripes with other keyboard trays is how wobbly they are, and the fact that you can't adjust the tilt. As long as you have a solid desk that won't wobble, the tray isn't going anywhere and can hold really heavy keyboards (I have some custom keyboards that are almost 8lbs, this tray holds them without a problem).

I like to recline back in my chair, and basically pull the keyboard tray into my lap. It's insanely comfortable for hours at a time, and I can't do that with other keyboard trays. Imagine reclining back and having the keyboard right at your fingertips.

I'm going to cover a few of the add-ons as well, in order. Hopefully it will make your life a little easier.

1, I got to pick a promotional item, and I own both the single monitor arm and the Uplift CPU holder. The keyboard really isn't that great of a value when compared to these items, unless you really dig the design. You really can't go wrong with the monitor arm, it's really handy.

2. For colors, I chose black. The wrist rest is black, but the tray itself is a speckled grey/black color, not a flat black. It looks like a pile of pepper that you sprinkled some salt over. I like the look, just be aware it's not completely black.

3. My tray uses the 6G mechanism, which is vastly superior to the other mechanisms (unless you have a specific scenario that warrants another one) and I wouldn't advise getting any of the other ones. You're already buying an expensive keyboard tray, don't cheap out on the main mechanism just to save a couple of bucks.

4. I have the gel wrist-rest, which is really comfortable but unfortunately starts to crack after about a year of daily use and will need to be replaced. Your mileage may vary, but for me it cracked right where I place my left palm. I'm hoping this one will hold up longer, but if not you can buy replacements and they swap easily. The gel is way more comfortable than the foam, so if you're on the fence then get the gel.

5. I decided against getting the lateral slider, because I didn't see myself needing it if the tray was placed correctly to begin with.

6. I went with the 10" High Clip mouse platform, and I love it. I previously had the 9", and it felt a little cramped when trying to mouse around my two monitors. Make sure to get the High Clip, since it's much easier to adjust. Mine sits above and actually covers a small part of my keyboard tray, but it's very comfortable. Most of the other mouse platform options are kind of pointless, in my opinion. They are wobbly and not nearly as comfortable to use as the High Clip.

My ONLY complaint with this tray is the fact that the mouse pad is not as pictured, and totally different than it used to be. The older one is a traditional cloth mouse pad that you're probably familiar with, and the new one feels more like a very smooth, grippy foam or something. I admittedly like this pad better, but you get a completely different feeling when using a standard mouse pad. This might be an issue for some people.

Also, note that this keyboard tray does NOT work with the Uplift track spacer that is sold on this website. The holes don't line up and it's a pain drilling your own. Luckily my standing desk has the ability to remove the middle bar, so I didn't even need to use it.

Overall, I'm very pleased. These Humanscale keyboard trays are excellent for the money, and will last you for years to come. They're so much more sturdy and heavy than any of the cheaper options available out there, and they make life so much more comfortable if you get the right options.

This product comes standard with a 15-year warranty.
Return Information
Return windows close 30 days after you receive your item.
You are responsible for obtaining a Return Merchandise Authorization, the cost of shipping, and potential restocking fees, if the item has been opened.
To start a return, or to view the full returns policy, click here.