This item has been discontinued. For similar items, shop our selection of keyboard trays.
Looking to maximize desk space but want an affordable accessory to bring you into a new era of work? Try the Switch Keyboard Tray by UPLIFT Desk - it's our sleek, high quality ergo-friendly accessory for those on a budget.
This is slightly different from the Large Keyboard Tray by UPLIFT Desk because of the separate mouse platform that can be moved to either side for ambidextrous mouse navigating.
The tray is designed to relieve strain caused from over-reaching and working outside your Neutral Reach Zone. With 8 inches of height adjustment, 20° of negative tilt, and 10° of positive tilt, you'll be sure to find a comfortable working position for your keyboard in seconds.
Change the way you work in the direction of more comfort with a single ergonomic desk annexation.
Trying to decide which keyboard tray by UPLIFT Desk is best? Take a look at our Keyboard Tray Comparison Chart (PDF).
Features
Generous height adjustment range of 8''
Removable wrist rest, mouse pad, and cord catcher offer additional support while tidying up your workspace
Ambidextrous mouse platform easily slides through the tray from left to right
Standard 21'' track allows for full retraction under desk, with a second 11'' track included for limited depth desks
Lift-and-release mechanism adjusts height without the use of levers or knobs
Easy-turn wheel allows for negative or positive tilt of keyboard tray
Slim 0.25'' phenolic tray surface allows for plenty of knee clearance
Curved design allows the tray and mouse platform to be brought close to the body
Specifications
| | |
| --- | --- |
| Platform dimensions | 19.5" W x 11.5" D x 0.25" thick |
| Mousing surface dimensions | 8.25" diameter |
| Height adjustment | 8" total (3" above track to 5" below) |
| Tilt adjustment | 20° negative to 10° positive |
| Track lengths | 21" L (standard) and 11" L (for limited depth) |
| Swivel at mechanism | 360° |
| Weight limit | 10 lbs |
| Material | Phenolic resin |
| Warranty | 5 years |
| Shipping dimensions | 14'' W x 6'' H x 28'' D, 22 lbs |
F.A.Q.
What's more popular, the Large or the Switch?

It really comes down to personal preference! If you want a separate platform for your mouse, then the Switch is the keyboard tray for you! If you would rather have a single platform for typing and mousing, then go with the Large Keyboard Tray by UPLIFT Desk.

What's the benefit of the Switch vs the Large Keyboard Tray by UPLIFT Desk?

The Switch Keyboard Tray is a versatile tray for both right-handed and left-handed users. The mousing surface can be pulled out from either the right or left side depending on where you need to mouse. Another great benefit to this tray is that you can pull the mousing platform closer to your body to reduce fatigue from overreaching to mouse.

What is the track spacer?

The Track Spacer gives you the ability to install a full length track underneath the desk when the crossbar rails are in the way. That way you can fully stow the Switch Keyboard Tray underneath your desk. Check out our video explaining all of the glorious benefits of the Track Spacer.

Does the mousing platform tilt independently of the keyboard platform?

No, the keyboard platform and mousing platform will tilt in unison.

Why is it called a "switch" keyboard tray.

The mousing platform can be easily switched from the left to the right side, or vice versa.

I just installed my keyboard tray but it won't lower, what is wrong with it?

You may have simply overlooked step four of assembly, the removal of the shipping pin. Just lift up on the front of the tray and lower the back of the tray to remove pressure from the shipping pin. Then it will be easy to remove and you will be on your way to using your new keyboard tray!

How big is the keyboard platform?

The Switch Keyboard Platform measures 19.5" wide by 11.5" deep by 0.25" thick.

I can't tell from the pictures, is there only one mouse platform or two separate mouse platforms?

The switchable mousing platform is one big platform that slides back and forth. Only one side of the platform is usable at a time.
Track Spacer
The Track Spacer by UPLIFT Desk allows you to mount your keyboard tray track over the crossbars under your desk, giving you more flexibility in positioning accessories, especially on smaller desks. If your desk is only 24 inches deep, this will allow you to place the 22" track over the crossbars so you can stow the keyboard tray completely underneath the desk.
Corner Sleeve
Add an UPLIFT Corner Sleeve to solve the issues of limited depth when trying to install a keyboard tray on the right angle of an L-shaped or corner desk. This low profile mount is available in two different models to attach to worksurfaces 1'' - 2.5'' thick, and is compatible with all UPLIFT Desk keyboard tray tracks.
Goldtouch Ergonomic Keyboard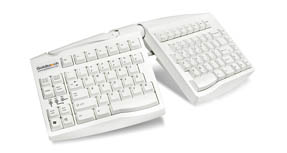 Expedited Production
Receive your accessories even sooner! Just add our expedited production option to your order.
Place your order by 3 pm Central on a business day and we guarantee to start production and ship your order the same day. If placed after 3 pm, your order is guaranteed to ship the following business day.
Note: Expedited production is different from expedited shipping. If you're interested in adding expedited shipping to your order, please contact us directly.
The perfect keyboard tray for me

I love this keyboard tray. I had a cheap tray before and thankfully this Uplift Switch Tray is a really high end upgrade for me. It has a easy to use finger dial with degree markings so I can achieve the perfect angle for my keyboard and even modify it slightly as my hands/wrists need a different position. I've only ever seen this high end dial feature on much more expensive Humanscale keyboard trays. The tray moves up/down very easily and is rock solid steady while I type. I like the fact that it came with both a short and long track for mounting it below my desk, I ended up using the short track and it works very well.

Pros: The included mouse pad and cord keeper on the mouse tray are really great little touches that make this affordable keyboard tray nicer than any other keyboard tray I've seen.
Cons: Make sure you install the tray on the mechanism before trying to make the mechanism go up/down. You need the mechanism to get leverage on the tray so you can use the easy up/down feature on this tray. I jumped the gun and didn't follow the assembly instructions and I thought my up/down didn't work. A quick call to the very helpful Human Solution customer service set me straight!
This product comes standard with a 5-year warranty.
Return Information
We offer a 30-day trial on all single-item UPLIFT Desk brand orders, with the exception of solid wood and custom laminate desktops. If for any reason you're not satisfied, return the item with no outbound shipping or restocking fees.
Return windows close 30 days after you receive your item. You are responsible for obtaining a Return Merchandise Authorization (RMA) within this time.
All items must be disassembled and returned in "Like new" condition in their original factory packaging. Items not returned in this condition may be subject to additional fees. You are responsible for return shipping costs.
To start a return, or to view the full returns policy, click here.