Goldtouch Keyboard and FREE Mouse Combo
Goldtouch Keyboard and FREE Mouse Combo
Choose Your Video
Goldtouch Ergonomic Keyboard Review

02:30
When you're ready to upgrade your ergonomics at work, consider your most used accessories first. This includes your keyboard and mouse combo, which could probably use a boost.
Purchase an ergonomic keyboard by Goldtouch and we'll include a free ergonomic mouse to keep you tasking without a pause.
Working comfortably just got simpler.
Features
Keyboard allows you to determine the angle and height that works best for hands and wrists
Adjusts in seconds, so you can separate and tent sections to suit your personal requirements
Can help prevent and reduce the discomfort of repetitive stress injuries
The body of the mouse supports a neutral wrist angle of 20° - 30°
Mouse design offers longer buttons with a low click force, allowing users with different sized hands to type easily
Goldtouch Keyboard Specifications
| | |
| --- | --- |
| Dimensions (closed) | 16.25" W x 6.75" D x 1.8" H |
| Weight | 3.3 lbs |
| Key travel distance | 4 mm, +/- 0.5mm |
| Average activation key force | 40g - 45g |
| Horizontal plane adjustment range | 0° - 30° |
| Vertical tenting adjustment range | 0° - 30° |
| USB cord | 6' |
| Warranty | 1 year |
Goldtouch Mouse Specifications
Length
114 mm
Width
80 mm
Height
52 mm at thumb
30 mm at small finger
Weight
145 g
Optical resolution
1000 DPI
Supported platforms
Windows, Mac, Linux, Unix
Goldtouch Ergonomic Mice
Choose your model
The Goldtouch Ergonomic Mouse is available in the following models:
KOV-GTM-R: Right-handed mouse with cord
KOV-GTM-L: Left-handed mouse with cord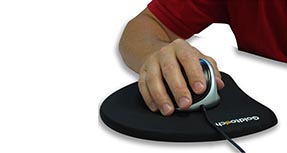 Free Promotional Mouse Pad
While supplies last
This Humanscale Ergonomic Mouse Pad provides both a smooth, soft mousing surface and puts a great ergonomic workstation reference right at your fingertips. Purchase this Goldtouch Keyboard and Mouse Combo and receive an ergonomic mouse pad, absolutely free.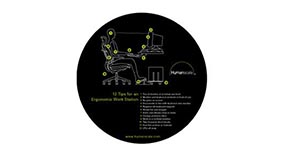 Product Reviews
Write Review
Showing reviews 1-5 of 8 | Next
Goldtouch Keyboard and Free Mouse Combo

Posted by Thankful user on Aug 6th 2014

I am very pleased with my keyboard and mouse. I can tell a huge difference in fatigue in my hands. I did take a while to get used to the split keyboard but I now realize how good a typist I am.

The only suggestion/recommendation I have is that I have to user the wrist rest while using the mouse to position my hand comfortably and be able to use the roller. I average women's hand size, maybe this mouse was meant more for large hands or men?

Goldtouch Keyboard

Posted by Office girl on Sep 23rd 2013

The keyboard has changed since I first got one. The original keyboard was solid and yet the keys were smooth and you could glide your fingers over the keys. This keyboard is plastic and a bit cheap feeling. The cost is the same but clearly not like the original in workmanship.

Human solution delivered the item quickly and efficiently.

I would still highly recommend the keyboard even if the workmanship is not five star.

Goldtouch keyboard & mouse

Posted by Steve Beach on Mar 3rd 2013

Incredible. Relieves wrist & joint pain due to typing and does not aggravate shoulder injuries. Saved thousands of dollars pain meds & Phys therapy.

Goldtouch Keyboard and Mouse Combo

Posted by Debz Haziz on Sep 9th 2012

I purchase this product to work out of my home on the computer for my job and on the very first day I fell in love with it. It was definitely what I needed. I highly recommend it.

Goldtouch keyboard

Posted by S on May 8th 2012

Used a Kinesis Maxim many years at work - coworker had this one and I liked it also - it has a nice touch. Bought this Goldtouch for home use. The 6 is in the right place for me, and the mouse is an OK size also, even though my hand is small. I can't use regular keyboards anymore now that I'm accustomed to split ergo. I love being able to customize it to my own needs, and each other user can do the same.
Showing reviews 1-5 of 8 | Next
Warranty Information
This product comes standard with a 1-year warranty.
Return Information
Return windows close 30 days after you receive your item.
You are responsible for obtaining a Return Merchandise Authorization, the cost of shipping, and potential restocking fees, if the item has been opened.
To start a return, or to view the full returns policy, click here.
Your Cost
$89.00
List Price: $160.00
Ships Free (US48)
Ships the same business day
Are you sure you're finished customizing this product?
Bulk Deals
In many cases, we can offer bulk quantity discounts for purchases or smaller orders made over an extended period of time. Bulk deals are based on anticipated volume and the products you've selected. We can also provide you with brochures and swatches to assist in your purchasing decisions.
If you would like to request a quote, we can be reached via phone (800-531-3746), email (info@humansolution.com), or live chat from 8am - 7pm Monday - Friday and from 10am - 6pm Saturday.
Swatch Request Form
Sending....
Thank You!
Please allow 1-3 weeks for delivery.