Hear phone calls better and hear yourself talk so you can talk quieter. UPLIFT Desk's Acoustic Phone Booth is the perfect solution for those in a noisy environment.
It's not always easy to hear phone calls in a noisy office, lobby, or other public area. The Acoustic Phone Booth solves this problem. In addition, the phone booth acoustics absorb your voice as you speak so you'll be removing that noise from shared spaces as well. Helping fellow employees concentrate on their tasks is a good thing. Create a dedicated area for better phone calls by installing multiple phone booths in a row.
This phone booth absorbs 86% of all the sound that hits it from both inside and outside, and is rated at a noise reduction coefficient of 0.86. There is a small shelf that is located within the booth that can hold light items such as a notepad, a tablet, or a beverage.
Made from polyester acoustic fiberboard that is great for absorbing sound, this lightweight phone booth easily mounts to almost any wall with the included mounting hardware. The tab-in-slot panels make our Phone Booth easy to assemble. The fiberboard is environmentally friendly too, made of 50% recycled material, with a Euro Class B fire rating.
Features
Our acoustic hideaway gives you the perfect place to take calls and listen to voicemails in noisy areas. You may even find it useful to use to focus and get ready for a meeting
Mount the Phone Booth to any wall, wherever it's needed
A small shelf located inside the booth is perfect for any small items
Provides a small area of privacy to your open office, break room, waiting rooms or common areas
Reduces noise by absorbing 86% of the sound that hits the walls (NRC 0.86)
Made from eco-friendly polyester acoustic fiberboard. The tab-in-slot design makes it easy to put together
Booth material is fire rated Euro Class B
Specifications
Outer dimensions
33.75" W x 27.9" D x 35.5" H
Inner dimensions
32.25" W x 27" D x 33.25" H (from top of shelf to ceiling)
Shelf dimensions
10.5" deep at the wide section (9.5" across before it narrows down), 4.5" deep across rest of shelf (about 18.5" across)
Panel material
Polyester acoustic fiberboard
Panel thickness
0.75" thick
Weight
18 lb 2 oz
Noise reduction coefficient (NRC)
0.86
Colors
Outside Gray / Inside green
Outside Charcoal / Inside gray
Spec
Mounts to wall using qty 6 #10 screws and washers. Will include drywall anchors.
Fire rating
Booth material is fire rated Euro Class B
Warranty
15 years
Shipping dimensions
36.75" W x 34.4" D x 4.1" H, 22 lb
Acoustic Phone Booth F.A.Q.
What is the shelf for?

The shelf was designed to be used for small lightweight items such as a notepad, a cup of coffee, or your cell phone

Am I able to use my laptop in the phone booth?

The shelf wasn't built to support a laptop. It will however support a tablet.

What do I need to put this together? Can I do it alone?

Tools are not needed to assemble the phone booth, but we do recommend that you do assemble the booth during the mounting process. Tools will be needed when you mount the phone booth to the wall. You will need a screwdriver, a drill, a tape measure, and a pencil.

It might be beneficial to have a second person help you with a couple of the steps.

Can this be mounted to brick, cement, or cinder block walls?

You are able to mount the phone booth on these different surfaces but you will need to purchase the appropriate anchor hardware to do so.
Color
Choose between Gray - Exterior / Green - Interior and Charcoal - Exterior / Gray - Interior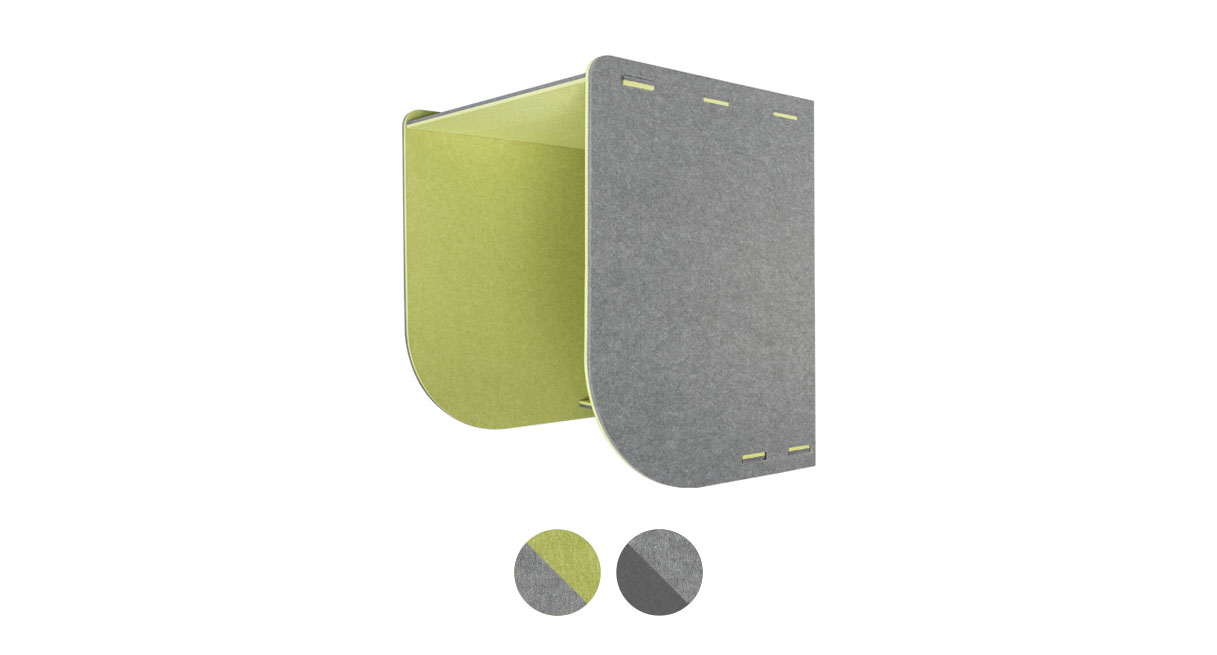 UPLIFT Desk Warranty Policy
We stand firmly behind the quality of our products. All UPLIFT Desk products come with a 15 Year Warranty, visit the UPLIFT Desk Warranty page for the full policy.
Return Policy
Free Returns with Free Return Shipping within 30 days, visit the UPLIFT Desk Returns page for the full policy.