Posted by Tyler Reinhardt on Nov 17th 2017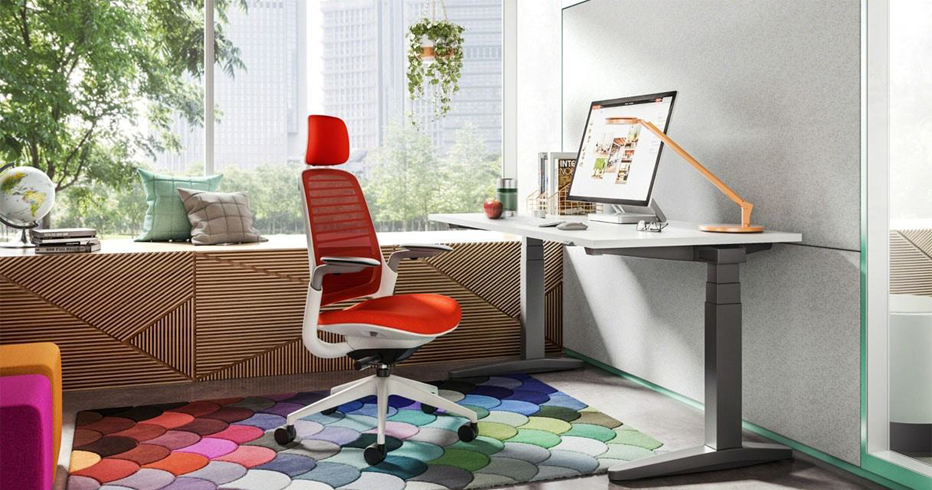 New chairs are always a fun thing when they hit the market. The function is always the same but the little bells and whistles keep it interesting. The latest flavor to grace the world of ergonomic chair options is the Steelcase Series 1 Chair. It's a task chair, it's a drafting chair, it has a headrest or it doesn't. All of this depends on you and what you want. But regardless of your stylistic tastes, the Series 1 comes with a few of the aforementioned bells and whistles that keep it from being dull.
Tall and short people alike will be happy to know that the Series 1 does include a seat depth adjustment for your legs as well as a height-adjustable cylinder. Having this feature allows you to flip a lever and adjust the seat either up or down easily. You'll know your chair is at the right height when your body is comfortable and the chair allows you to keep your feet flat on the floor with a roughly 90 degree bend at the knee. The base of the chair comes with casters for mobility but you also have the option of glides if you don't anticipate having to relocate your chair often.
Moving up the chair, you'll notice the arms. Or maybe you won't - as the option for a Series 1 without arms is totally a thing. They have the full range of motion that's fairly common among the Steelcase chairs. You can adjust the arm width within a 4" range and the depth within a 2" range, giving you support in the forearms and allowing you to retract the arm to get a little closer to your worksurface. You also get the 40 degree pivot of previous models so you can swivel the arms in or out depending on your preferences.
The back of the chair also has some adjustability. The lumbar has a range of 2.25" to deliver personalized lower back support where you need it. The main back support does not adjust height but it does have the ability to tilt back. How far back depends on your preference as there is a locking mechanism that restricts just how far your chair can recline. Finally, you have the option of adding a headrest if you like the extra support for your neck and head.
The introduction of the Steelcase Series 1 is a welcome addition to the ergonomic chair family and with several fabrics and colors to choose from, you'll be able to style it to suit your tastes. If you ever need help configuring the chair that's right for you, you know who to call. Our reps are on standby at (800) 531-3746.