Posted by Tyler Reinhardt on Mar 29th 2018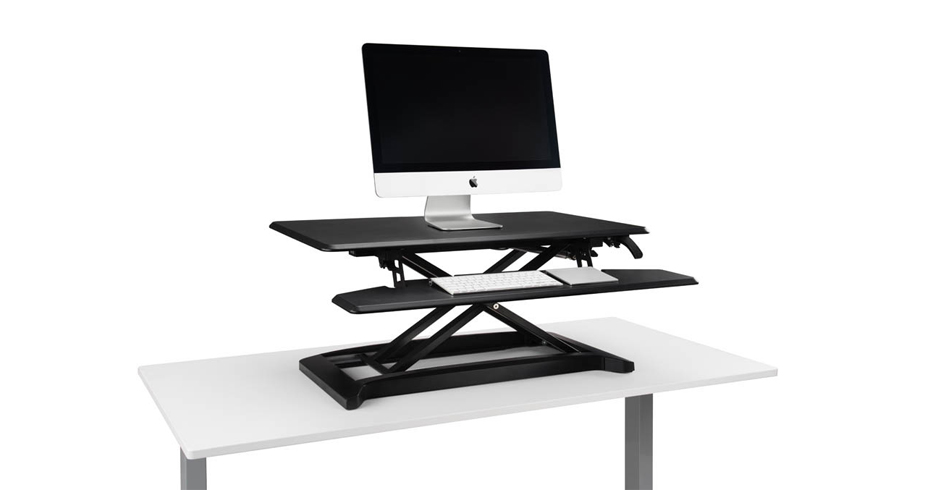 The Converter Conundrum
Standing desk converters have become increasingly popular lately. While not as ergonomically beneficial as a full height adjustable sit stand desk, they do add a bit of convenience in that you don't have to replace any furniture to use them. Rarely do they come unassembled and all of them pretty much work the same way with very little exception. With a market saturated with similar products, everyone is trying to add little features and adjust price points to differentiate themselves from the competition. The latest contender in the race to be your new work surface is the WorkFit-TLE by Ergotron. Is it going to let you lead a healthier office life? Yes. Is it going to blow your mind while doing so? Maybe. Keep your excitement at a reasonable level and let's go ahead and look the horse in the mouth.
Freestanding Desk Transformer
So first and foremost, the WorkFit-TLE is a "standing desk converter". Literally meaning that it converts whatever your worksurface is, such as a desk, into a sit-stand workstation. This is cool because it mitigates the issues caused by sitting, which are pretty similar to the same adverse health effects of smoking cigarettes. The WorkFit-TLE is a freestanding unit that sits on top of your workstation and does not require any sort of clamping or anything to install it. Last but not least on the list of basic features, the WorkFit-TLE is adjustable from sitting to standing and vice versa through the use of two switches on either side of the top's surface. Simply press them to release and adjust as you need.
Built-In Document Holder
Now that we've proven that the horse is a horse, let's have a look at the bells and whistles. The WorkFit-TLE has a couple of useful features that make it notable. Probably the most interesting one is the built-in document holder. You can either have it lay flat so that it blends in with the rest of the upper worksurface and frees up some workspace real estate, or you can open it up to reveal an angled surface, upon which you can rest your mobile devices, tablets, and, of course, documents. This is pretty nifty for people who constantly have to refer to print documents or things that are not on their computer screen. It minimizes head tilting and gets your screen and/or documentation into a more ergonomic viewing position.
Ergonomic Tiered Keyboard Tray
Another awesome feature is the drop-down keyboard tray. While the keyboard tray platform itself is not adjustable, having a keyboard tray platform that lowers below desk level is a good thing because it allows your hands to maintain an ergonomically correct position. The issue with converters that lack this feature is that the keyboard tray platform tends to force the wrists into a slightly bent state due to the platform surface being slightly higher than the surface of the desk. Lastly, there is an optional wire management tray that can be outfitted on the back of the unit. It's big enough to house a surge protector, which is pretty convenient in terms of wire management.
All in all, the WorkFit-TLE has a little pizzazz, but when you're trying to answer the question of whether it's the converter for you or not kind of depends on what features you're looking for. From our experience WorkFit-TLE is an ideal solution for those who work in fields that require a lot of referencing documents but aside from that there are plenty of other desk converters out there on the market. The UPLIFT XF Standing Desk Converter, for instance, will do the same job for less money. If you would like a quote for either converter, we have reps at 800.531.3746 that'll be happy to help you. Happy standing!