Posted by Mandy Spivey on Nov 15th 2018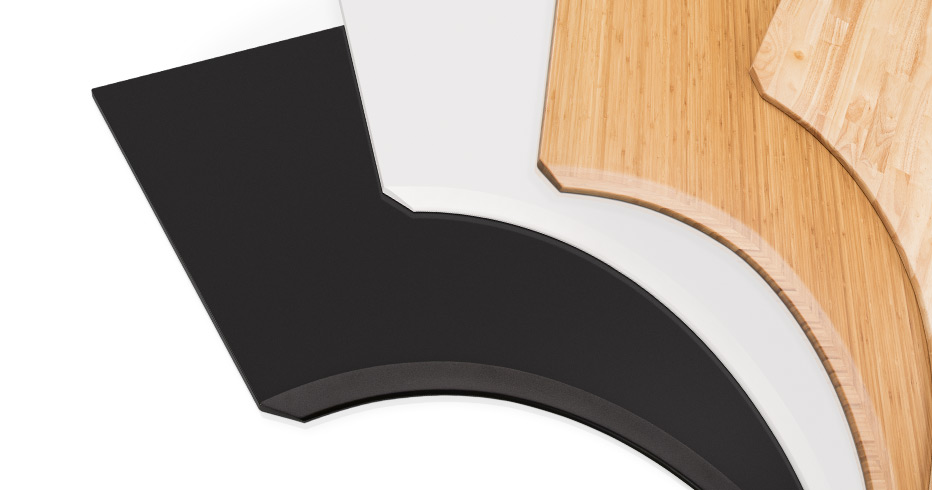 When it comes to maximizing space or setting up sit-stand shop in a corner, the UPLIFT Curved Corner L-Shape Sit-Stand Desk is an ideal addition to most office spaces. The ergonomic brand already offered desktop options in solid black and white, but with new additions Rubberwood and Bamboo, the desktop lineup comes to four different environmentally friendly tops, making any desktop you choose one you can be sure you'll feel good about.
Sustainable and Beautiful Corner Desktops
When you're in the market for a desktop that's sustainably sourced aaaaand made, bamboo is a more than appropriate solution. The team at UPLIFT Desk sources their fast-growing Moso species from forests in Asia; the reeds that are harvested are strong, durable, and after we carbonize it, eye-catchingly beautiful, perfect if you're hunting for a desk that doesn't use a lot of new materials in its making. Mother Earth thanks you for the thoughtful gesture!
Then there's Rubberwood. This popular desktop material is well-liked and sought after for its beautiful, lustrous appearance that really mirrors the look and feel of a solid wood desktop, just at a fraction of the price. Re-purposed from retired trees at the end of their life cycles after diligently producing the rubber sap that goes on to make millions of rubber products, UPLIFT Desk's skilled craftsmen then recycle this hardwood into durable desktops you'll have to see to believe.
What Sets the Eco Curved Corner Apart from UPLIFT Desk's Other L-Shapes
There are a few things that differentiate this corner desk from the others that UPLIFT Desk offers on their ever-expanding product line.
First things first - take a look at the Eco Curved Corner Desktop and you'll see its inner ergo curve. UPLIFT's designers included this ergonomic detail for a reason: it allows you to sit closer to your most-used work area, also referred to as your "neutral reach zone", letting you task in the ergonomically ideal posture.
Let's focus in a little closer. See that subtly-beveled edge on the top? That's there to cushion your wrists and reduce the cutting off of your circulation as you're working. If your keyboard is set up directly on your desk (and not on a keyboard tray, for instance), this detail helps you stay comfortable for longer, leading to much more productive work sessions.
Then there's space; how much do you have to set up your desk? This is a crucial question to ask yourself when considering purchasing any sit-stand desk. The fully Height Adjustable Standing Desk with L-Shaped Tops by UPLIFT Desk need at least a 60" by 78" space; by contrast, the Curved Corner L-Shape Sit-Stand Desk is able to fit into more compact areas - needing only 47" by 72" of space. Depending on your office's free space and how much gear you plan to set up on your new desk, we have an L-shape desk that is perfect for you, one that fits right where you want it.
Need Help? We're Here for You.
If you're still left scratching your head as to what desk is right for you, never fear! Our team is here and ready to help you pick out the most suitable height adjustable standing desk for you! Call, email, or chat us live on our site for friendly assistance to get you standing at a sit-stand desk.