Posted by Tyler Reinhardt on Jul 12th 2015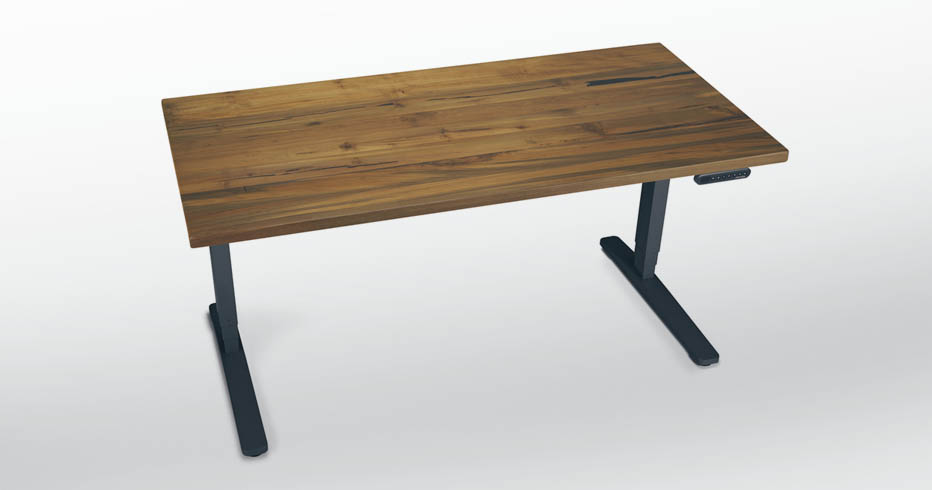 The Reclaimed Wood Height Adjustable Standing Desk has been a pretty popular guy in recent years. It could be the water-based urethane finish or perhaps that "real wood aesthetic." Whatever it is, everyone seems to love it. But until recently, our reclaimed Douglas Fir has been kind of an only child. Our other desktops had all kinds of options to keep each other company. The Douglas Fir, however, was feeling lonely and it made us sad. So, we decided to add our new reclaimed Teak to the mix!
Our reclaimed Teak has all of the features of its Douglas Fir sibling but with a different wood aesthetic. The Teak adds a little more yellow and some more vibrant browns to its palette which is great for those who are looking for a reclaimed wood top with a more colorful personality.
Best of all, these two are environmentally-friendly alternatives to harvested woods and they're a great way to still bring a bit of nature into your office while also saving some money. Each top is made from re-purposed wood, which saves a tree or two and gives some really beautiful visual effects. All reclaimed wood tops have a distressed and textured look but no two tops are ever quite the same. No matter if you go with the reclaimed Douglas Fir or the reclaimed Teak, the desktop you get will have a look that's unique to your desk.
If you find that the idea of a real-wood look strikes your fancy, you can check out the UPLIFT Stand Up Desk with Reclaimed Wood Top on our site. You can also call us here at Human Solution for general questions and quotes! Just dial 1-800-531-3746.