Feet are important. You need them to run, walk, swim, gross out your siblings, and, of course, stand. Your standing desk is a lot like you, for it too gets its stability from its feet.Even more so if you have an adjustable standing desk. This is why a surprising amount of thought goes into the foot of your desk. How big should it be? What shape? What material? Lucky for you, we've done all of the testing so you don't have to, and this is why we've updated our desk design to the C-Frame.
You may remember our old T-Frames, with a sturdy, telescoping leg attached to the center of a long steel foot bar, forming the shape of its namesake. At the time, they were fantastic, able to lift desktops with the best of them. But they were not perfect. While stable, they still offered more movement potential than we liked, and we here at The Human Solution are always striving for improvement. Thanks to our engineer here in Austin, TX, we developed a new foot that was stronger, faster, and, well, footier, and with a much more contemporary aesthetic. Thus the C-Frame was born.
Now, what makes the C-Frame actually different? Well, for starters, it's the shape. With T-Frames, the leg came down in the middle of the foot, creating an upside-down "T". Classic, but it was a little dated. The foot for the C-Frame is offset a bit toward the back of the foot, making more of an angular "C" when viewed from the side. This design not only has a more modern feel, but also gives more stability and more space in the front for mounting accessories like keyboard trays and the like.
The C-Frame is also the more stable of the two designs. You may think this has to do with the legs. In fact, the legs play a far smaller role in that than the feet do, which is why the C-Frame's feet are cast from molten aluminum, which is much more sturdy than steel. In addition to the metal being much more stable, the C-Frame foot was designed with additional support via the strengthening ribs built right inside. These ribs mitigate deflection, also known as bending or warping of the foot. This is caused over time by pressure that's applied to the front of the desktop. With our design, the C-Frame feet will endure that stress much longer than the T feet, and look great while doing it!
So while we have loved our T feet for the past few years, we wish them a happy retirement doing whatever it is retired feet do - a pedicure retreat perhaps, or some other such thing. With the new and improved C-Frame, the UPLIFT Desk is more stylish and sturdy than ever! Just ask the fine folks at 1-800-531-3746 and if you need a quote, don't be shy. We're here to help!
So you've read all of the statistics about how sitting all day is killing you, and you've decided to take the plunge and get a sit-stand desk. There are many options to consider at this stage, all of which can vary wildly and can be a bit overwhelming. A good place to start when you're [...] Read More »
You've selected all of the options on your UPLIFT Desk, from the size of the desktop to the color of the frame, but there's still one more choice to be selected: the shipping method. Unless you're fortunate enough to live within easy driving distance of our central Texas showroom, your UPLIFT desk order will be [...] Read More »
That new desk of yours is like a puppy. It sits, stays, and is oddly adorable in the right setting. It won't fetch or roll over, but you can still cuddle with it. Not too hard, as we don't want cuddle related injuries on our conscience. Another thing that puppies are well known for is [...] Read More »
Everybody wants to upgrade their desks now, it seems, but not everyone is able to do away with their old desk setup. Those stubborn office bureaucracies tend to make everything more difficult. As much as you'd probably like to take an ax to that fixed height abomination, there are solutions that are much less violent. [...] Read More »
In today's guest post, Jen C. reviews the entire process that led to her purchase of an UPLIFT desk, as well as her impression of the desk once it was assembled and in use. I researched standing desks for at least 2 months, leading up to my carpal tunnel surgery. I knew I needed to [...] Read More »
It's the little nuances in life that make things special. That UPLIFT Height-Adjustable Standing Desk you're eyeing? It's got plenty of nuances, ranging from the small details like the specially-designed foot that gives it superior standing stability, to the nifty things you can do with the Advanced Digital Keypad. The digital display gives you a [...] Read More »
The UPLIFT Adapt Height Adjustable Standing Desk Converter is here with a fresh new design, and it is glorious. Glorious for those of you looking for a quick and easy sit-to-stand work space solution, and glorious for us because we get to spread joy to the masses by giving you the tools to make your [...] Read More »
The time of year is upon us when our homes are set upon by the terrors of the night. They come to us in the late night hours to feast upon our candies and haggle with each other over who gets the chocolate and who gets the candy corn. Yes, dreams and nightmares of the [...] Read More »
It's been a while since the last breakdown of UPLIFT desk accessories and, while we've had some good ones, we've grown a lot in the last couple of years. This means we've added quite a few new things that just weren't available before. We've also improved upon and simplified some of our options. So, with [...] Read More »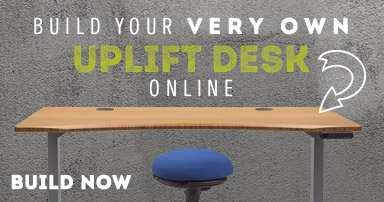 Interested in ergonomics?
Subscribe to our blog mailing list