Posted by Mandy Spivey on Mar 14th 2018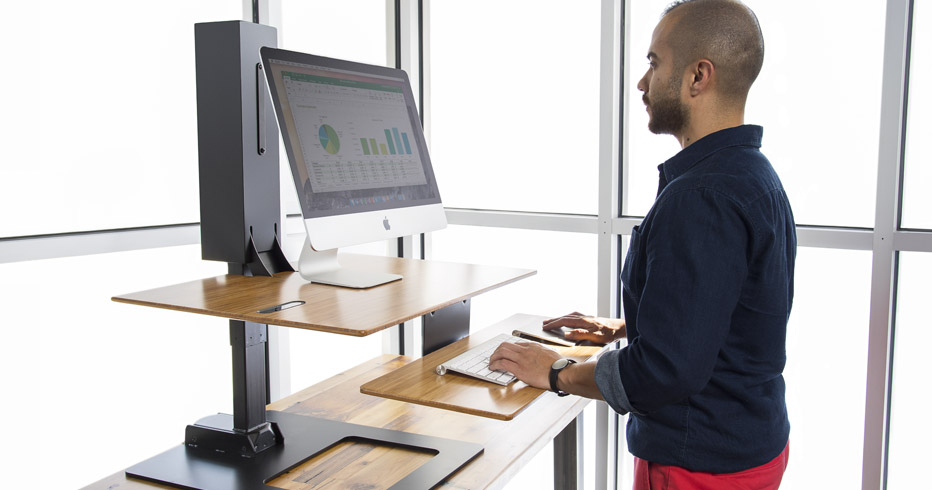 Express yourself, even when it comes to your workstation! If you like having all of the possibilities at your fingertips, you probably already know that UPLIFT Desk gives you dozens of height adjustable desk building options. But what about desk converters?
Most sit-stand desk converters you find today will offer you moderate height adjustability and very few customization options. This is where UPLIFT Desk changed the standing desk converter game. Personalize your E7 Electric Standing Desk Converter in your pick of desktop/keyboard tray material and base finish. Build the one-of-a-kind desk converter that inspires you and gives you the full experience of height adjustability to keep your body happy throughout the day.
Let's start with your options for the desktop and optional/detachable keyboard tray. Bamboo, Natural Rubberwood, Black Eco, and White Eco surfaces let you build the E7 that speaks true to your unique style. The powerful base comes with a trio of finish options as well, letting you coordinate your surface to black, white, or metallic base color options. When you do the math, that's a dozen different ways to customize this standing desk converter! Not many other converters can say the same.
Now, let's dive into the E7's adaptability. Whether you work with a single monitor or two, you'll be able to modify the E7 to secure your setup. The converter comes with a single monitor mount, and if you work with dual monitors, a dual monitor accessory can be added on to your order. This allows you to mount both screens on a single sturdy crossbar, and hold screens up to 28 inches. The E7 is VESA compatible, of course, for 75 x 75 and 100 x 100 configurations. And with a burly 110 pound weight capacity, you can be sure you'll have a powerful electric converter that is ready to uplift even the heaviest monitors.
Get ready to stand and work in the ideal ergonomic posture for your body thanks to the E7 Electric Standing Desk Converter's fixed-height, tiered keyboard tray, which is optional to install if you'd rather work without it. For the best posture though, ergonomists recommend using the tray. You'll get 21 inches of height adjustments, so it suits more users, making it perfect for offices with shared workstations. Taller users will be thrilled to know that this converter will offer them a much more comfortable standing experience as well, something most "out of the box" converters cannot guarantee.
Smart and safe just like every UPLIFT Desk, the E7 features a two button Advanced Digital Memory Keypad that integrates seamlessly into the desktop, and comes with two important new safety features: Collision Sensitivity and Keypad Lockout. Stop accidents before they happen and set your sensitivity setting to one of three levels with Collision Sensitivity, so the converter stops moving if it touches an object in your work area. Keypad Lockout allows users to lock the keypad, making it ideal for offices with kiddos.
All of these features add up to make one very safe, smart, adaptable, and powerful desk converter that provides more users with a wider range of height adjustments, with more customization options than any other converter out there. When it's not possible to switch out your whole desk, convert it with the E7!
Given all of this, can you blame us for our excitement to finally share the E7 with the world?