Posted by Human Solution on Apr 30th 2012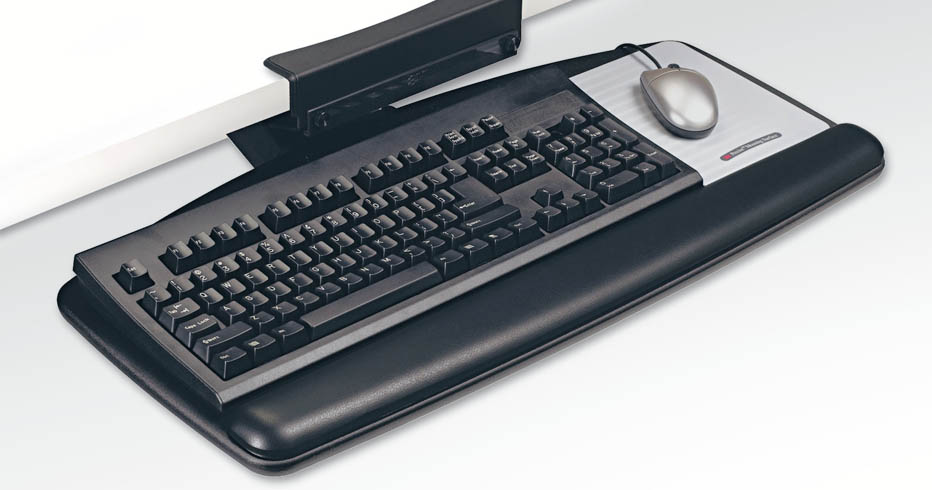 If you're in the market for a keyboard tray that's quick and easy to install, look no further than the 3M Knob-Adjust Keyboard Tray AKT65LE.
3M has made its reputation by simplifying seemingly complex products, and the 3M Knob-Adjust Keyboard Tray is a perfect example of the brand's knack for practical innovation. Most keyboard trays require drilling a long track into the underside of your desk, but the 3M Easy Adjust Keyboard Tray requires no drilling. This ergonomic keyboard tray, now available from Human Solution, makes use of 3M's Command Strips to attach its shorter-than-average 17-inch track to your desk for a simple, tool-free installation. Once the tray is attached, you simply slide the tray into the track and set the system in place with the hand-tightened bolts. This system is meant for desks between 1" and 1.25" thick.
They keyboard tray system's tilt and height adjustments can be easily adjusted with the loosening and tightening of a single knob for movement on the fly. This system is also equipped with 360 degrees of pivot to move your keyboard where you need it when you need it as your posture shifts throughout the day.
On top of all that is an adhesive mousing surface that not only increases mouse precision but increases the battery life of wireless mice by up to 75%. And, finally, you'll also have an antimicrobial gel wrist rest that is puncture-proof under normal office conditions (Sorry Edward Scissorhands).
An ergonomic keyboard tray system is one of the cornerstones of a fully ergonomic work area and can help you reduce neck, back and arm strain. This fact coupled with the ease of adjustment allows for dynamic comfort ready to respond to your body's shifting needs. The innovative features, unique to 3M's line of keyboard trays, improve the basics of computing — with the battery-saving mouse pad and a clean gel wrist rest — resulting in an all-encompassing, potent package primed for efficient computing and hassle-free installation and adjusting.
While the 3M Tool Free design is the optimal solution for those wanting a very quick and easy installation, you should check out the Humanscale Keyboard Tray as well. It is the most ergonomic and most popular keyboard tray on the market today. It requires screws to attach it to your desk, thus installation is slightly tougher than the 3M adhesive design, but if you have an electric screwdriver it isn't difficult.
If you'd like a comprehensive page on how to pick and set up your keyboard tray, let Human Solution help you with our handy Keyboard Tray Buying Guide.