Posted by Will Moore on Apr 11th 2012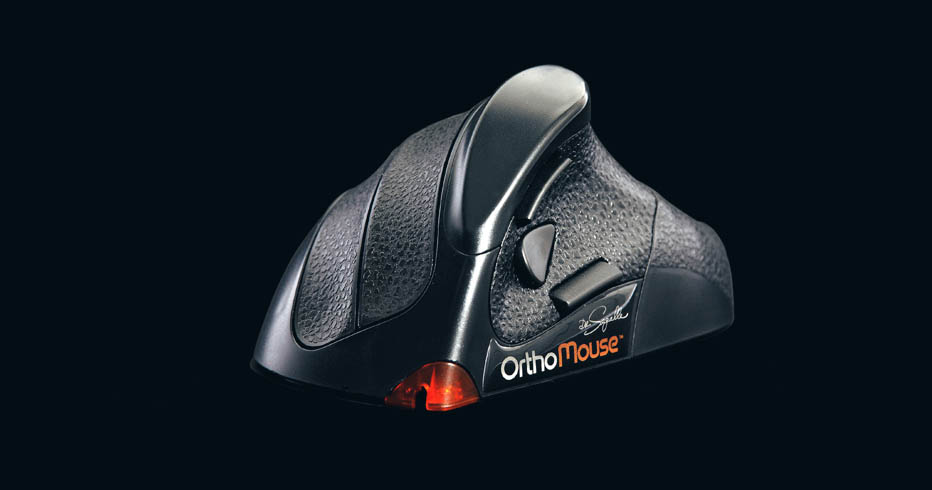 Looking for an ergonomic mouse can be a daunting task. While many people are painfully aware (pun intended) of the negative effects of using a regular mouse, picking a mouse to either combat the pain associated with mousing or prevent it before it occurs involves some research. We at the Human Solution try to make sure you know as much as possible about all the ergonomic mouse solutions we carry so you can find one that fits you.
Which brings me to one problem people run into looking for an ergonomic mouse – while "ergonomic" means that the mouse should fit your hand comfortably, many of our ergonomic mice only come in one or two sizes. So while ergonomic mice are a better fit to the general shape of your hand and the way it functions, it may not truly "fit" your hand. This is why one of my favorite mice we offer is the OrthoMouse.
Designed by an orthopedic surgeon based on extensive research on the anatomy and movement of the human hand, the OrthoMouse is specifically designed to minimize the strain on your carpal tunnel region. More importantly, it is more customizable than most ergonomic mice. With three different palm rests and two different finger rest adapters, you're basically getting six different-sized mice in one.
The OrthoMouse comes with standard left- and right-click buttons, as well as a handy three-button scroll function easily controlled by your thumb. Scroll up or down with the convenient buttons above and below your thumb, or simply use the auto-scroll button in the middle to scroll and control scroll speed. These buttons are all low-force to reduce the stress of clicking.
All of these functions are automatic – you just plug in your OrthoMouse with its six-foot USB cord and can start using it immediately. There's even a wireless version with all of the same functionality. It's both Windows and Mac compatible, with no extra software needed to configure your mouse or its functions.
While completely vertical mice like the Evoluent work for a lot of people, I know it doesn't quite fit me, and the vertical "handshake" positioning is a bit of a learning curve. The OrthoMouse's contours put my hand in an incredibly relaxed and natural position, and I could almost immediately notice the difference from my standard old mouse.
So if you're looking for an ergonomic mouse that is easy-to-use, minimizes the pressure of mousing and clicking, and is configurable enough to fit almost any user, the OrthoMouse may be for you. Also, check out our old friend Gene and his handy Orthomouse video review (embedded below) that shows you some of the features I've talked about and see the OrthoMouse in action. As always, feel free to email us, call us at (800)-531-3746 or hop into chat with any specific questions regarding your ergonomic needs.