Posted by Human Solution on Sep 26th 2014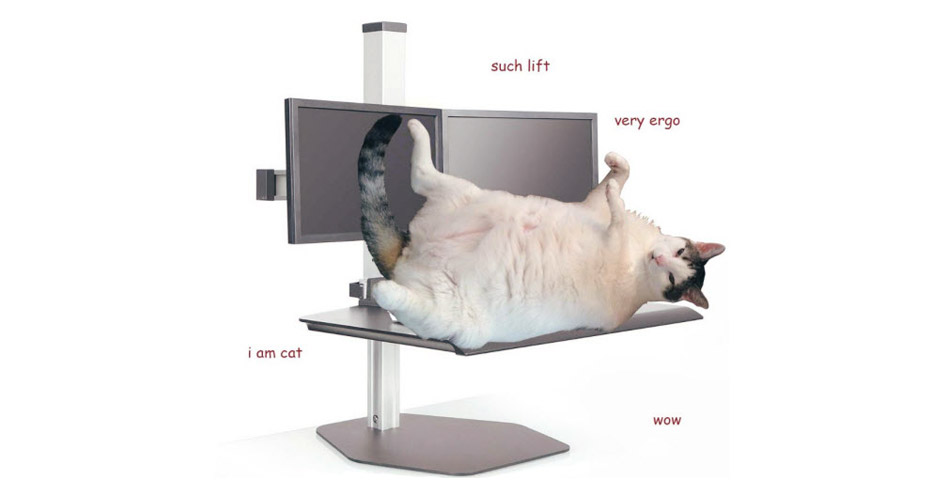 If you're interested in a height-adjustable desk, but don't have the space or are working with a fixed cubicle surface, the Innovative Winston Sit-Stand Workstation is the way to go. This is one of our favorite desktop units, loaded with features that make it almost as great as a full sit-stand desk setup. And, as you can see by the photo above, the Winston gets the paws up from my cat Gordon, who can be a tough customer.ne of the best features of the Winston is that you simply place it on top of your existing desk, with no need for clamping or hardware. It's got a heavy-duty base, much like Gordon, so it stays put on your desktop with no risk of slippage. Just place on top of your existing worksurface, and you're ready to go. The height adjustment is smooth and quick, like Gordon heading to the food bowl, and once in place, locks itself into position, like...Gordon at the food bowl.
Many of these kinds of desktop units allow you to raise your monitor and keyboard, but once you're standing, there isn't much, if any, additional worksurface for writing, reading documents, placing supplies, or eating catnip. The Winston features both an extra-large platform and a small accessories tray, so you have plenty of room to complete all of your typical work tasks, whether they include rolling out a new campaign or rolling over to expose your belly for pats.
Gordon finds hanging cords and wires tempting to play with, but he knows there's a time for fun and a time for work. When using his Winston, he prefers to keep his monitor cables neatly organized using the integrated wire management system. Here you can see him typing away, with no cables in the way to distract him. Another excellent feature of the Winston is that the monitors have tilting ability, unlike other desktop units, which don't allow for this kind of movement. Gordon is a busy cat, but if he wants to take a little break and lie down, he can still see his monitors with no problem.
The Winston is available with mounts for single or dual monitors, and if your work needs change, can expand to hold additional screens, another feature lacking from other units. Choose the model that best suits your needs for weight capacity, from 9-44 pounds (or 0.5-2.4 gordons, which is not a real unit of measurement but should be).
Like all of Innovative's excellent products, the Winston is a well-built, well-designed unit that covers all the bases, allowing you and your cat to reach new heights of productivity.
Visit TheHumanSolution.com and see how we can make your life more comfortable.
Related Reads: