Posted by Tyler Reinhardt on Jan 30th 2018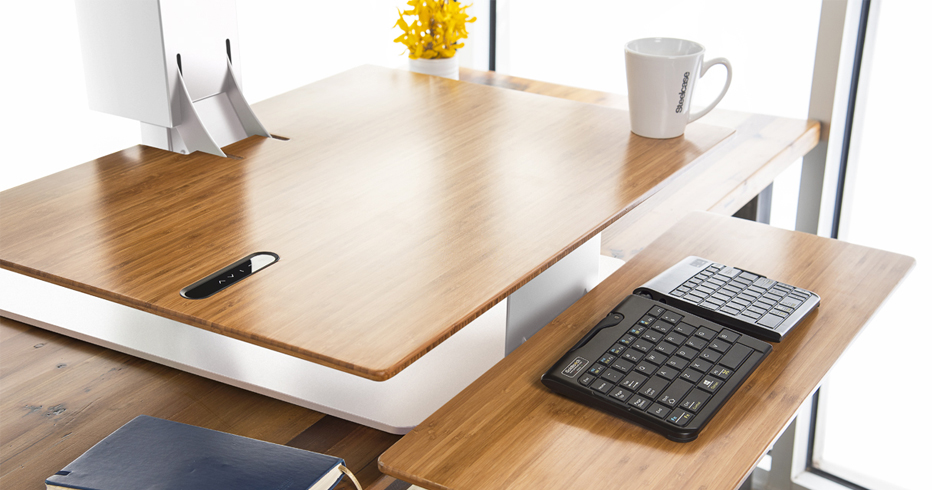 Getting people standing, working better, and living healthier are what we're all about at Human Solution. Our height-adjustable sit to stand desk units have been on the market for years and their popularity has only been increasing as word continues to spread and people get the opportunity to try our desks out for themselves. But we also recognize that not everyone can upgrade to a whole new desk setup. Some offices have pesky furniture regulations, others have pesky furniture that's been grafted to the wall, or in some cases people just really like the furniture they have and can't bring themselves to part with it. It is because of this that we've been working long and hard on ways to improve the Standing Desk Converter.
For those that are new to the ergonomic scene that may be unfamiliar with what a standing desk converter actually is, it's a unit that sits on top of a pre-existing workspace and gives the user the ability to change their posture from sitting to standing and vice versa throughout the day without having to replace your whole desk. There are a few that exist on the market today but we've put a lot of thought and effort into designing what we believe is the best converter solution out there. The E7 Electric Standing Desk Converter is one of the most advanced converters on the market to date, sporting an array of new and improved features to help you work better.
Starting with the most obvious feature, the E7 is an electric standing desk converter. This is far too uncommon in the market today. Most units use a pneumatic lift system which can at times be cumbersome to adjust, and are almost always limited in the amount of weight they can hold. The E7's electric motor solves both of these issues. No real effort is required to adjust from sitting to standing as all that's required is holding the up or the down key. For easier adjustments you can even program your sitting and standing heights in the keypad's memory presets. Once that's done, the E7 will adjust automatically with the push of a button. Being an electric unit, the weight capacity is also much greater than you would normally find on a pneumatic one. Most pneumatic units have a capacity of around 35 lbs., while the E7 Electric Standing Desk Converter is capable of handling 110 lbs. as it raises and lowers. That's over three times the power!
For specs, the E7 has a 21" height adjustment range starting from desk level. The keyboard tray is removable and measures 28" W x 10.5" D x 0.75" H, which is more than enough space for most sized keyboards. The main desktop platform is fairly spacious as well at 30" W x 21.5" D x 0.75" H, so you'll have more room for your monitors and personal items. If you'd like to free up even more room, the E7 also has either a single or dual monitor arm attachment available, which frees up the converter's surface for other tasks.
The E7 isn't just functionally great, it's also highly customizable, so you can add your own personal aesthetic flair when building yours. The desktop platform and keyboard tray platform are both available in a variety of materials including black eco, white eco, bamboo, and rubberwood. The base also has different color options including black, white, and metallic. Mix and match it to create whatever look you're going for in the office!
As awesome as the new E7 design is, there are a few challenges with making this product available to the masses, and we're looking to mitigate some cost and demonstrate that demand exists for a high-quality electric standing desk converter. This is why we've turned to Kickstarter to ask for your help in turning this new product design into a reality! All pledges are appreciated but those who donate $29 or more will be sent some of our other ergonomic products. For details you'll want to check us out on Kickstarter. As for any other questions you may have, feel free to contact us at (800) 531-3746 and we'll be more than happy to help! Thanks for your support as we work to help everyone work better and live healthier!