Posted by Will Moore on Jun 23rd 2016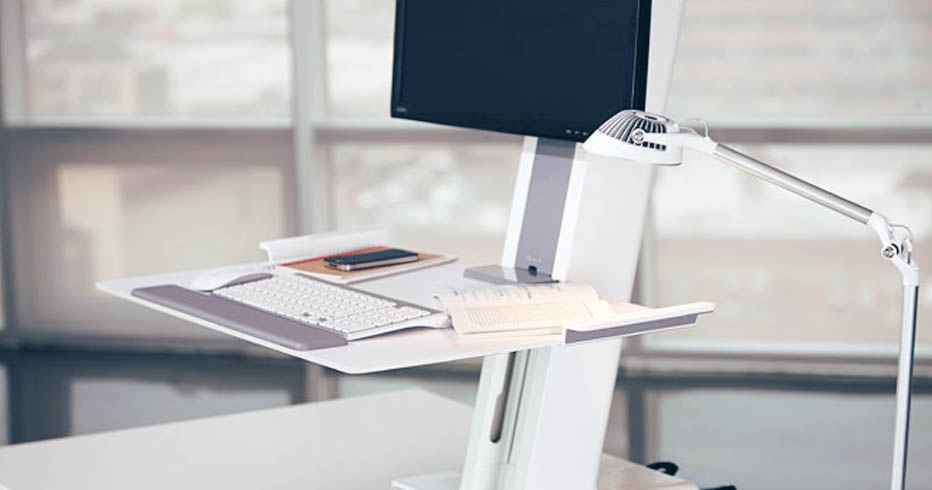 Desktop risers can vary significantly in price, quality and ease of use. The cheapest option of course is to do it yourself; however, the desktop converters out there make it much easier to go from sitting to standing in only a few seconds than the tried and true set-your-computer-on-a-box method. I decided to take a look at two of the leading desktop converters on different ends of the spectrum – the budget-friendly, basic Varidesk Pro 36, and Humanscale's more high-end QuickStand.
INSTALLATION
Let's start with one of the main selling points of the Varidesk, the fact that it arrives fully assembled. As someone who isn't very mechanically inclined and whose salty language increases exponentially when attempting to put together IKEA shelves, this seemed like a nice perk. Yet it actually made it a little difficult to get out of the box, and I was in a little bit of a panic that I would mess up some of the inner workings while getting it out of there. I will say it was well packaged and, with a little help, I was able to get it out. And yes, it was ready to go out of the box.
The QuickStand did require some setup. It came with pretty detailed instructions though, and was fairly intuitive, so I was able to get it set up with minimal cursing. And I liked the fact that it seemed to have a lot more working parts – it definitely seemed like there was a lot more going on than with the basic scissor lift mechanism of the Varidesk. I haven't even started using them yet, and it's already starting to look like you get what you pay for when opting for the cheaper unit.
The Varidesk model is a freestanding unit – obviously, it requires no assembly – and the base seems fairly sturdy. I had to put some real weight on it to get it to start toppling forward, so it seems like overall stability is not an issue. However, it's also pretty bulky. If your reasoning for getting a desktop converter is your current desk is too beautiful, expensive or awesome to part with, a Varidesk may not be your best option. It's going to take up most of the usable space of most standard desktops, so in essence you're replacing it anyway, at least the surface. The Varidesk's dual work surfaces are fairly large to compensate for this, but, if room to work on your actual desktop or aesthetics are at all a factor, the Varidesk is probably not the ideal solution for you.
The QuickStand is a lot sleeker and slimmer, and more seamlessly integrated with the laminate desktop I placed each unit on. It's definitely a more modern look than the rather unwieldy Varidesk. There are also more mounting options with the QuickStand. You can upgrade to a freestanding model that just sits on top of your desk and is (relatively) easy to move around like the Varidesk, but I optioned for the base clamp mount version that secures it to the back of your desktop. It made the unit seem very sturdy, was easy to clamp, and the screws tighten on the underside so it shouldn't worry anyone looking to attach it to a nicer desktop.
EASE OF USE
Now on to the main event – actual use. Like everything else about the Varidesk, usage is simple. It's a spring-loaded scissor lift mechanism to lift the whole thing up or down along a 14" high range, and it locks into one of 11 height positions by pushing the handles on the side, raising or lowering the unit, then releasing them. For this reason, it's not really good for minute adjustments, though, because after you release the levers to lock it, it will either lock below or above where you positioned it if not exactly in one of the pre-determined positions. Speaking as someone who uses an electric sit-stand desk that has nearly infinite positions, sometimes the smallest adjustment can make the difference in comfort. And 14" is a pretty good range, but it may not be enough to stand comfortably for taller users or those with lower fixed height desks.
Another limitation to the functionality of the Varidesk I noticed, that is a fairly big one actually, is that it actually extends out from the desk as you raise it. Again, with my experience at a full sit-to-stand desk, the natural inclination is to be closer to your desk when standing, not farther away, which is why most desktop units (including the QuickStand) move closer as they go down and farther back as it goes up. Not only is this counterintuitive, it forces you backward in order to be at a comfortable distance from the keyboard and monitor, and many people are using a desktop converter specifically because of limited space already.
It's freestanding, so you can always move the entire unit back before going to standing mode, but who's going to do that every time? This is supposed to make it easier to go from sitting to standing. Lastly, with your peripherals moving up and forward, there is much more of a chance for cords to be pulled from their portals. This seems like a pretty big design flaw to me.
STABILITY
While the hefty base does seem to prevent tipping, and the unit is fairly stable at the lowest position flush with the desktop, the actual platforms can get a little wobbly at the standing position. There was some pretty significant shaking with basic typing, which, considering the locking mechanism instead of a counterbalanced one, I would think should have been less noticeable.
And that's all there is to the Varidesk. The lower platform is at a fixed distance from the higher one, and there is no adjustable arm to mount a monitor, so you're stuck with the stand your monitor came on or a monitor arm accessory. Other than the fact you can sit and stand, the lack of any other adjustability means it's actually pretty light on ergonomics. Again, it seems there's a reason why this is one of the most cost efficient models out there. If all you need is something that will lift your computer off the desktop, I guess it gets the job done, but not much more.
AESTHETICS
The QuickStand, however, is on the premium end of the budget spectrum, and with that comes more adjustability, and a cleaner overall design. With the clamp mount model I used, not only is it more stable at both lower and higher settings, it also has a much smaller footprint, and one more toward the back of your desk, which means you have more usable desktop space apart from the unit up front. This is significant for users who want to still be able to see and/or use the existing desk they are unwilling to part with.
The folks at Humanscale always have an eye on aesthetics as well as ergonomics, and the QuickStand is no exception. It has a much more modern, minimal design than the clunky and functional look of the Varidesk. The QuickStand also includes several cable set options to help with wire management that are fully integrated into the unit, keeping with the overall design aesthetic of "less is more" it is clearly going for, whereas the very design (or the lack thereof) of the Varidesk seems to be to put more of a strain on your connections.
The QuickStand also has a monitor mount instead of the two platform system of the Varidesk. This minimizes the sleek design even further and also gives you a little more independent adjustment. The monitor mount features 5" of adjustment apart from the sit-stand adjustment of the entire unit, and has tilt adjustment as well. This gives you a lot more leeway than the Varidesk to get the balance right between your monitor position and your keyboard/mouse, a ratio that can sometimes change at different positions like sitting or standing.
FUNCTION
Instead of a spring-loaded lift, the QuickStand features what it calls "constant force technology," which is basically highfalutin speak for a counterbalanced mechanism that requires tension adjustment relative to what you have on the platform. This system has both advantages and drawbacks. Once you have your monitor and peripherals on the QuickStand, you need to adjust the tension accordingly to ensure it is easy to move up and down, but not so easy that it moves on its own. Once I had it counterbalanced, I was able to move the unit with ease while also keeping it stable once I had moved it to the position I needed it at.
This also allows for much more precise movement between heights. If counterbalanced properly, you can make much smaller adjustments along the full 18" height range of the QuickStand, and it will virtually lock into place wherever you adjust it to. The adjustment is nearly effortless too when the tension is correct. With minimal effort, you just push it up or down however much you want to move it and it stays in place pretty well, even when typing.
However, this also means that you'll need to adjust it if you are frequently adding or removing anything, whereas the Varidesk pretty much moves and locks into place the same as long as you're within the weight capacity. But for a simple setup, you should only need to adjust the tension once. Both the Varidesk and the QuickStand boast a 35 lbs. weight capacity, which should be enough for most people unless you're one of those dual Thunderbolt monitor types.
WARRANTY
I've found that the warranty offered seems like a good indicator of how much faith the manufacturer has in the product, and in this regard, Humanscale has a pretty significant edge. They warranty the QuickStand for five years as opposed to the one-year warranty of the Varidesk. Considering how much less complicated the technology seems than that of the QuickStand, it's a little troublesome that Varidesk will only cover it for a year.
PRICE
Of course, some people only see a price when it comes to this sort of thing (especially Corporate if you're looking to have them fund an upgrade at your office workstation). And the large platform, single monitor version of the QuickStand ($749) will set you back almost double that of the Varidesk Pro ($395). However, for me at least, the question isn't whether it's worth it to go with the QuickStand over the Varidesk – the question is, how much better is the nearly $400 Varidesk than a virtually free DIY solution, like the aforementioned Old Boxy? And to me, the answer is not much.
If you're willing to spend $400 on the Varidesk, it seems much less of a jump to upgrade to a more complete ergonomic solution like the QuickStand. The distance from free to $400 seems like a much bigger step to take. Varidesk is seen as the "value" price solution, but, for my money, a greater value is in true ergonomics, comfort and ease of use, where the QuickStand seems like the clear choice. Of course, no matter how you choose to do it, get to standing at work! Your body will thank you.
| | | |
| --- | --- | --- |
| | Humanscale QuickStand | Varidesk Pro 36 |
| Base | Low profile clamp and grommet mount, as well as freestanding base options available. | Bulky freestanding base |
| Monitor adjustable relative to keyboard platform | Yes | Available with purchase of a $125 monitor arm add-on |
| Comes with cables built in | Yes | No |
| Arrives assembled? | Some assembly required | |
| Height range | 18" (worksurface) 5" (monitor arm) | 14" (entire unit) No separate monitor height adjustment |
| Ease of adjustment | Effortless, fingertip adjustment | Requires force (locking lever with manual adjustment) |
| Height adjustment positions | Infinite | 11 |
| Lower platform size | 28" wide x 17" deep (large platform) | 36" wide x 29.75" deep |
| Warranty | 5 years | 1 year |
| Footprint width | 19.5" | 30" |
| Color options | White or black with gray trim | Black |
| Weight capacity | 35 lbs | 35 lbs |
| Platform stability | Stable | Unstable at higher heights |
| Price | $699 | $395 |