Brace yourselves. Mother's Day is coming. The one day a year when Mommy collects her dues. Some pay up with a card lovingly crafted out of macaroni and glitter. However, those outside of grade school may want to consider something with a little more longevity. Luckily we come bearing suggestions for gifts that may very well secure your spot as the favorite child.
For mothers that sit we recommend a chair. But not just any chair. Mom deserves a chair that chairs harder than all the rest and for that we have the Steelcase Amia. The Amia is a chair for mothers of all sizes and shapes with seat depth and height adjustment to make sure that she's sitting as comfortably as possible at all times. This particular chair also features some of the most versatile arms of any of the chairs that we sell as well as LiveLumbar technology which adds a little extra lower back support as mom switches postures throughout her sitting session. With an array of fabric and color choices, it's super easy to match whatever décor your mother has going on and best of all, the Steelcase Amia ships fully assembled, so it's ready to go right out of the box!
But maybe mom got a chair last year. Maybe your siblings beat you to the punch. That's fine. There are alternatives. Alternatives like the Humanscale FM300B Foot Machine. Why the FM300B you ask? It could be the Natural or Dark Cherry wood finish. It could be the height adjustable foot rest platform. But honestly, it's really all about the massaging rollers and that oh so subtle massaging effect. The FM300B has two sides so the user can alternate between a flat surface and the massaging roller surface to maximize comfort. If Mom's on her feet all day, she shouldn't have to feel it when she's relaxing with her feet up.
Maybe we're focusing too much on Mom being up and about. Maybe she does a lot of computer work. Maybe she doesn't but likes playing around on the computer anyway. Either way she'll want to be pain and discomfort free when using her mouse. Which brings us to the Evoluent Vertical Mouse which comes in either a wired or wireless version and a few different designs, the newest being the Evoluent Vertical Mouse C. There's even a small version for users with more petite hands. No reason to make Mom stretch those fingers out anymore than she has to.
Of course, if none of these ideas are striking your fancy you could always go with one of our tried and true UPLIFT Height Adjustable Desks! They come in a variety of colors, sizes, and styles and they're great for all sorts of activities ranging from computer work to crafts and everything in between. In fact, with the coupon code LIFT25DLR you can get $25 off of an UPLIFT Desk purchase this Mother's Day.
So while you could probably get away with phone call or breakfast, you could also one-up those pesky brothers and sisters with some ergonomic gifts designed to keep Mom happy and loved all year round. You can even call us for a quote at 800-531-3746 and any of our fine reps will be more than happy to help you out!
We offer a lot of different ergonomic chairs here at Human Solution. When speaking to people about chairs every day, I find that many of our customers are often looking for modern office chairs that offer great back support and are easy to use and adjust. If that's what you're looking for, let me point [...] Read More »
The other day on my way home from work, the temperature gauge in my car read 111. Once home, I was greeted by the plants on my balcony scratching at the door in the hot wind like Sarah Connor on Judgment Day. Summer has most definitely arrived, and keeping cool in such extreme heat can [...] Read More »
Desktop risers can vary significantly in price, quality and ease of use. The cheapest option of course is to do it yourself; however, the desktop converters out there make it much easier to go from sitting to standing in only a few seconds than the tried and true set-your-computer-on-a-box method. I decided to take a [...] Read More »
Selecting the correct Humanscale Keyboard Tray can seem like complicated business. There is an array of options. Mechanism? Track length? These mean nothing to the average person. Give us a call anytime at 800-531-3746 and we can guide you through the process. But just in case you prefer to figure this out on your own, [...] Read More »
For a little over 60 years now, the Red Dot Product Design Award has been helping consumers all over the world distinguish products with quality designs and engineering from products with, well, not those things. So when the Humanscale QuickStand Lite walked away with the award for the "Best of the Best" category, it warmed [...] Read More »
One of the most popular ergonomic keyboards trays we sell are Humanscale keyboard trays. When we say popular, we don't mean that they are a faddish or trendy- the reason these adjustable keyboard trays sell so well is their versatility and build-quality.Humanscale keyboards tray systems have a lead time of 5-7 business days for a [...] Read More »
Here at Human Solution, we've told you about how important it is to get up out of your chair and stand for at least a couple of hours during a normal eight hour work day. While upgrading your standard desk to an adjustable height desk is the best way to go from sitting to standing [...] Read More »
Humanscale is responsible for making some of our most popular ergonomic chairs and workstation accessories. When someone is looking for a quality standard keyboard tray, we almost always steer them first toward the Humanscale 900 Keyboard Tray System for its ease of use and versatility. In fact, many of my conversations with customers eventually lead [...] Read More »
With most desks, you have two choices as far as keyboard placement goes. You can either place the keyboard on the desktop and reach up all day long to type, or you can go with the fixed-height pull-out tray that is rarely at the correct height. The obvious solution is to upgrade to a keyboard [...] Read More »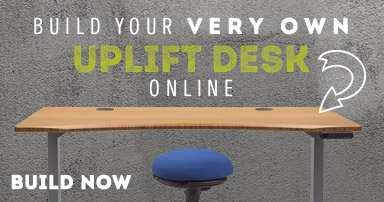 Interested in ergonomics?
Subscribe to our blog mailing list