Posted by Lindsay Richards on May 1st 2018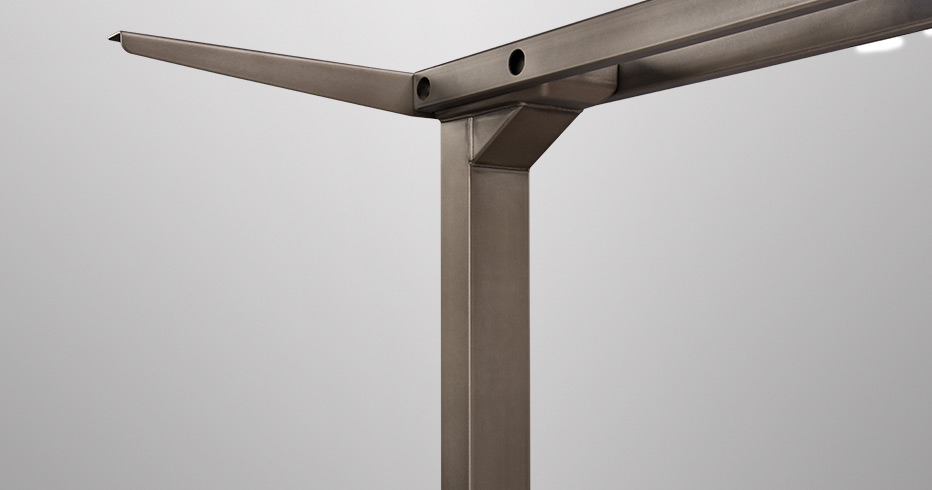 Take your desk style back a hundred years. If you're the kind of person that loves a good vintage desk clock, the character of old metal, or a modernized apothecary setting, the new metallic desk frames by UPLIFT Desk allow you to get that throwback bronzed look without having to forge your own or retrofit a vintage frame to get it.
Everyone's personal style is unique, and the designers at UPLIFT Desk know this. That's why they're always dreaming up exciting new options and accessories to pair together, creating the coordinated office that helps you remain focused and, of course, comfortable. Enjoy an eye-catching metallic finish that's reminiscent of metal alloys and buildings of the early twentieth century. But you don't have to take a time machine to get this look. In fact, it just takes a few click of your mouse thanks to our easy-to-use desk selector tool. Create the 2-leg, 3-leg, or 4-leg desk of your style dreams, one that allows you to switch up your posture throughout the day at work. Standing more throughout the day gives you a myriad of health benefits, do it with a desk frame that also offers you enticing benefits...of style. There's even a metallic frame for our fixed height 2-leg side tables, letting you complete your office look in colors that match.
Made with the same sturdy, steadfast, and smart three-stage frame, you'll enjoy height adjustability in a stylish desk package. Upgrade your keypad to the advanced digital keypad for all of the most up-to-date features, like Collision Sensitivity, a Lockout feature, and the ability to toggle between One-Touch and Constant-Touch modes with the easy press of a button. Save up to 4 sitting and standing heights within its memory for quick, one-touch adjusting when you want to.
As always, we have the tried-and-true desk frame finishes you've come to know and love in black, white, and gray. If you're on the fence about which best fits into your office, contact us and our support team would be happy to be your personal desk styling assistants for the day. Let us help you build the best desk for you, complete with the frame finish that makes your heart skip a beat.