Posted by Mandy Spivey on Nov 21st 2018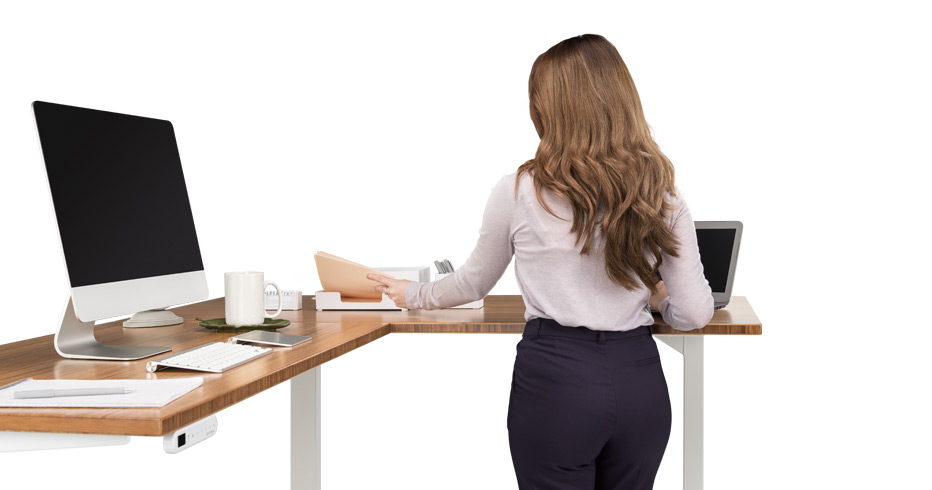 If you're in need of more desk space and height adjustability, L-Shaped Desks from UPLIFT Desk are here and feature a new design, which will make everything, from ordering to assembling, easier.
To L-Shape or Not to L-Shape?
What could be better than working at a sit-stand desk that gives you plenty of space to keep all of your computer gear, monitors, keyboard, printer, and everything you need to work - all within easy reach? That's one of the fantastic features about L-shaped desks; you'll get much more surface area for working and storage, more than double the room of other desks, making it ideal for jobs that require a lot of computer work where the user would like to mouse from the right- or left-hand sides of their desk. UPLIFT Desk's new L-shaped desktop design is able to be switched, meaning you can change the return side from left to right. This makes it easy when choosing what size you need in the beginning, and gives you more freedom to switch the placement of your return side down the line.
If you have a question about whether your work and health could be improved with an L-shaped desk that allows you to sit and stand at work, ask yourself a few questions:
Do you often find yourself getting up to retrieve commonly-used items in the office just out of your reach, like printers, phones, electronic document signing machines, and the like?
Does your mousing arm naturally gravitate toward the side of your body, making traditional mousing less comfortable? Are you feeling strain in your shoulders from mousing?
Is the best space for your workstation in a corner?
If you answer yes to any of these questions, an L-shaped desk could be the solution to sub-optimal work layouts and desktops that don't provide enough space. Give yourself plenty of room to work with this expansive and versatile desk that fits seamlessly into a corner with L-shaped desk from UPLIFT Desk.
Desktops to Write Home About
Get excited for desktop options like GREENGUARD Gold Certified Laminate, Moso Bamboo, and Rubberwood, all of which are eco-friendly, quality tops that elegantly complete your L-shaped workstation. When you're in the market for a desktop with all of the space, one that's good for the environment, beautiful, and long-lasting, UPLIFT Desk's tops are the clear choice in a sea of impostors.
UPLIFT Desks come in two pieces, a main side and a return side, which is different from other previous L-shaped desktop designs. Pre-threaded inserts underneath, mean you don't have to decide on a return side when ordering, in addition to having the option to switch the sides of your desk later on down the line. Your desktop will have holes already there for you to make the job even easier. This L-shaped desk is an ideal desk addition to spaces that need a flexible corner workstation, or if you just don't know which side you want the return side on when ordering.
What's in a Frame
Paired with the same powerful three-stage frame that UPLIFT Desk is loved for, users will get a wide height adjustment range (24.4" to 50" H without a desktop), perfect for one person or an office full of employees. With a motor in each of the desk's three legs, you can rest assured that your workstation will raise and lower quietly, quickly, and reliably, without any wobble. A 530 lb weight capacity, brawny and industry-leading, is strong enough to secure heavier desktops, computers, multiple monitors, and even the kitchen sink! Stand at your desk and work with confidence that your computer equipment will be safe and sound up top, with enough space for under-desk accessories to be installed down below, with plenty of legroom left over.
Why do we draw so much attention to the UPLIFT Desk frame? Because when you're making height adjustments, day after day, with hundreds of pounds of expensive and precious computer gear on top, it's important to consider the foundation of the desk and the technology that is used to make it all happen. With a more cheaply-made desk, you might get an L-shaped design, but a lower weight capacity, louder and less reliable adjustments, without the UPLIFT Desk 7-year warranty. When investing in a desk that's going to stand by you for years, don't forget the nitty gritty details.
Get a Corner Workstation in Just a Few Days
Get your desk in a matter of days with UPLIFT Desk's new in-stock L-shape desks, which cut days (and even weeks, in some cases) off of your lead time. When time is of the essence and you're in need of a 3-leg desk that's more flexible to assemble and gives you more freedom to desk sprawl with all of your computer gear and accessories on the same surface, look no further.