Posted by Mandy Spivey on Jul 23rd 2018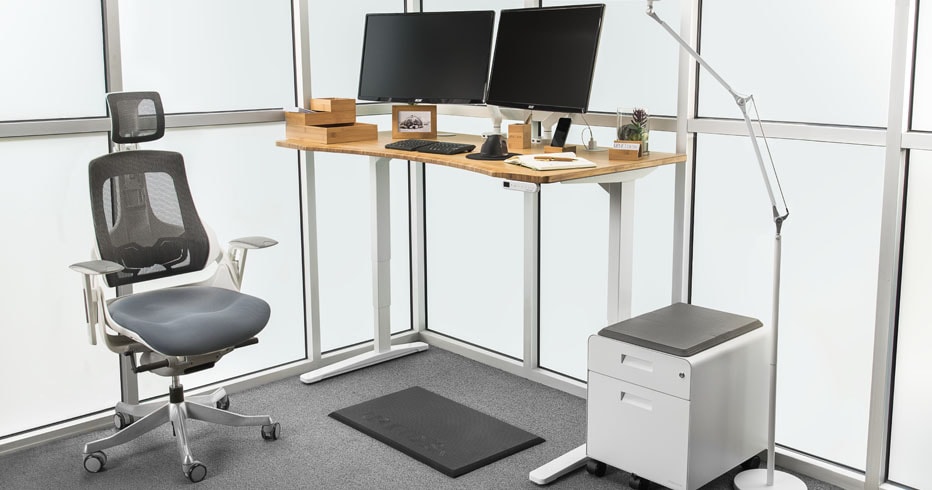 You know the feeling when you want a desk, but you don't know what desk you want?
It's kind of the same feeling when you open your fridge in hopes that the perfect mid-afternoon snack will present itself to you. Well, we took a few clicks out of desk buying to make it a little easier on you with our new Pre-Configured Standing Desks + Accessories page!
On this page we have compiled the most popular UPLIFT Desks and UPLIFT-brand accessories to give you a pre-made desk that you can add directly to your cart. Or, say you see a desk that strikes your fancy, but you want to add a footrest or other accessory. You can take that desk to our desk builder and customize it further, giving you the perfectly-pieced-together workstation that keeps your body comfortable and your mind inspired.
We have it all: 2-leg, 3-leg, and 4-leg desks. You'll also be invited to shop a wide selection of desktops, like bamboo, rubberwood, solid wood, eco, and GREENGUARD Gold laminate, which lets everyone build a one-of-a-kind desk that suits their space and style tastes. Find the right desk for the job, complete with accessories, like monitor arms and acoustic privacy panels, so you can work with the right combination of comfort and privacy.
Don't worry, we list out all of the products in each configuration, so you're never left wondering what you're looking at. And, as always, if you need any help at all, our team of experts is just a call, chat, or email away. Let us help you create the best office for you with help from Human Solution.