Posted by Human Solution on Mar 12th 2015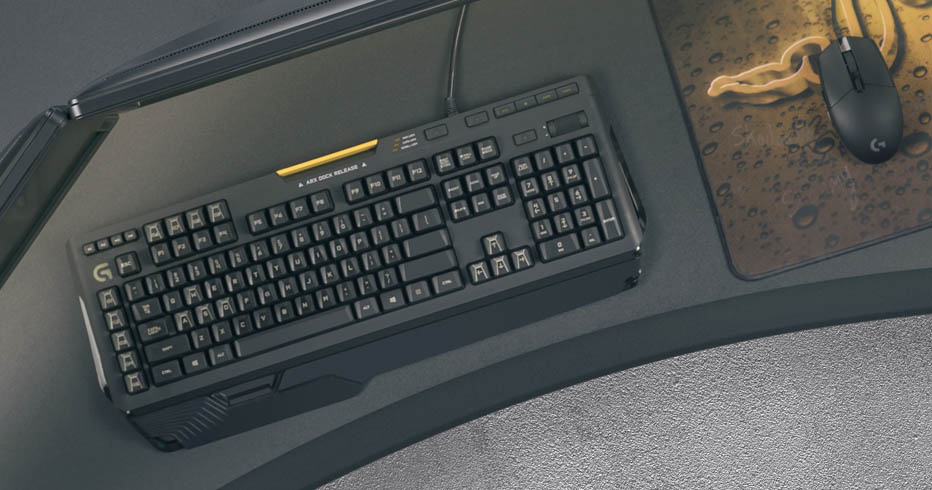 Every subset of PC gamer has his or her own specialized tools of the trade - shooters demand accurate, sensitive mice, flight simmers need reliable sticks and yokes (and an extra monitor or three), MMO players need plenty of programmable macro keys to better manage in-game abilities, etc. As both a writer and an RTS player, my personal "weapon of choice" has always been the keyboard. Gaming keyboards run the gamut from basic QWERTY boards with decorative backlighting to multifunctional, mechanical-switch monstrosities like the Logitech G910 Orion Spark. While these keyboards frequently include special design considerations such as specially-sculpted keys and palm rests, the one element they almost universally neglect is size and ergonomics, with many gaming keyboards being far too large to fit on traditional keyboard shelves. What good is a custom keyboard if you're forced to put it on your desk and hunch over it to work?
Thankfully, there are options. An ergonomic keyboard tray is a common sight in offices for a reason - not only does it provide a comfortable palm support and offer negative tilting for your typing surface, but the track lets you pull your keyboard out towards you, letting you sit back in your chair and work in comfort. Our UPLIFT Switch Keyboard Tray and UPLIFT Large Keyboard Trays were designed with gamers in mind, and not only offer all of the aforementioned features, but are also large enough to support nearly any gaming keyboard. Which one will work best for you will depend entirely on how you plan to play.
My personal favorite of the two is the UPLIFT Switch Keyboard Tray. The Switch tray features a circular mouse platform that can be quickly adjusted for depth as well as swapped over to the other side of the keyboard for southpaw use. Perhaps more notable for me as a gamer, however, is the fact that there's no palm support on the mouse platform. I personally prefer workstations without mouse palm supports, as I've found they tend to arc my wrist up a bit too high to comfortable grip the mouse during situations where quick and precise movements are key. The included removable keyboard palm support and height/tilt adjustment, however helps keep your wrists elevated when typing, allowing you to drop your fingers down naturally onto the keyboard, rather than forcing you to arc your wrists back slightly to place your fingers on the keys. The large size of the main platform also helps to accommodate nearly any gaming keyboard, with my Razer BlackWidow Ultimate fitting on top of the 19.75" board with room to spare.
Not all keyboards are as compact as the BlackWidow Ultimate, however. While most gaming keyboards, mechanical or otherwise, usually measure just under 19" wide (the BlackWidow series checks in at 18.7" W and the Corsair K70 measures 18.6" W), there's always a few that push the bar. Logitech in particular has a habit of building large keyboards, such as the aforementioned G910 Orion Spark (19.9" W) and the classic G510S (20.9" W). For these keyboards, there's the UPLIFT Large Keyboard Tray. As the name implies, the Large tray offers a 27" W platform that's large enough to hold even the biggest of MMO keyboards while still maintaining enough room to place a mouse on the same surface. The Large tray also utilizes the same adjustment mechanism as the Switch, providing a wide range of tilt and height adjustment. Unlike the Switch tray, however, the Large tray has a full-length palm support that stretches across the entire front side of the tray, providing wrist support for both keyboard and mouse use. Should you prefer not to use the include support, or if you would rather use an included palm support like the one provided with the G910 Orion Spark, you can always remove this palm support as well.
Both of our UPLIFT keyboard tray offerings are just a single part of the ergonomic ecosystem, but they'll save you a lot of blood, sweat, and tears commonly associated with back and wrist pain from prolonged keyboard use all on their own (well, maybe more of the latter than anything else). Whether you're a casual player or a dedicated gamer, they're certainly a worthwhile addition to one's battlestation for that reason alone.
Learn more about ergonomic keyboard trays for gaming keyboards at TheHumanSolution.com!