Posted by Human Solution on Apr 13th 2015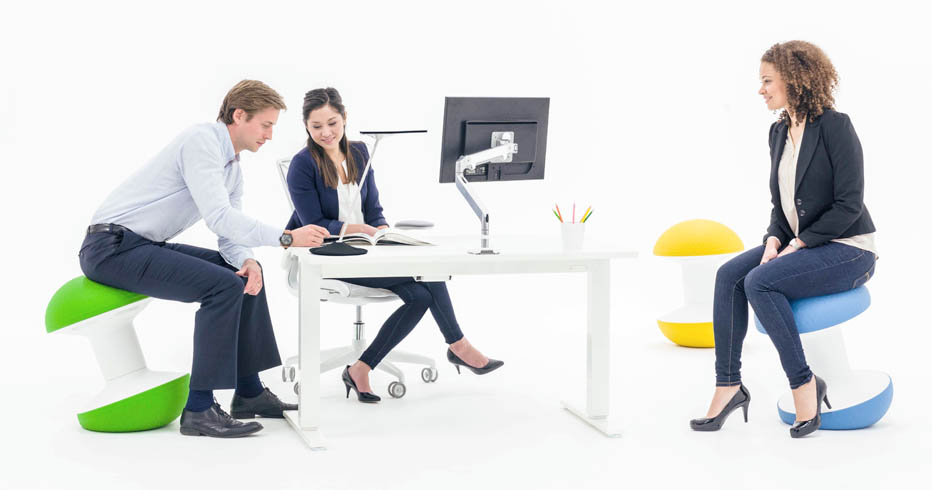 "Hey, what is that thing? Is that, like, a giant apple core or something?"
Of all the repeat questions I heard at SXSW this year, that question was certainly not one I expected to hear, nor was the Humanscale Ballo Stool something I expected such a positive response to at our booth. Needless to say, I found myself obliged to try it out during my breaks. What I discovered was that Humanscale's newest seating solution is as eye-catching as it is innovative.
The Ballo's unique, lightweight design is inherently dynamic, with an inflatable rubberized top and bottom that are curved, preventing the stool from remaining completely motionless whether or not you're actually sitting in it. The result is a stool that allows you to gently bounce or sway back and forth, working your core muscles as you maintain balance. If this sounds like sitting on a medicine ball, you're right, as that's almost exactly what sitting on the Ballo feels like.
The Ballo offers a bit more utility than a traditional exercise ball, however. Having sat on an exercise ball at home in my high school days, I clearly remember having issues with my legs being consistently pushed forward due to the round shape, and encountering difficulty moving it from room to room (back in the day, my PC, PS3, and Xbox were all in different rooms - a first world problem if there ever was one). The Ballo's "pill" shape resolves both of these issues. Without a large circumference, the Ballo easily lends itself to forward-leaning stances, and a minimalist plastic center with integrated carry handles molded into the bottom of the seat makes it simple to pick it up and move from one video game system to the other or between cubicles over the course of the workday. The counter-weighted lower dome also helps the Ballo stay in one spot when you sit, providing a level of stability exercise balls lack.
While the Ballo isn't designed for long-term sitting, its ease of use, variety of colors, modern design, and portable nature makes it an ideal option for short-term seating in office areas where permanent seating isn't available. Whether you plan to take it with you from meeting room to meeting room, or just want to keep one handy to mix things up at your desk, the Ballo Stool is an affordable and attractive choice for active seating both in the home and in the office.
Learn more about the Humanscale Ballo Stool at TheHumanSolution.com!