Posted by Tyler Reinhardt on Mar 22nd 2018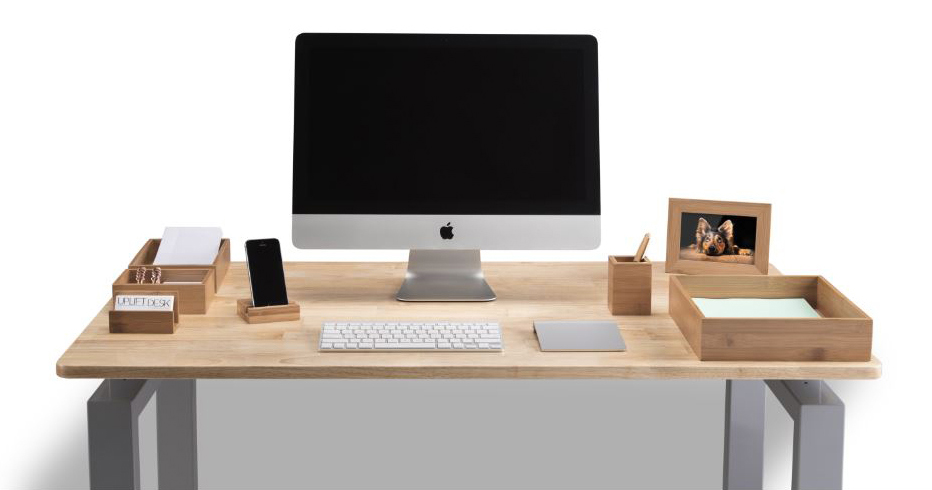 The office is a place of hustle and bustle, but your workspace can be a place of zen if you let it. The first step in setting up a zen-inspired paradise in a sea of tight deadlines, overbearing bosses, and general day-to-day craziness is to get your space organized. Nothing feeds stress like a mess and most of us are guilty of letting the tidiness of our work areas slip in the pursuit of getting through the daily task list. Fortunately, a mess isn't something you have to live with. UPLIFT Desk is here with a stylish storage solution to help you get organized!
The Bamboo Desk Organizer Set by UPLIFT Desk is a collection of desktopping boxes, containers, and holders all made out of environmentally friendly bamboo. It has everything you need to organize your documents, pens, pencils, business cards, photos, and even your phone, right on your desk. There's a large box for your 8.5" x 11" papers and stationery, a medium box for mail and smaller notes, and a small box that can hold your memos and personal notes. If you have a picture of a kid or fur baby that you'd like to display, there's also a bamboo picture frame that can hold a 4" x 6" photograph. You'll also get an assortment of specialized holders, such as a business card holder, a phone holder, a pen holder, and a matching pen with blue ink. Bamboo pairs well with a full bamboo UPLIFT Desk and injects eco-friendly styling into any work area, regardless of desktop material. Step up your desk's storage and style with a completely coordinating desk set made out of genuine bamboo.
The Bamboo Desk organizer Set is a great way to get your desktop under control and make your space into an island of respite in a tumultuous workplace. If you're looking to organize the underside of your desk, you may want to look into one of our wire management kits. If you have any questions, our customer service reps are available at 800-531-3746 to assist you in finding the right storage solution for you.