Posted by Human Solution on Oct 28th 2015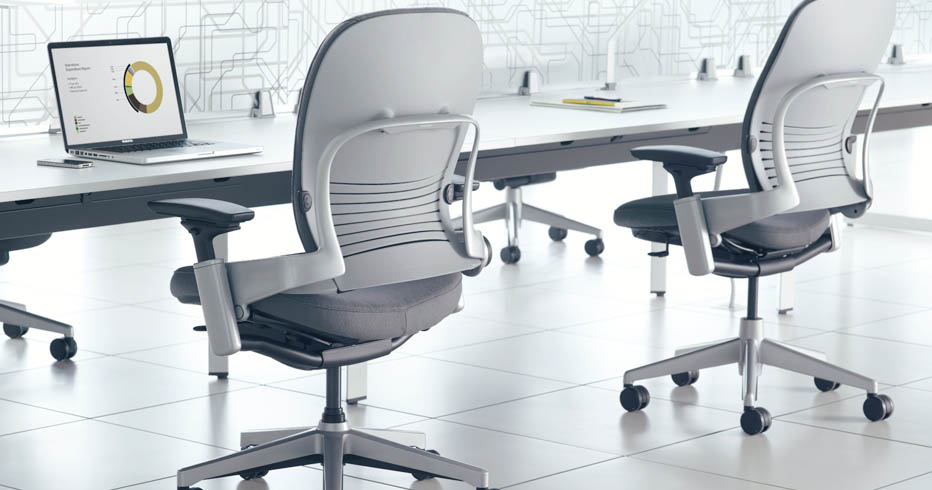 Reading through the features and specifications on the Steelcase Leap and Amia chairs, you may wonder what the differences are, besides aesthetics and price. Both chairs feature a stylish design, exceptional upper and lower back support, a sliding seat, and intuitive controls. Either one is a great choice for keeping you comfortable, but understanding the differences will help you make the best choice for your needs.
If you've browsed the ergonomic chair section on our site, you've probably noticed that the Steelcase Leap Chair costs a few hundred dollars more than the Steelcase Amia Chair. But is the Leap a better ergonomic chair? Can you get the same comfort and support the Leap Chair offers at a significantly lower price point with the Amia chair? Let's explore the differences between the two, and we'll also find out what Human Solution's CEO and professional ergonomist Jon Paulsen has to say.
Both the Leap and Amia offer strong back support and a unique chair back design that contours to fit your body. The Amia's Live Lumbar system complements various postures while providing excellent support to your lumbar region; this helps those who suffer from lower back pain and also decreases stress to the lower back, leading to a more comfortable and healthier work environment for users who sit all day long. The contoured back fits a wide variety of users, and features height-adjustable lumbar support that users can raise or lower for extra comfort.
The Steelcase Leap Chair features a flexible lumbar support with its innovative Liveback technology, which contours to the shape of your back while seated. The seat back movement offers flexible support for your entire spine, from your lower back to your shoulders. The chair back mimics the way you move while seated and comes standard with two adjustable back support mechanisms: one allows you to customize your lower back firmness, and the other lets you set the amount of resistance as you recline. The Leap Chair also offers extra thermal comfort in the back design, with slats and special foam for increased breathability.
Both the Leap the Amia allow you to easily adjust your seat depth, an important ergonomic feature that will lead to a more customized seating solution. This ensures that the depth of your seat will properly support your legs and allow for better circulation. Additionally, both chairs also have a waterfall seat edge that flexes down to relieve pressure on the back of your legs.
A plus for the Leap is its natural glide system—the seat glides forward as you recline, keeping you in range of your work zone while encouraging you to change postures throughout the day. Your spine will thank you for that, especially if you sit for long hours.
No real differences here. Steelcase chairs are known for their great, user-friendly armrests, and the Leap and Amia's arms are no exceptions. The arms on both chairs offer a wide range of adjustability. Move them in and out, up and down, pivot them left and right, or forward and back. No fuss, no hassle, and they stay in place until you are ready to adjust them again.
As you can see, the Leap and Amia have a lot in common, but the Leap does offer a more flexible back with more adjustability and a recline that follows a more natural arc – little details that, for some users, could put it over the top when compared to the Amia. Still, the Amia is one of the most highly recommended ergonomic chairs in the mid-priced market. It's not easy to find such a great-looking chair with a back that contours to fit your body and offers such solid lumbar support at this price range. Our CEO and ergonomist Jon Paulsen also sings the Amia Chair's praises in the following mini review:
"The Amia has many features similar to the Leap. We use both in our office, and both are very comfortable. But several of us think the Amia is more comfortable, and it has a significantly lower price point. The Amia is a tough chair that can provide ergonomic seating to intensive computer users weighing up to 300 lbs. It's easy to adjust the tilt tension control and adjustable lumbar support, and the arms are extremely well designed with a wide range of adjustability. The regular gas cylinder fits users as small as 4' 11" up to 6' 4". The Amia won a Gold in the ergonomic category in the Best of Neocon competition. I highly recommend this chair."
So there you have it. The Leap and the Amia—similar chairs but each with their own unique beneifts. Please feel free to call us (800-531-3746) or chat live with an expert if you have questions about any of our chairs.
Visit TheHumanSolution.com for a wide selection of chairs, height-adjustable desks, and accessories for the workplace.