Posted by Human Solution on Feb 12th 2016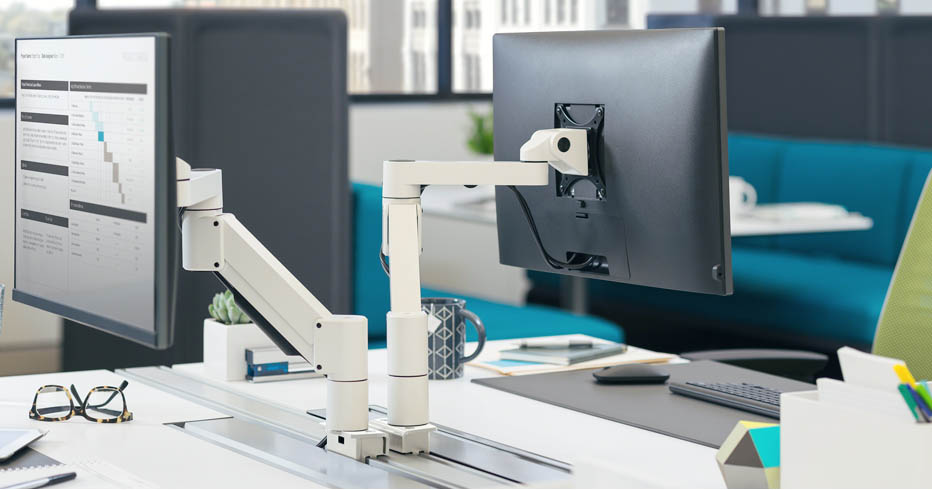 If you use a computer monitor, you can benefit from mounting it on an ergonomic monitor arm. Whatever the layout of your workstation or the size or number of your monitors, here are a few reasons why you should consider using a monitor arm.
1. Because you're tired of straining your neck and eyes to see your monitor in its fixed position: This is the most obvious and most common reason to get a monitor arm. A monitor arm will allow you to adjust the height, depth, and in most cases, the angle of your monitor to get it at the healthiest and most comfortable position. In case you're not sure, you should have your monitor approximately an arm's length away from your eyes, with the top of the monitor tilted slightly away from you. You shouldn't have to look up or down to see your screen, and your neck should be relaxed. This will help you avoid neck and eye strain as well as shoulder pain and poor posture.
2. Versatility: Beyond just the standard monitor arm adjustments, like height, depth, and angle, many monitor arms also allow you to easily switch from landscape to portrait mode or to quickly adjust dual monitors from a side-by-side configuration to stacked one over the other, both in portrait mode, both in landscape mode, or one of each. Monitor arms allow you to customize your workstation and working style.
3. Clear up the clutter. A monitor arm will get your monitor up and off your desk, freeing up valuable real estate to spread out in and keep stuff, like pictures of friends and family and your coffee cup.
4. Because you have an adjustable height standing desk: If you have an adjustable height desk, you need to be able to adjust your monitor to the optimal viewing position for either standing or sitting. Depending on your workstation setup, you may find it necessary to make a slight adjustment to your monitor as you move from standing to sitting and back again. A monitor arm like the UPLIFT, with its smooth fingertip adjustment, makes it easy to tweak the angle, height, or depth of your monitor.
5. Because you have a treadmill desk: If you have a treadmill desk, you want to be able to move your monitors quickly and easily from one side to the other. Let's say you have decided to upgrade your standing desk into a treadmill desk. You want to keep your treadmill on one side of your desk and your chair on the other side, but are you really going to slide your monitors back and forth on your desk every time you transition from sitting to walking? Especially if you have multiple monitors, all this shifting is going to get old fast. The best solution is to mount dual monitors on an arm that you can easily swing from one side to the other, like the UPLIFT Dual, so you'll have absolutely no excuse not to get up and walk while you work.
In additional to our UPLIFT brand, we carry monitor arms from a variety of manufacturers, like Humanscale and Innovative, with options to accommodate as many as sixteen monitors. But how do you know which one to choose? Do you need a clamp mount or a bolt-through mount? What's a grommet mount? Should you get a fully articulating arm? Luckily, we have experts standing by to help you make these decisions. You can call us at 800-531-3746 with questions.
Select the perfect monitor arm for you at TheHumanSolution.com.