When desk needs change and you find yourself needing a larger desktop, you have options. With the UPLIFT 4-Leg Conversion Kit, you can have a sturdy 4-leg desk frame to take your work to the next level quickly.
UPLIFT desks with four legs are capable of lifting up to a hefty 530 pounds, all with the push of a button. Build the right desk for you with one supportive workspace addition.
Your desk will have new life and an improved lifting capacity with the introduction of the 4-Leg Conversion Kit. Give your growing desk the extra support it needs, starting from the bottom.
Features
Includes all the parts needed to adapt your existing UPLIFT desk into the UPLIFT 4-Leg Height-Adjustable Desk Base
Each leg is freestanding and uses smaller brackets for custom positioning on any shape desktop
Several models available if your base is a 2-leg or 3-leg
Dual control box design includes haul sensors for straightening feet and ensuring fast height adjustments
25.5" height range using standard up/down keypad or optional upgrade to the advanced digital memory keypad
Eliminates the need to buy a new base when your desk needs change
Assembled in Austin, Texas, and parts are sourced both globally and within the USA
Specifications
Height range
23.5" - 49"
Desktop attachment
Accepts wide range of desktop sizes*
Travel speed
1.5"/second (varies - slowest with maximum load) with soft start/stop actuator motors
Noise level
45 decibels during motion
Weight capacity
530 lbs (Weight capacity assumes that weight is distributed evenly between the desk legs)
Keypad
Advanced digital keypad with 4 memory positons is available;
2-button up/down keypad comes standard
Adjustable foot leveling studs
3/8" adjustment for uneven flooring
Voltage
Input: 120 V
Output: 24 V
Transformer power
200 W (0.2 W on standby)
Power supply current
5 amps
BIFMA/ANSI X5.5-2008 Certified
Yes - completely meets all requirements of BIFMA/ANSI X5.5-2008 Test (pdf) Sections 4.3, 4.5, 5.2-5.5, 6.0, 7.0, 8.0 & 15.0
Safety certifications
Lifting Column - TUV (Canada and U.S.)
Control Box - TUV (Canada and U.S.)
Power Cord - UL/CSA (Canada and U.S.)
Warranty
15year all-inclusive warranty on the entire desk base, which includes the motor, frame, controller, switch, electronics and mechanisms. Optional extended warranty available when selecting desk options
Shipping dimensions
3 leg conversion - 41'' W x 10'' H x 12'' D, 63 lbs
2 leg conversion - 41'' W x 10'' H x 12'' D, 60 lbs
Frame Color
The UPLIFT base is available with four different base color options -- black, gray, metallic (industrial style), and white.
Keypad Options
Your original UPLIFT keypad will work with this conversion kit, but if you would like to upgrade or choose a different keypad, select the Push and Hold Two Button Up/Down Keypad or the Advanced Digital Memory Keypad with 4 Memory Positions and Digital Height Display for a quick, easy adjustment to your saved positions.
Please note: One-touch functionality is not available with the advanced keypad on four-leg desks. Memory adjustment will still require you to Press-and-Hold the memory button until your desk reaches the programmed height.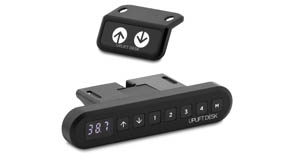 Expedited Production
Receive your accessories even sooner! Just add our expedited production option to your order.
Place your order by 3 pm Central on a business day and we guarantee to start production and ship your order the same day. If placed after 3 pm, your order is guaranteed to ship the following business day.
Note: Expedited production is different from expedited shipping. If you're interested in adding expedited shipping to your order, please contact us directly.
UPLIFT Desk Warranty Policy
We stand firmly behind the quality of our products. All UPLIFT Desk products come with a 15 Year Warranty, visit the UPLIFT Desk Warranty page for the full policy.
Return Policy
Free Returns with Free Return Shipping within 30 days, visit the UPLIFT Desk Returns page for the full policy.