Good news—we're updating this page to showcase features of our new UPLIFT V2 Frame, but it's not quite ready. Thanks for your patience!
Say goodbye to desk wobble for good. With the UPLIFT 2-Leg to 3-Leg Conversion Kit, you can easily turn your adjustable height desk into one that's stable enough to secure all of your desktop gear.
Rest assured that you have options for transforming your rectangular desk into an L-shaped workstation with the quick addition of a leg that elevates and uplifts your work style.
The 2-Leg to 3-Leg Conversion Kit comes with an additional lifting column or leg, mounting bracket, connecting wire, control box, and optional switch so you can use your current UPLIFT 900 base without having to purchase a new one.
Features
Easily revamps your 2-leg UPLIFT base to a 3-leg desk
Gives your desk more stability or allows for an L-shaped desk configuration
Stops the need to buy a whole new base
Includes mounting bracket, connecting wire, control box, and optional switch so you can use your existing UPLIFT base without needing to buy a new desk
Choice of 3 colors to match your current desk base
Specifications
Ship weight
36 lbs
Weight capacity
530 lbs
Adjustable foot leveling studs
3/8" adjustment for uneven flooring
BIFMA/ANSI X5.5-2008 Certified
Yes
Safety certifications
Lifting Column - TUV (Canada and U.S.)
Control Box - TUV (Canada and U.S.)
Power Cord - UL/CSA (Canada and U.S.)
Warranty
15 year
Shipping dimensions
15" W x 6" H x 41" D, 41 lbs
Frame Color
Choose the color to match your existing two-leg desk frame.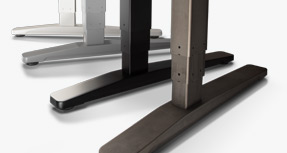 Frame Type
Choose between UPLIFT V2 and UPLIFT V2-Commercial frame conversion kits to match you existing two-leg frame.
Keypad Options
Your original UPLIFT keypad will work with this conversion kit, but if you would like to upgrade or choose a different keypad, select the Push and Hold Two Button Up/Down Keypad or the Advanced Digital Memory Keypad with 4 Memory Positions and Digital Height Display for a quick, easy adjustment to your saved positions.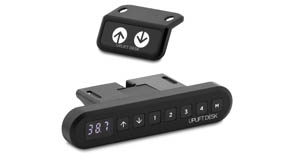 Save $50 on Your 3-Leg Desk
In order to meet an unforeseen high demand for our 3-leg desks, our team is manufacturing a limited expedited production batch of our 3rd legs at a higher cost. Because we know you might need your desk sooner, we can ship your order mid-February instead of waiting for our normal production batch to be ready to ship in early March.
However, if you don't mind waiting until early March for your order to ship, we'll pass our $50 savings on to you! All you have to do is select Normal Lead Time and you'll save $50 on your new desk. Choosing this option will make your desk ship a few weeks later.
UPLIFT Desk Warranty Policy
We stand firmly behind the quality of our products. All UPLIFT Desk products come with a 15 Year Warranty, visit the UPLIFT Desk Warranty page for the full policy.
Return Policy
Free Returns with Free Return Shipping within 30 days, visit the UPLIFT Desk Returns page for the full policy.