Posted by Tyler Reinhardt on Oct 12th 2017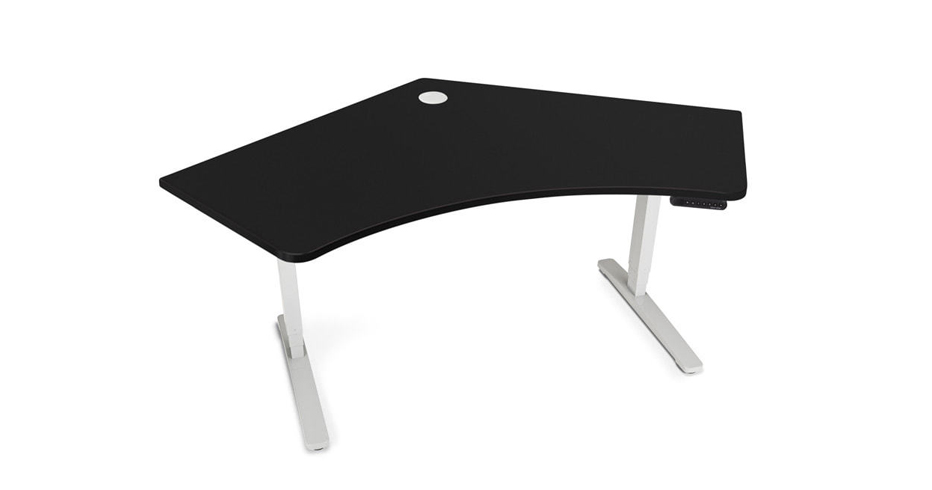 The word of the day, all day, in every successful office ever is "collaboration". There are literally thousands of tools to accomplish this. Emails, internal chat services, the legs with which you walk yourself on over to your co-worker's cubicle; all are valid answers to the challenge that is maintaining effective communication. In recent years the cubicle office has slowly started dying off in favor of the open office approach in which no walls separate you from your coworkers. You all get to maintain a convenient closeness within which you can all communicate freely.
In the spirit of that, UPLIFT Desk has done a little bit of work at the drawing board to design a desk that facilitates collaboration in a way that most desks don't. So what was the result? A desk design that's a little outside the box. And by that I mean the rectangle. The 120 Degree Sit Stand Workstation by UPLIFT Desk features a unique desktop shape that was designed to function both as a stand-alone desk and as a part of a workstation "pod". Basically, you can connect it with two other desks to form a collaborative cluster. If you're feeling even more hardcore, you can take that cluster and attach it to another cluster, for a grand total of six desks and one big collaborative workstation. The desks can still raise and lower independently, of course. With everyone working so closely together, your team is easily within earshot of each other which makes communication and idea facilitation not only easy but encouraged.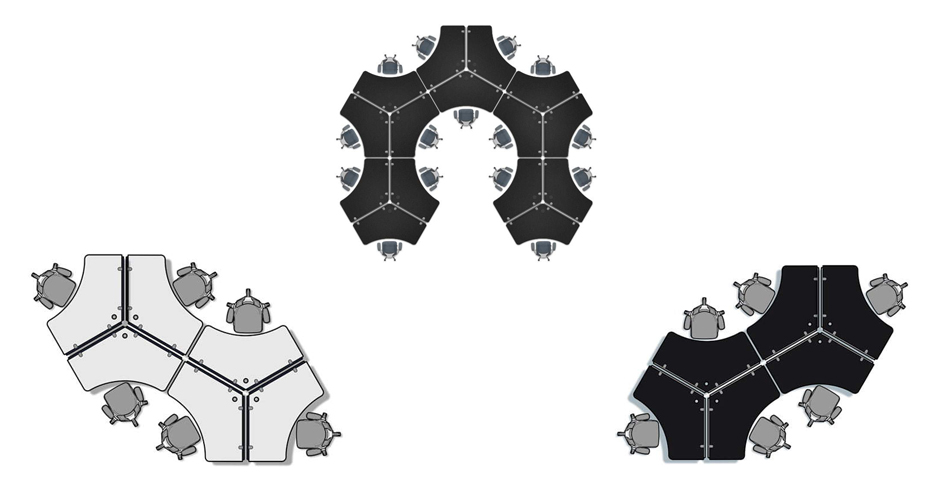 The desktops come with some other neat features as well that make them a no-brainer for an open office environment. The center cutout not only gives the 120 degree desk its unique aesthetic but it also allows for the user to sit in closer to their space, allowing them to more easily reach the various areas of their desktop. There's also a grommet hole in the back center of the desktop for easy wire management and also for mounting monitor arms that require a grommet mount. Or, if you prefer your clamp mounts, you can easily mount one on either side. The desktops come in your choice of black or white and are made of a 45lb density particle board core with a 3mm PVC edge for durability.
Whether you're going for a flexible or open-office layout, or you just want a desk with a fun aesthetic for yourself, the 120 Degree Sit Stand Workstation by UPLIFT Desk is definitely one to consider. It's the same lifting system that made its predecessors great with a new top style that's sure to give your productivity a boost. If you're looking for a quote on one, or more, our reps are standing by at 800-531-3746 to answer your questions and help you get set up with the desk you've always wanted.