UPLIFT Height Adjustable Desk
If you've ever seen a rat's nest, it's kind of a hodge-podge of mess. A few bits of fur here, a few pieces of grass there, and all of it pulled together by a tasteful wad of mystery material that somehow through the power of rat magic is stronger than steel. It's impressive in its own way but aesthetically, it's not the most pleasing thing to look at. Much like the wily rat and his nest, we as denizens of the office are want to have our own little happy spaces which, typically in an office setting, have a lot of electronics. Those electronics are powered by electricity which inevitably means that there will be wires. Lots and lots of wires. The problem with having lots and lots of wires is that wires have a tendency to criss-cross and tangle around each other, forming a mass reminiscent of our friend the rat and his happy home. How does one straighten out this tangled bag of snakes? With proper wire management. Luckily with UPLIFT, that's not hard to find.
The most basic of wire management options brought to you by UPLIFT Desk is the UPLIFT Desk Basic Wire Management Kit.This kit includes all of the basics that you need to organize your wires and cables, including:
10 adhesive cable mounts, which stick to the underside of your desk (we recommend sticking them to the metal of the frame for best results) and keep your cables from hanging down.
12 screw-in cable mounts for when the cables you're mounting need a little extra support.
12 reusable cable ties to wrangle your wire masses into manageable strips
1 cable organizer which has a similar function to the cable ties
1 wire funnel which makes using the cable organizer infinitely easier
1 accessory hook on which you can hang things
1 handy 6-outlet surge protector for some extra outlet space
The kit also includes the option to add the UPLIFT Clamp-On Surge Protector as an option if you find yourself in need of even more electrical outlets and some USB ports to charge your phone. When used to its fullest potential, the Basic Wire Management Kit will give you control over your out-of-control wire situation and if you've gone and purchased an UPLIFT Height Adjustable Standing Desk, transitioning your desk from sitting to standing won't cause your cables to stretch or snag, insuring that all of your devices stay plugged in where they should be.
Of course, you're not limited to just the Basic Wire Management Kit. UPLIFT has some other wire management kit options that include just a couple of extra bells and whistles for set ups that need just a bit more managing. These options include the Advanced Wire MGMT Kit, Ultimate Wire Management Kit , Wire Management Tray if you just want the barest of minimums, and the UPLIFT Desk Modesty Panel & Cable Management which is a similar idea to when your mother asked you to clean your room and you threw everything under the bed. These as well as more wire management options can be viewed here on humansolution.com or if you're looking for even more ideas for your office work-nest, feel free to give our reps a call at 800-531-3746 for some suggestions!
I'm forty-years-old, a single father of four awesome kids, employed with a great company that treats me well, and have an amazing girlfriend. I have a lot for which to live. About two months ago, I was jogging on a trail in Maryland and just wanted to stop and walk. I knew, though, that the desire was not rooted in real [...] Read More »
Baby, it's cold outside. Or at least it will be. Unless you live in Florida. Then again, you can often spot people wearing jackets in 80 degree weather so it seems that cold is relative and everyone's about to experience it because as the saying goes, "Winter is coming." And nothing says winter like white. The color of ice, [...] Read More »
Based on literally every television show I've ever seen, it's all about power. Need proof? Wait until the next blackout and tell me how your favorite show is going. Electricity is kind of a staple in modern day society. I'm not saying that you can't survive without it. I'm saying it makes things much harder when you shirk the [...] Read More »
New products and redesigns abound this year meaning a lot of new changes to some old fan favorites. The UPLIFT Desk laminates, for instance, are getting a bit of an overhaul. With their affordable pricing and gorgeous aesthetic, it's no surprise that they're one of our top selling configurations. The GREENGUARD laminates have been a [...] Read More »
The word of the day, all day, in every successful office ever is "collaboration". There are literally thousands of tools to accomplish this. Emails, internal chat services, the legs with which you walk yourself on over to your co-worker's cubicle; all are valid answers to the challenge that is maintaining effective communication. In recent years the cubicle office has slowly [...] Read More »
In the beginning was the desk. The centerpiece of the office. The place at which one sinks about 8-9 hours of their lifespan into a day. It was static, boring, soul-sucking, and terrible for your health. Nobody and no body was made to sit for over half of the day. Thankfully someone concluded along the way that this [...] Read More »
This product is currently available for pre-order only. Expected to ship in early October. Everybody likes to have stuff. Stuff is why you work for however many hours a day. You make that money. And then you buy stuff. The problem with accruing stuff is that it has a tendency to take up space. If you have a lot [...] Read More »
This product is currently available for pre-order only. Expected to ship in October. Remember when the Kindergarten version of you hadn't quite mastered the art of witty retorts so you fell back on a canned one? You probably used the "I'm rubber, you're glue" rhyme at least once or twice in these situations, if not more. Rubber may not [...] Read More »
People have a thing for towers. We've been building them for years, mostly as an efficient way to get office space into cramped urban areas but also so architects can beef up their portfolios. Some notable towers include the Sears tower, the Eiffel tower, the Dark Tower, and of course the Two Towers from Lord of the Rings, because [...] Read More »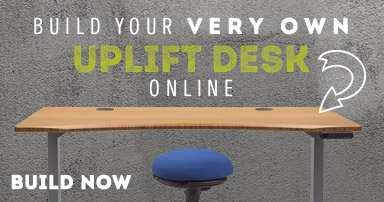 Interested in ergonomics?
Subscribe to our blog mailing list